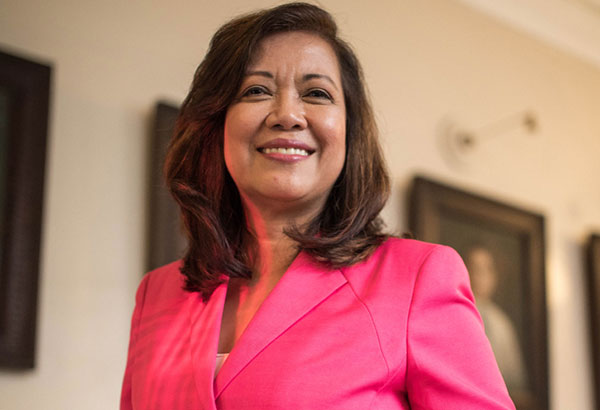 Ladies first: Chief Justice Sereno is the first woman to hold the highest position in the judiciary. Photo by Arabella Paner
MANILA, Philippines — Maria Lourdes Sereno casts a long shadow. Aside from being the 24th Chief Justice of the Supreme Court of the Philippines, a position she is to hold until 2030, she happens to be the second youngest person to ever helm the judiciary. She's also the first woman to ever do so.
Chief Justice Sereno is famous for her resolve; she has given dissenting opinions on a several political cases (the Ferdinand Marcos burial at the Libingan ng mga Bayani, the martial law declaration in Mindanao, the dismissal of former President Gloria Macapagal-Arroyo's plunder charges), despite pressure to do otherwise. She has been accused of being a political lackey, of corruption, and of an inability to serve as the highest adjudicator of the land.
While it would be easy to say that she is or she is not any of those things, I withhold my judgment. After all, I was about to meet the one person who can dispense justice better than anyone else can in in these 7,107 islands. I certainly did not expect to meet the woman I did meet, she of her long list of accomplishments and many political enemies. (She is currently facing an impeachment complaint filed by lawyer Larry Gadon.) It isn't that CJ Sereno isn't tough or that she isn't smart — it's that she is all those things, and yet she can still say, I am so much more than that.
The woman I met one Thursday morning bears little of the pomp and circumstance of her position. CJ Sereno walks into the room and shakes the hand of every single person, like many a seasoned politico. But she doesn't stop there. She has been briefed of the names of everyone there to meet her, and she makes sure she knows everybody's name before we can settle down. "Are you Marga?" she asks, when I approach her for the first time.
After multiple interviews with countless personalities and artistas who hardly remember the names of their interviewers let alone ask who they are, it is rare for a public figure to take the time to be aware of those around them. This is not out of character for her, it seems. Later on, she would talk about how she has been gradually reforming the justice system by breaking down barriers that allowed patronage politics to continue. "I make sure that I treat the junior justices very well. So that 'young' and 'junior' does not mean disenfranchised," she says. "Rather, I try to empower every one of the justices so that we can really fulfill the constitutional ideals of each justice participating in the discussion."
CJ Sereno may have likened her job as that of a CEO of a huge company, but she makes it clear that she is always looking out for the little guy. Perhaps it is because The Lord of the Rings is one of her favorite pieces of fiction, professing a love for Samwise Gamgee and Éowyn of Rohan. ("They stood by even if the rewards were not going to be for them. They stood by their values even to the end.") Or perhaps it is because, not too long ago, she was in the exact same position as many of the people she champions now. From being the rare female student at the University of Michigan Law School in the 1990s, to joining the boys club that was the Supreme Court in 2010, Sereno has had her fair share of personal disenfranchisement. It was not easy, but she knew she needed prove that she deserved as much as respect — if not more — that her male peers did.
"It was the level of confidence that I brought into the conversation, the level of confidence I tried to infuse into every professional relationship I had," she says. "Even in the classroom in Michigan, I noticed that my male Caucasian counterparts were louder and stronger during recitation, and my female counterparts were not as confident. I made sure that whatever I put in, it would be an Asian response, it would be a woman's response, and it will be a strong and intellectual response. So they said, 'What is this small Asian woman saying?'"
There is no doubt that there is a lot to be learned from a woman like CJ Sereno. And so, in a rare opportunity, Young STAR spoke to the Chief Justice of the Philippines about making the law more accessible to the masses, the importance of having hope for the country, and her surprising love for video games.
Excerpts:
YOUNG STAR: Being Chief Justice is a pretty demanding position. Do you still have time to unwind?
CHIEF JUSTICE SERENO: The first thing is to really try to remember refreshing words from the Bible. The second is, when I can have time to play with my grandchildren… it puts things in their proper proportion. You remember that everything you do, you are trying to do for future generations. So, do you act out of selfish ends or do you remember that the humanity that will be lived in by our grandchildren enjoys a common heritage, common resources, common culture? You try to ensure that heritage is in the best possible position. The third is, I play computer games.
I did not expect that answer. What are your favorite computer games?
I don't want to be helping the commercial interest of any game developer! The other developers might get jealous. Let's just say, I enjoy a computer game that has to do with flowers right now. (Laughs)
Going back to your role in the judiciary, you hold the distinction of being the first woman to be appointed as the Chief Justice. How does it make you feel when people automatically assume that the Chief Justice of the Philippines is male?
I try to reinforce, internationally, the idea that a female Chief Justice is as good, or can even be better than any male Chief Justice. You know, I went to this international Bar Association conference in Vienna Austria in 2015. I wore a shocking pink blazer, while the conference attendees were wearing black or navy blue. And I said, "The reason I wear pink is to inform you that Chief Justices cannot be boxed into stereotypes. I am proud of the fact that I am female, I like this color, and this is how I want discharge my duties." And the audience went wild.
In addition to people assuming that the Chief Justice is male, they confuse me with the Secretary of Justice. They think that (Sec. Vitaliano) Aguirre's work and mine are the same, or somehow, we're mixed up. They think that the judiciary is part of the Department of Justice (DOJ). What it shows us is that Filipinos do not have enough of an idea about the constitutional structure of government; that the prosecution and the Public Attorney's Office, while they are functionally under the DOJ, is the neutral arbiter—the judiciary—which is the third branch. The advantage of being female is that I think when I speak very, very seriously about governance issues in the judiciary, there is greater reception to the idea that I may be putting forth a novel approach.
Speaking of bringing the law to the masses, it seems that the public right now tends to find the law inaccessible and intimidating. It's a challenge to teach people the ideas of democracy and the constitution without legalese. Do you think it's possible to simplify the law for people?
Yeah, for this year, I have been engaging more with communications people who are trying to show me, using technology, how thoughts can be broken into memes. Pwede pala. I have been actually asking people if it's possible to allow witnesses to talk in the vernacular. And trying to have decisions written in the vernacular. I've tried to write one. In my opinion in the RH (Reproductive Health) Law, I tried to write it in Filipino. It was a challenge for me, but I had friends who said, "Hindi kami magaling sa Tagalog. Pwede ba magkaroon ng Bisaya version?" I think we have to go to the direction of trying to make law and due process more understandable to people so that they can appreciate that protecting these basic rights is as important as food. Justice is as important as food.
One major innovation we introduced is to have live podcasts of our oral arguments. With that, people can interpret it one way or the other. In other words, more people have joined the debate. I have tried already to explain judicial reform when I went to explain small claims court, electronic courts and decongestions in malls.
Malls, as in shopping malls?
Yeah, at TriNoma and at Ayala Center Cebu. I found it actually fun to say, "Hello, shoppers!" I want to tell them we've already innovated, we've brought things very close to the people. You can file claims at small claims court —very low filing fees, no lawyers, and your case can be decided on within 24 hours after the hearing ends. That is an attempt to show people that the judiciary really cares about the concerns of the people. We do not want to be high and mighty or looked upon as too enigmatic. That used to be the idea before. I'm trying to make people see that they own the judiciary. The judiciary is not owned by the justices. That is important to me.
I think we can come to the point where we can explain it to the people. We just need to make the effort to do that. I think the best people to do that are young people. They're used to articulating themselves, unlike older generations — they keep their thoughts to themselves. There must be this genuine conversation.
On the topic of important conversations, one of the issues surrounding you right now is the threat of impeachment. Without going in-depth on this particular complaint, what would you advise someone on being brave in a time when it feels like your opponents outnumber your supporters?
I think it's important that every person do what is right, regardless of the odds. You are only responsible for your decision. You are not responsible for the outcome. If the outcome is not favorable to you, that's not your problem. Your accountability is to your conscience, and if you're a strong believer in God, to God. So simply looking at life as a series of decisions, where we must make a decision that is right, makes it all simpler.
If so many are your opponents, and they keep on saying you are not telling the truth — but you know what is the truth — you should just tell yourself, "It does not matter." There is only one version of the truth, and you know you possess it, so your story does not change the truth. So, you know you're okay, because the truth is on your side. They will have a problem because how will they live with the lies? If you believe in divine punishment, then oh, boy. You will pity them. Because they will eventually have to make an account of all the lies they said against you, whether in this life or the life to come.
A lot of people, especially young people, want to fight for widespread government reform, not just in the judiciary. It's a tall order, but do you think there is still hope for this to happen?
Yes, and I think you must demand it. As a matter of survival, because young people cannot allow themselves to accept injustice and mediocrity. They must demand accountability from every public official. "We demand that you finish this work fast." "We demand that you resolve these cases fast." "We demand that you produce the evidence to convict who you know is the actual perpetrator." You must continue demanding and demanding. And you can only sustain that campaign if you (continue to) hope. So hope is an essential ingredient. The moment you say, "We cannot hope because the odds are against us," then we are lost as a nation. You must determine that there is hope, not on the basis of odds, but because it is necessary. Hope is necessary for our nation to rise.