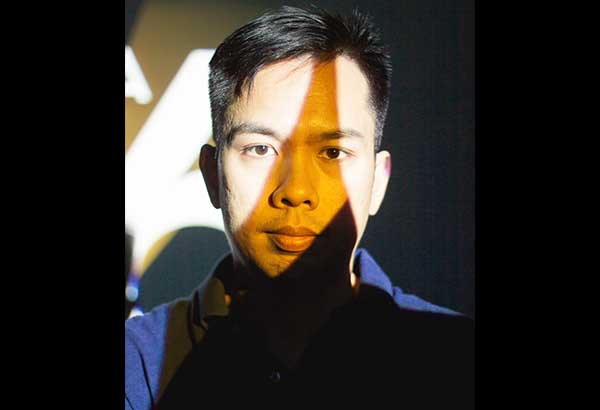 Veteran newcomer: Even though Raya's previous films have been screened in various international film festivals — including Cannes — Smaller and Smaller Circles is his first mainstream film.
MANILA, Philippines — Every year, director Raya Martin quits something. He's quit meat and cigarettes, among other things. We're sitting in a room inside the prop warehouse of TBA Studios in San Juan, and right before our interview ends, I ask him what he plans on quitting come January. He hasn't decided yet, he says. "What I've been trying to do — I should be stricter when the new year comes — is I wanna quit being analytical."
It doesn't seem like a trait one would want to quit. In the race to success, leaving some things to chance is usually out of the question. We're made to believe that leaving no room for even the slightest margin of error and having everything under your control is a surefire way to fame and fortune. But as we get wiser, we realize that openmindedness is a characteristic that becomes a key to getting it just right. At least that's what Raya believes. "You plan it, and then you let things fall into place. That's when the magic happens," he says.
Raya is about to premiere his latest work, Smaller and Smaller Circles, at the Busan International Film Festival in Korea. The film will be released in the Philippines on Dec. 6. You could say that chance played an instrumental role in the making of the movie: Raya had been working on the film for over a year, and "it just all fell into place." Busan is the biggest film fest in Asia. "Since we're releasing the film in December, it has to (premiere in a festival) just before," he explains. And just to address the elephant in the room, no, the film will not be part of this year's Metro Manila Film Festival. "The problem with distribution in the Philippines is that we're always pitted against Hollywood," Raya says. "Ang laki-laki parati ng slots for Hollywood, and all of these Filipino films have to compete with each other (on top of that)." And with the MMFF expected to go back to its big franchises with endless iterations and the holiday Hollywood blockbusters taking over right after, early December felt just right.
Smaller and Smaller Circles, based on the eponymous novel by F.H. Batacan, follows two Jesuit priests investigating a string of teenage murders in Payatas. They all have similar characteristics, and it's almost obviously the work of a serial killer. But everyone is skeptical because, really, have you ever heard of a Filipino serial killer? It's such a Western concept: "Alam naman nating walang serial killer dito sa Pilipinas," the trailer goes. And so the hunt begins — the two priests go through endless circles to find the killer. "A lot of people think that the title refers to their worlds or societies," Raya says, "But actually, in the book, it refers to how the serial killer tries to bait the people coming after him. So he refers to rats, rats forming smaller and smaller circles."
It's a detective crime story riddled with suspense, and a hearty serving of politics and social issues. What's most interesting about the story is that it's set in 1997, but its story still seems very familiar and topical 20 years later. Teenagers are still being slaughtered left and right. And the system? You guessed it — still the same. Raya tells me a story of when they were scouting for locations: "On the same day, we went from Smokey Mountain to CCP, wearing the same thing." People in the Philippines don't seem to find it strange to have exclusive subdivisions right next to slums, and that they — people from completely different backgrounds — coexist with each other. "And that's also exactly what they do in the movie; they go from different milieus and meet different characters trying to figure their things out." Picture it this way: Imelda Marcos going to Divisoria like it's wala lang, like a supplier from the palengke delivering goods to Forbes Park. It's only when you step back that you realize it is a strange concept, and one that is uniquely Filipino.
Raya came across the story 12 years ago, when it was still a novella. "It (felt) like a very tight treatment for a promising feature film," he remembers. Coincidentally, Ria Limjap, who would later produce and co-write the film with Moira Lang, came across Smaller and Smaller Circles years later when it was turned into a novel. She wanted to turn the story into a film, and brought it up with Raya, wondering who could direct the film. Names were brought up, including Mike de Leon (Kisapmata, Sister Stella L.). "Mike de Leon (would have been) perfect; he's one of the Filipino greats when it comes to genres," Raya shares. But one day, while wandering around a mall, it hit him: "Nag-compose ako ng mahabang Facebook message (to Ria and Moira), saying, 'I think I'm destined to direct this movie,'" he recalls. "I realized that I really wanted it. But I had to make sure that I was ready, siguro that's why (the decision to direct the film) came later."
The film is Raya's most challenging one to date, he says. It's his first "mainstream" movie. "Before, I always talk about structures, forms, ideas and emotions. They're more abstract," he adds. His films have been screened at film festivals across the world, including Independencia at Cannes in 2009. More recently, his film How To Disappear Completely was part of a Filipino film showcase at the Museum of Modern Art in New York City. I ask him if conquering the local arena is something he hopes to do with Smaller and Smaller Circles. "That's one of the reasons," he says, "but really, it's more about doing something different… For people who have seen my previous stuff, it's always different. I'm always trying to do something that's the opposite of my previous work."
Film has always been part of Raya's life. When he was younger, he became immersed in the cinematic world through his parents. "My parents were always renting all these arthouse films," he recalls. "I remember I was four or five years old, watching Akira Kurosawa's Dreams at home, on Betamax." His early introduction to arthouse films seared many strong images into Raya's memory. He would later graduate with honors from the University of the Philippines, where, naturally, he took up filmmaking. I ask him about his fondest film memory, and he tells me a story of when he and his cousins tried to sneak into an R-18 movie when they were kids. What struck him then wasn't the thrill of prohibition, but rather, the feeling of watching cinema — that you can be alone and with a community at the same time. "You feel like you're the only person inside the room, but in fact you're sharing a space with all these strangers… It's a special thing, to have that effect."
I ask him what he hopes Smaller and Smaller Circles will achieve, and he gives me two answers. The showbiz answer is, "I hope people will love it, I hope it makes money, I hope a lot of people go to the cinemas and see it," he says. "But also, I hope people talk about it, and talk about what it really means." He reiterates the film's setting, and the fact that its story is still the narrative today. What Raya hopes for the film is the same hope he has for local cinema: that what we discuss goes beyond what the film looks or sounds like, or how it's edited, how it's packaged. Are we getting there? "I think we really have a long way to go. There's always a long way to go for everything."
Cover art by SAMANTHA GANZON
Photos by PAOLO CRODUA
Produced by TIN SARTORIO
and MAINE MANALANSAN
Shot on location at TBA STUDIOS
and CINEMA '76