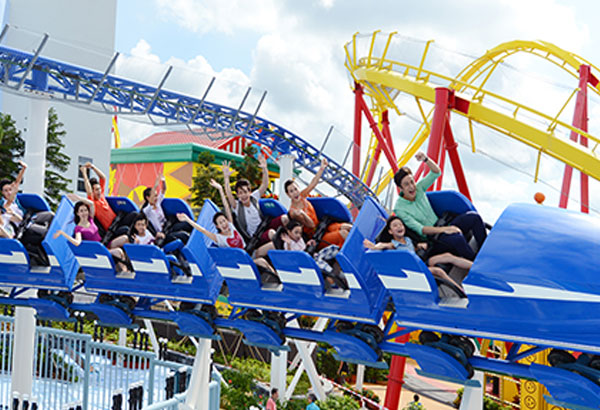 Up and up: The soon-to-rise Ocean Park Hong Kong Water World will make visitors want to come back for more.
40 years later, Ocean Park Hong Kong is funner than ever.
MANILA, Philippines - Remember having that dream of going to all the theme parks in the world and never wanting to leave? Of course, that never really happened (unless you're one of the lucky ones), but just the thought of spending your days eating sweets and enjoying all the rides already got you pretty giddy. Fast-forward 10 years: you're in your early 20s and struggling with this thing called adulthood. It ain't as easy, but growing old shouldn't make you any less fun.
Just take it from Ocean Park Hong Kong. Now in its 40th year, this theme park has been home to many animals, attractions and fun memories. It's easy to think that people who've visited the park (locals and foreigners, especially Filipinos) have seen everything it has to offer, but Hong Kong Ocean Park is all about surprises. Here are new things you can look forward to on your next visit:
1. Ocean Park MTR Station
With the newly opened Ocean Park MTR Station, the fun begins even before you enter the park. Yes, getting lost in the city and making your own adventure out of it sounds like a plan. But there are so many things to do in Ocean Park Hong Kong that will make you want to maximize your time. The train makes the travel from the park to the city a lost easier, giving us more reasons to stay awhile or keep coming back.
2. Ocean Park Hong Kong app
Besides the thrilling rides, Ocean Park Hong Kong is also known for its animal exhibits. Education and conservation is very much part of the experience in the park and this new app makes sure that you don't miss any of the important details. Enjoy a virtual guided tour, eScheduler (it suggests an itinerary based on the attractions you want to prioritize), interactive park map, and location-based eCoupons and promotions (think Pokemon Go, but for catching discounts).
3. Seasonal events
There's always a party with matching themed attractions in Ocean Park Hong Kong to keep visitors coming back. Want an epic beach party? The Summer Splash 2017 happening from July 1 to Aug. 27 might just be your thing. There's also the Halloween Fest (last year it was a Ghostbusters bonanza), Christmas Sensation, Chinese New Year Celebrations, Chill Out @ The South, and Animal Discovery Fest during Easter.
4. Soon-to-rise: Hong Kong Ocean Park Mariott Hotel (2018) and Ocean Park Water World (2019)
The many attractions in Ocean Park Hong Kong are already our favorites, but the opening of the Ocean Park Water World will be a game changer. If the two wave pools won't get you excited, then the nine water slides might just do the trick. Navigating through almost 30 new attractions (both indoor and outdoor) can be pretty tiring, so imagine coming home to the luxe Mariott Hotel just in front of the theme park and doing it all over again the next day… and the next day.
5. Perks of being a Filipino: Super Value Packages
The Ocean Park Hong Kong FOMO is real. But with the many packages in selected local travel agencies, everyone can enjoy the park anytime of the year. They offer everything from a themed restaurant gourmet package to a fun and shop combo. A Philippine National Bank credit card also entitles visitors to different discounts in the park.
* * *
For more information, visit www.oceanpark.com.hk