Haircuts for the homeless
Mark Bustos, 30, works in an upscale boutique salon in the West Chelsea neighborhood in Manhattan. He usually caters to high-end clientele where his services begin at $150. He's snipped and styled for NASCAR driver Jeff Gordon and fashion designer Philip Lim. But just recently, Mark has been making news on social media, and it's not for his posh work. During his free time, Mark takes to the streets, offering those living in poverty a comfort they would normally overlook — a new 'do. He cuts hair for the homeless.
In open spaces where more people can see, Mark approaches homeless folk in a friendly way, sitting down at their level and speaking face to face with this opening line: "I want to do something nice for you today." Though his more documented work on his Instagram account has him standing on street corners amidst the hustle and bustle of New York, the project actually began here in the Philippines. A native of New Jersey, where his Kapampangan parents immigrated almost 35 years ago, he and his girlfriend LaLa Javier (also half-Kapampangan and a color specialist at another chic New York salon) visited the country in 2012. "Her family is from Magalang, Pampanga, which is actually where we rented a barbershop to start the project two years ago. Her father, Alexander Javier, who has recently passed away, used to go to that same barbershop to get his haircut." Mark and LaLa rented a chair in the town barbershop, and Mark began giving away free haircuts to children who couldn't afford one.
His very first visit to the country in 1998 was an eye-opener. "It was the first time I had been exposed to poverty in a Third World country. I've always vowed to do better for the world since that visit, and to always appreciate how fortunate I am." His knack for styling hair began when he was 14 years old, cutting hair in his parents' garage. "I've never made a penny in my life if it hasn't had to do with hairstyling."
Since the Pampanga project, Mark has done haircuts in Los Angeles, California, Jamaica and Costa Rica. "The experience is always different, yet very similar. No matter what part of the world you are in, everybody loves the feeling of having a haircut. It is a universally known luxury that every demographic and walk of life can appreciate."
A haircut is a luxury for sure. But trivial as it may be, it offers a person a sense of confidence. And though this may be a piddling necessity for those living in poverty, it can affect their entire misdemeanor. Mark's most memorable experience was with Jemar. "He didn't have much to say or share with me. He only spoke when he was spoken to. After the haircut, he felt so confident that he asked me, 'Do you know anybody that is hiring? I want a job.'"
And even when his deed doesn't yield tangible or long-lasting results, he feels good knowing that he has at least approached a person with kindness. Mark also recalls Joe, a 40-year-old in New York who was "lifeless when I approached him. He told me he felt like a dead corpse. After the haircut and some kind words and love, I felt like I gave him a little bit of hope. He told me he no longer felt like a dead corpse."
Occasionally, Mark will get a rejection. He is really unsure of the reasons why, but he makes sure to leave with them a care package created at home by LaLa. The package consists of daily essentials and supplies — a toothbrush, a first aid kit, some wipes. He figures if it's not a cut they want, maybe it's the basic necessities.
The project now making rounds on social media has inspired other people to do the same for their own hometowns. And while Mark, armed with his comb and scissors, cannot exactly promise to change people's lives, he is giving them one important and intangible thing — hope. "I don't know exactly how far my project will go. At this point of my life, I've come to the realization that 'if you make plans, God laughs.' I lift all my prayers up to the Lord, Our Savior. I hope that people will follow my lead and gain inspiration to also help those who are less fortunate."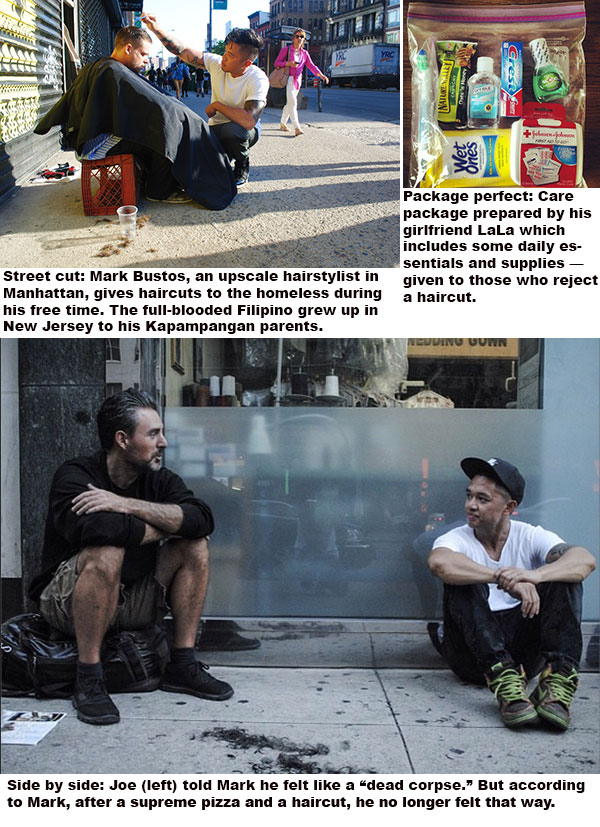 * * *
Follow his project on Instagram @markbustos