How to make it on the Internet
MANILA, Philippines - We young people can't afford our own houses yet, but we do own a hefty amount of real estate. Online, that is. Virtually, we've found homes through our blogs and social media accounts; the feel of a perfectly framed Instagram post or a well-written blog post can practically give us the same cushy feelings that our beds can give. In fact, psychology professor Kristen Lindquist of the University of North Carolina at Chapel Hill says that because we get a shot of dopamine for every like, reblog, and fave, it becomes something we crave for. You know, like cocaine but cheaper.
So it only makes sense that like our moms and titas who would basically D-I-E at the thought of their living rooms making the cover of Architectural Digest, some of us would also like our Internet enclaves and personalities to gain the kind of attention we think they deserve. Of course, managing to cultivate a retweetable Internet persona is no easy task.
To figure out just what it is that makes an Internet superstar tick, we've called upon the collective powers of a few of Manila's most well-known bloggers. From fashion blog demigods to Instagram rock stars, these virtual celebrities give us some tips and tricks to wading the waters of Internet fame. Fair warning, your online real estate will never be the same again.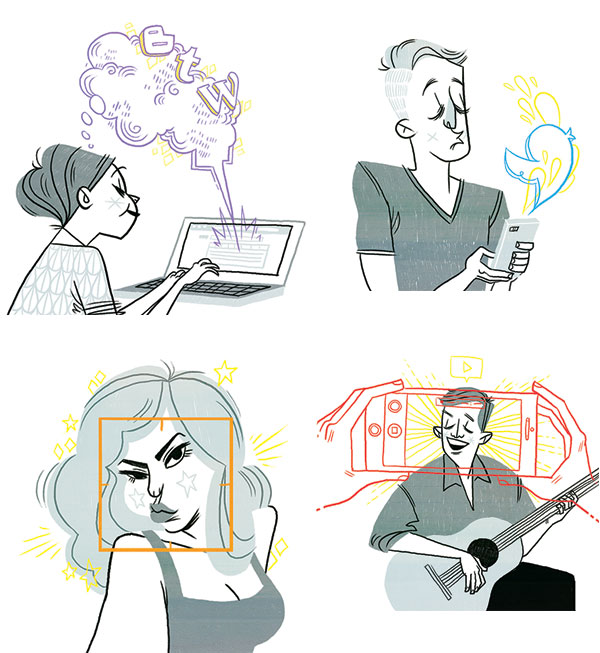 Rule #1: Networking helps you gain a bigger audience
A lot of people think that making connections or reaching out is a trait of a user, but a friend once described it as such: 'you scratch my back, I scratch yours.' One example of this being, as a blogger, nobody's going to read your blog if you don't read other people's blogs.
— Nina Pineda, @ninagpineda
Weapon of choice: Blogspot
Rule #2: Quality will always trump quantity
It's not about the quantity of your followers, it's about the kind of people who choose to listen to you.
I have 5k Twitter followers, and for a nobody like me, it's an insane amount. But if you compare it to other internet personalities, it is not that much. But I still feel pretty proud about it because my followers are some of the funniest people I've met. Whenever I tweet something mildly funny/witty, almost always someone way funnier/wittier than me responds. And it makes me feel good that at least one smart-ass likes my content.
— Khaela de Leon, @khaela
Weapon of choice: Twitter
Rule #3: Deal with your haters privately
People love drama, so much so that they'd actually try and start it for you. Be the bigger person and ignore it, just don't comment on anything publicly — and if there is an issue, hash it out with that person privately. No one else needs to know business that is between you and the other person.
— Camie Juan, @camiejuan
Weapon of choice: Wordpress
Rule #4: Your safety is a priority
Share but don't over share. Be cautious about what you put out on the Internet for your own safety.
— Camille Co, @camilleco
Weapon of choice: Wordpress
Rule #5: 'Thank you' goes a long, long way
The most important thing I want people to remember is to always be nice. No matter how big you get, it is important to remember to keep your feet on the ground. Never feel entitled to be treated specially just because a lot of people know you. When someone says your work is beautiful, never forget to say "thank you."
— Jelito de Leon, @jelitodeleon
Weapon of choice: Instagram