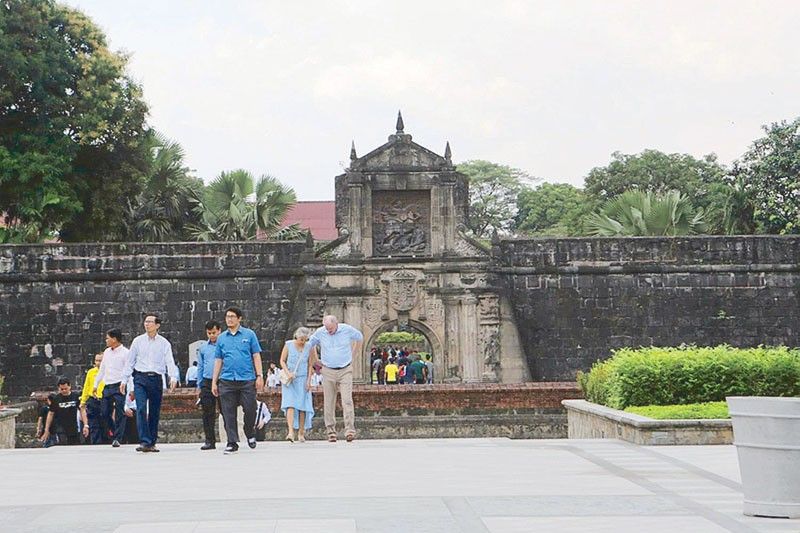 Fort Santiago in Intramuros is popular with foreign visitors.
Fort Santiago extends operating hours
Operations of Fort Santiago will be extended to 11 p.m. beginning Monday in a bid to attract tourists to visit the site at night, while public plazas in the Walled City of Intramuros will be open until 1 a.m., the Intramuros Administration (IA) said yesterday.
IA administrator Guiller Asido told The STAR that the historic Fort Santiago will be open to the public at 8 a.m. starting Monday – an hour earlier than the 9 a.m. regular schedule – and will be closed at 11 p.m., two hours later than the 9 p.m. schedule.
"We will have a different Fort Santiago this year as it will become more accessible to the public. Beginning Monday, the operation will be from 8 a.m. until 11 p.m. and we have more lighted plazas for potential night tourists," Asido said.
Despite the changes in the schedule, Asido said the entrance fee will remain at P75 for adults and P50 for persons with special needs, elderly and for students who will visit the Fort Santiago.
Fort Santiago is a military fortress built by Spanish conquistador Miguel de López de Legazpi. Its nomenclature was taken from Saint James – Santiago in Spanish – the patron saint of Spain.
It was declared a Shrine of Freedom in 1950.
Over the years, Fort Santiago became one of the country's top tourist spots because of its scenic ruins caused by World War II, as well as its rich culture, history and lessons from Filipino heroes who fought for the country's liberation from colonizers.
The Tourism Infrastructure Enterprise Zone Authority (TIEZA) has allotted P10 million for repairs of Fort Santiago, maintaining its original relics while the re-landscaping the Plaza Mayor, the Mural of Raja Sulayman, Rizal Shrine and the Plaza de Armas.
Aside from Fort Santiago, Asido said that the public plazas in Intramuros that were recently lighted will be open until 1 a.m. as part of the tourism plans of Manila Mayor Isko Moreno.
"All our public plazas are now lighted. Right now, many people are walking around at night. It is in sync with the urban regeneration program of the areas. No informal settlers were affected since they voluntarily moved there," he said.
The public plazas that will be open until 1 a.m. include the Presidents' gallery, the Plaza Sto. Tomas and the Memorare, among others.