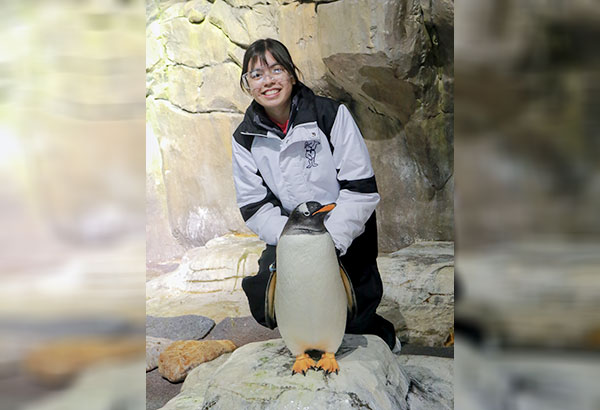 Happy feet: The author with one of Ocean Park Hong Kong's penguins.
Making friends with happy feet at Ocean Park: cool!
(The Philippine Star) - December 31, 2017 - 12:00am
MANILA, Philippines — A word of advice: when traveling to Hong Kong in December, always choose comfort over style. Those 18,000 steps a day in 18-degree weather are no joke—you'll be thanking me when you crash on your hotel bed after a full day exploring.
Hong Kong has always been the getaway of choice for Filipinos looking to experience cooler temperatures during the holiday season. Only a two-hour plane ride away from the Philippines, the autonomous territory is famous for being the shopping destination for good bargains and unique finds.
But for families looking for a unique, all-in-one experience this season, theme parks are where the fun's at. Ocean Park Hong Kong is one of those places that hits loads of birds with one stone (figuratively, of course, given how rah-rah they are about animal conservation). It's practically an institution on Hong Kong Island given how it appeals to visitors of all ages as a marine park, zoo and theme park.
The concept struck me as a little crazy at first. I mean, how could you take care of endangered wildlife and marine life in roughly the same area as all those hair-raising amusement park rides?
Penguin party
Going in, I expected to be greeted by the usual marine park fodder of aquarium walks and dolphin shows. You know the drill: Walk in, laugh as the animals do silly tricks, take photos, and then call it a day. That wasn't the case here, since the park puts equal focus on education and conservation as they do entertainment.
The penguin encounter, for example, wasn't just a glorified photo opportunity. Before making us change into thick black and white ensembles, the trainers lectured us on the different kinds of penguins we'd be seeing, including a primer on their typical life cycle and the effects of climate change. The short lesson made our time with the penguins all the more special. (Pro-tip: if you've never seen a penguin waddle in real life, I suggest booking a trip to Ocean Park right now. Or at the very least, get on YouTube and search for a video. I promise that it will change your life).
Aside from them talking the talk, I also learned that Ocean Park serves sustainable seafood in all their restaurants — a useful fact to know when you're dining in full view of all those waddling penguins at the Tuxedo Restaurant.
Conservation and education
The learning didn't stop at the Polar Adventure. Conservation is a huge part of their mission, which you're bound to understand after seeing all the gentle reminders that they have placed around the water tanks and animal enclosures. All this info is easy to digest too, so no need to worry about getting overwhelmed.
If anything, they remind you that climate change is real, and we need to do our part to save the environment. The informational signs do a good job in getting the point across to incite action. And as an aside, I can name a few people who would really benefit from a visit (like Trump).
Seeing the animals up close really puts things into perspective. Because if we don't do our part, what would we do without these gentle pandas, looking so innocent with their wind blowing their fur as they take naps on the grass? What would we do without the sharks and stingrays? It wouldn't be Ocean Park without The Grand Aquarium, a.k.a. the perfect setting to help you realize how small you are in this universe as you view the different kinds of fish, sharks, and stingrays swimming around.
Thrills 'n' chills
For those who'd prefer to check out the amusement park side of Ocean Park, I'd recommend allotting a couple of hours at Thrill Mountain. It's as great a place for taking those quirky OOTDs as it is for riding the carnival-themed rides.
I'm normally the type to pass on any ride that makes my stomach drop, but I couldn't resist trying out the newly upgraded Mine Train. They partnered up with Samsung for a virtual reality experience simulating a wild journey through an Amazon rainforest.
Fair warning: it's an actual rollercoaster that can go up to 71 kph., so you can bet I screamed my head off from the time I put on the headset to the time we pulled into the starting point. Though I'd like to think that the animated quality of the VR made the experience less intimidating. For the less daring, there's also the option to try the VR on the ground at their VR Arcade, where you can try out games like boxing and biking.
Holiday sensation
On the two days we were there, we took both the Ocean Express (the park's in-house train) and the Cable Car going back and forth from the park's main sites.
The Christmas spirit grew stronger each time we stepped out of the Ocean Express Waterfront Station. How could you not get in the mood with Mariah Carey's All I Want for Christmas blasting at full volume as you walk by a 40-foot Christmas tree with fake snow falling all around you?
Ocean Park is known for going all out with their seasonal celebrations, and this year's Christmas Sensation is no exception. We got a little peek at Santa's Cottage (for all the kids who think they're on Santa's Nice List) and the festive décor at the newly transformed romantic Christmas village. For anyone who wants to get in on the action, it's worth mentioning that the park is offering free night-time admission to Waterfront Plaza and Lakeside Chill until tomorrow, Jan. 1, 2018.
To cap off our Ocean Park experience, we had dinner at Neptune's Restaurant, which is right next to The Grand Aquarium's viewing pane. If I wasn't already feeling the holiday spirit from our earlier activities, the feelings were ever-present now thanks to the set Fantasy Christmas menu. The Fancy Christmas Wreath — a smoked turkey and shrimp salad — looked too pretty to eat. As did the Christmas Cheese Baked Lobster and Beef Tenderloin, but thankfully hunger got the best of me so I didn't miss out on the delicious flavors. As a sweet tooth, my favorite part of the meal was dessert — a little Christmas Mushroom Hut filled with chocolate and vanilla ice cream, decorated with a tiny sugar Santa.
At the end of our two-day stay, all the walking we did around the park caught up with me. Exhausted, but still reeling from all the fun we had, I thought of how having two kinds of experiences in one huge place suddenly didn't seem like such a crazy concept anymore. Making the most out of your stay is a matter of planning (the Ocean Park app is good for this!) and time management.
Thankful that I brought the right shoes, I went home happy and eager to look back on this one-of-a-kind experience. I mean, how many people can say that they've made friends with a penguin?
* * *
Ocean Park's Christmas Sensation is ongoing until tomorrow, Jan. 1, 2018. For more information on ticket packages and restaurant sets, visit www.oceanpark.com.hk.