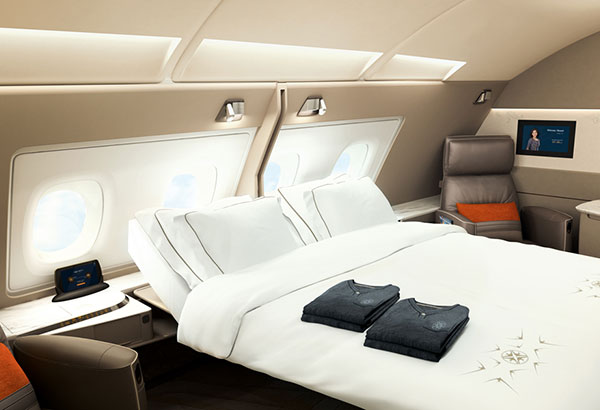 The new Singapore Airlines A380 First Class Suites feature double beds with seats upholstered in Poltrona Frau leather and pajamas and bed linens by Lalique. The first of five new A380s will start flying on Dec. 18 to Sydney as its first route.
Singapore Airlines redesigns personal space & luxury in the skies
(The Philippine Star) - November 11, 2017 - 4:00pm
Flying 14 hours across the Pacific, what better way to enjoy your flight than having your own luxurious hotel room in the skies?
Ten years after Singapore Airlines (SIA) became the first airline to take delivery of and fly the Airbus A380 in 2007, it unveiled a major interior redesign in Singapore last week.
The aircraft itself hasn't changed but the reconfigured interior is nothing short of spectacular — it's like a whole new Airbus model with even more luxurious fittings that SIA is known for.
For me, having seen the very first Singapore Airlines A380 in its last stages of assembly in Toulouse, France in 2007, it was amazing to see how a decade has elevated what was already a premier product then.
The kind of fanfare and excitement surrounding the A380 a decade ago and now is similar but in a different way. Back then, Airbus people told me stories of how the whole town of Toulouse would come out and line the streets each time a truck carrying an aircraft part (and the parts were huge!) would make its way to the Airbus plant. Last week, it was a global affair as Singapore Airlines introduced the new cabin products to media from all over the world at Suntec Center.
The layout of the new A380 has the First and Businesses Classes on the upper deck of the aircraft (they were in the lower deck previously); the lower deck has Premium Economy in front and Economy Class in the main cabin.
Singapore Airlines is investing US$850 million in its Airbus fleet. The first of five new A380s will start flying on Dec. 18 to Sydney as its first route, while the 14 existing ones will be retrofitted starting in late 2018 and are targeted for completion in 2020.
The piece de resistance of the redesign is the First Class Suites, measuring 50 square feet each. The Suites also feature double beds for couples in a "room" that measures 100 square feet. The carrier has been offering double beds since they began flying the A380 but the new suites are swankier than ever before.
"Our original Suites were the first to offer double beds in the sky and they are still regarded as the ultimate in premium travel," SIA chief executive officer Goh Choon Phong says. "Not only are we retaining that feature, but now the beds are even more plush and comfortable than before."
In a one-one configuration in First Class, two single suites (the first two rows on the same side of the cabin) are converted into a couple's suite. When the sliding privacy partition is lowered, the two single beds become one with a leather seat on either side.
Now in a subtle gray palette, the suites are very spacious. When the bed is stowed into a diving wall, a passenger can accommodate a guest to sit on a folding-style ottoman for dinner or to watch movies on the 32-inch HD TV.
The new suites were designed by the Paris-based Pierrejean Design Studio, which specializes in luxury yachts and aircraft, and manufactured by Zodiac Seats UK.
Design office manager Jacques Pierrejean says, "The idea from the beginning was to give passengers a room, not only a seat. It's very comfortable; if I want to have dinner, I can do that from my seat with the TV in front of me, and if I want to sleep I move to the bed."
The firm had a team of 10 designers working with Singapore Airlines starting four years ago. "To do such work, you not only have to imagine the concept but to feel it."
And there were women on the team, too, so details such as where to stow your handbag and makeup bag, a mirror and other things were thoughtfully reconfigured.
The amenity kit is by Lalique, so are the soft furnishings like bed sheets and duvet, slippers and pajamas; the seats are upholstered in leather by Italian furniture company Poltrona Frau; and the bone china dinnerware is by English company Wedgewood.
Goh Choon Phong adds that the new cabin offerings are a product of years of research and focus groups that SIA conducted with its passengers.
What do they want when flying? Their answers were unequivocal: A bespoke, luxurious personal space (the theme of the launch was "Space made personal, experience the difference"). Goh said they don't have any plans on installing showers or a bar in their future A380s because that wasn't a priority for their passengers.
Designer Jacques Pierrejean says, "Singapore Airlines for us is at the top of the market now and I think it will be the benchmark for the next decade."
The new Business Class cabin was designed by JPA Design of the UK and manufactured for Singapore Airlines by JAMCO Corporation of Japan. Like First Class, it features classy leather seats by Poltrona Frau in addition to lightweight carbon composite materials.
Unlike the older A380 Business Class seat, which a flight attendant has to make into a flat bed for the passenger, this new seat has buttons for the passenger to take full control of his seat.
They may also stretch out fully in a "sun-deck" position to watch movies on the 18-inch high definition touch-screen monitor.
A larger back shell on every seat creates a cocoon-like feel for more privacy while the center divider can be fully lowered to form double beds, making the two center seats an ideal choice for couples or families.
Seats in the Business Class cabin are arranged in a forward-facing, one-two-one configuration that offers all customers direct access to the aisle.
The middle seats can be converted into double beds.
Other features include a business panel equipped with USB ports and in-seat power, reading lights with adjustable brightness level, mood lighting, enlarged dining table designed for flexibility in dining positions, as well as stowage space for personal amenities with a thoughtful design that puts everything within easy reach.
Premium Economy Class — designed by JPA Design and manufactured by ZIM Flugsitz GmbH — has also changed its color scheme. Its leather seats are now in gray and there's more space in the magazine compartment in front of you to slip in your laptop. It has a calf-rest and foot-bar for every seat, individual in-seat power supply, two USB ports, personal in-seat reading light and cocktail table.
Each seat is 19.5-inch wide with an eight-inch recline and seat pitch of 38 inches. Customers have an enhanced in-flight entertainment experience with active noise-cancelling headphones and a 13.3-inch full HD monitor.
In Economy Class, Recaro designed and built the new seats, offering greater comfort. "Leveraging on advanced technology and ergonomics, seats offer more legroom and back support, with a six-way adjustable headrest with foldable wings. The Economy Class seat also features a more contemporary fabric seat cover design."
An 11.1-inch touch-screen monitor eliminates the need for handsets to indulge in KrisWorld, Singapore Airlines' award-winning in-flight entertainment system.
The new A380 configuration will carry up to 471 customers in four classes of travel, with six Singapore Airlines Suites, 78 Business Class seats, 44 Premium Economy Class seats and 343 Economy Class seats.
On every flight, regardless of cabin class, two things that passengers often praise (or complain about) are the carrier's entertainment system and food.
Singapore Airlines is introducing an industry first called myKrisWorld, a feature that allows you to bookmark and resume content, and save preferences for your next flight when you input your KrisFlyer membership number.
If you're flying, say, Manila to Paris, and you begin watching a movie in Manila and before you finish it you've land in Singapore for a layover, you can resume your movie when you board your next flight, from Singapore to Paris.
With the SingaporAir mobile app, you can also choose your inflight entertainment prior to your flight and transfer your selections to myKrisFlyer when you're onboard.
Isn't that amazing?
As for food, SIA has always been known for serving good food in all classes thanks to an international culinary panel composed of chefs from all over the world.
With its Book the Cook service, you can select your main course ahead of your flight from Singapore.
From Singaporean fare like chicken rice and laksa in Economy to more gourmet selections in the higher classes while enjoying a glass of Dom Perignon in your suite, SIA cuisine is a world away from "airplane food."
"The significant investment that we are making with the introduction of new cabin products demonstrates our commitment to continued investment in products and services, our long-term approach to ensure we retain our leadership position," said Goh Choon Phong.
* * *
Visit the author's travel blog at www.findingmyway.net. Follow her on Twitter and Instagram @iamtanyalara.
Singapore Airlines flies four times a day from Manila. Its regional wing SilkAir flies 12 times a week from Cebu, nine times a week from Davao and three times a week from Kalibo. Visit www.singaporeair.com. For bookings and inquiries, visit Singapore Airlines Ticket Office at 33F LKG Tower Ayala Avenue, Makati City or call SIA Manila reservations at 756-8888.
Singapore Airlines' A380s currently fly to Auckland, Beijing, Frankfurt, Hong Kong, London, Melbourne, Mumbai, New Delhi, New York, Paris, Shanghai, Sydney, and Zurich.