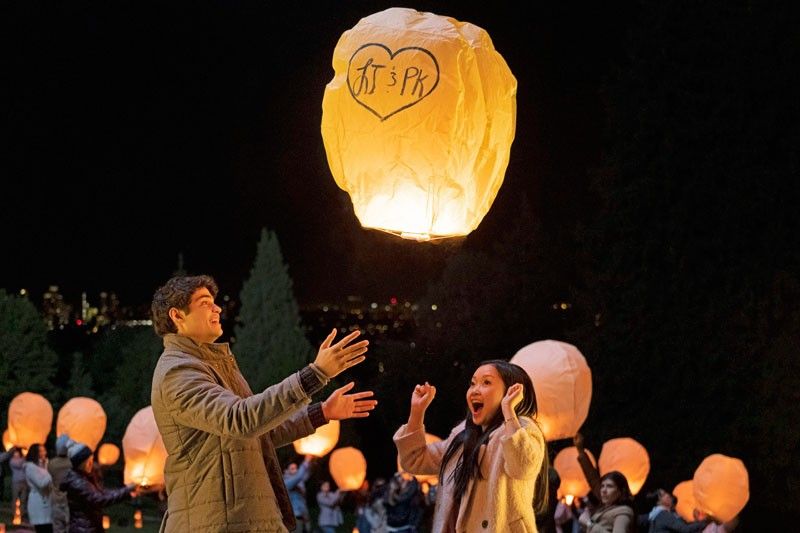 Noah Centineo and Lana Condor return as Peter and Lara Jean in P.S. I Still Love You, the sequel to the hit Netflix rom-com To All the Boys I've Loved Before.
Lara Jean still has a lot of growing up to do in 'P.S. I Still Love You.'
Like they say on the internet these days, the Netflix Original To All the Boys I've Loved Before was a cultural reset. Audiences fell hard for the premise of love letters being sent out to people who were never meant to read them — and for central characters Lara Jean and Peter Kavinsky, whose fake relationship blooms into something a lot more real.
It checked off all the boxes: It had Asian representation with Lana Condor in the lead. It was a film adaptation of the books by Jenny Han, which are great examples of the #OwnVoices movement highlighting YA books about certain minority groups written by authors who belong to them. Noah Centineo, who plays Peter, became an official White Boy of the Month. And it became a huge step toward breathing new life into the rom-com and the teen movie, both of which were experiencing quite a bit of a drought.
Nearly two years after its release comes the premiere of To All the Boys: P.S. I Still Love You. The sequel picks up right after the events of the first film, with Lara Jean and Peter having ended up together and now having to navigate what it means to actually be in a relationship with one another. Established relationship stories are tricky — how do you make the aftermath of the happy ending exciting and worth sticking around for?
It helps that Lara Jean and Peter are adorable together. Their first "real" date is awkward and stilted at a few points, but still sweet and true to what we've seen of their dynamic. It also helps that the conflict presented is valid and reasonable: this relationship is special to Lara Jean because she's experiencing everything for the first time, while Peter has been through it already. She can't help but compare every new relationship milestone to Peter's and his ex-girlfriend (and her former best friend) Gen's. She's always wondering what makes it all special for Peter himself, and if it even is in the first place. Her insecurity is relatable, and once again you find yourself rooting for her.
Lara Jean's life is further complicated when she receives a letter from her camp crush John Ambrose McClaren (Jordan Fisher, stealing hearts all over again) — which happens to be a reply to the love letter she wrote him years and years ago that was sent out by her precocious sister Kitty. And then they have a meet-cute while volunteering at a retirement home.
It's a tough choice, having to pick between two childhood crushes who have both grown up cute and ended up returning your feelings, especially when you're already dating one of them. Peter is goofy and he's proven that he cares a lot for Lara Jean, but he also didn't make much of an effort for their first Valentine's Day together and even wrote her a note with Edgar Allan Poe's Annabel Lee, giving her the impression that he wrote it for her. He also hasn't been as honest with her about certain things — mostly concerning Gen — as he should be. John Ambrose, on the other hand, seems like an absolute dreamboat on paper (he plays the piano!), but Lara Jean doesn't feel as strongly for him.
The movie makes it tough to see why Lara Jean would choose one over the other — it doesn't give Peter enough room to grow and truly redeem himself, and John Ambrose is basically a satellite love interest who could've used more fleshing out.
This is what's strange about P.S. I Still Love You — the most interesting and compelling things about it are all but the romance. We spend time in a retirement home with a cool mentor character in the form of Holland Taylor's Stormy, who teaches Lara Jean about love, life, and fashion. We uncover a time capsule buried in the gang's younger years that becomes a catalyst for a possibly repaired friendship between Lara Jean and Gen. We get Lara Jean and Kitty celebrating their Korean heritage and their late mom through traditional outfits and a family tradition that's both funny and heartbreaking. There is even a subplot involving their widower dad and their neighbor that's more swoon-worthy than Lara Jean's own goings-on.
With the third movie in the works, P.S. I Still Love You definitely feels like the middle of the trilogy, and it suffers a bit for it. This series has always revolved around its heroine — the third installment is even called Always and Forever, Lara Jean. As a viewer, you'd like to reason that people can become actualized versions of themselves without having an other half, and Lara Jean seems to be coming into her own without either Peter or John Ambrose, growing beyond love and other firsts. It's a romance movie, sure, but it's almost intriguing to see what would happen if she chose the third option: herself.