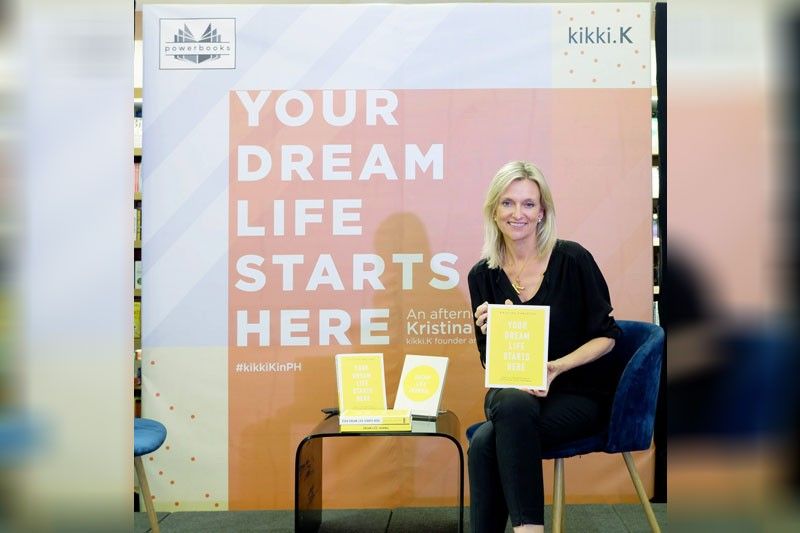 Dreaming on with Kristina Karlsson
Ella Rivera
(The Philippine Star) - November 30, 2019 - 12:00am
Growing up, we've been told that we can do or be anything. As children, we had this restless idealism that made us believe that all dreams are doable, and that it's just a matter of when. This childlike wonder, unfortunately, tends to suffer a steady decline as we age — as adults, we become more practical and less visionary. However, dreams stay with us, and maybe with a little bit (or a lot) of tweaking, we can find ways to make them actually become reality.
Kristina Karlsson, the founder of design and stationery business kikki.K, loves dreaming — her first-ever store was made possible by literally writing her dreams down on paper. And in her new book, Your Dream Life Starts Here, she encourages everyone to do the same. "Spend time on things that you love," she says, "because sometimes we do so many things that other people wanna do, but (you should) really try to write down your dreams and go and chase them."
In this interview, Kristina talks about her journey to creating kikki.K, how to sustain a hobby, and the power of journaling.
SUPREME: Tell us a little bit about how you started your company. What inspired you to pursue this?
KRISTINA KARLSSON: I grew up in Sweden, then I followed (my partner Paul) to Australia. When I decided to stay in Australia, I thought I had to do something that I loved. One night at three in the morning, I woke him up and said, "What am I gonna do with my life?" and he was like, "I'm a bit over this so I'm gonna turn the light on and let's write down your dreams on paper." I wanted to have my own business and then I wanted to work with Swedish design, and I wanted to make 500 dollars a week. Those were my first dreams on paper. So I said to my partner, "I'm gonna open beautiful Swedish design stores around the world."
How can you sustain an interest or a hobby? How do you avoid getting burnt out?
I think if you do what you love, you don't necessarily burn out as much. When I started my own business, I worked all the time but I loved it so much, but one thing that really helps me — and I still use — is to do a lot of journaling. So if I have something that is bothering me or a challenge that I have to work through, I write about it. Get rid of the phone for an hour and really connect with yourself then you are less likely to get burnt out.
People nowadays dabble in so many different jobs. How can someone with various interests find the right career path for them?
I would ask yourself a few questions: What would I do if I couldn't fail, if I could do anything in the world? If you had all the money that you needed in your lifetime, what would you do? What would you do if you had all the skills, knowledge and resources to do whatever you wanted to do? What comes to mind? Write that down. If you had all the energy and all the time in the world, what would you do? Start writing that down and really think about what comes to mind. Sometimes we restrict ourselves and self-doubt comes in. Like, you know… will I have kids? Will I have people to support or myself to pay? You know, whatever it is, and we do things that we might not love. Ask yourself those five questions. (That's why) I wrote the book because I really want to help people find what they wanna do. And when I say "living your dream life," it's not a perfect life. We'll have challenges, and sometimes we have a challenged background. But really focusing on, you know, that life is short, what would you like to do in your lifetime?
Your book is about chasing your dreams. Was writing a book something you've always dreamt of doing or was it completely unexpected?
I went away without my telephone for three days with a journal and I wanted to see what I could come up with in terms of creativity. Because I was tired, I was going through a lot, I have young kids. I came up with my book because I meet so many people, I do a lot of talks around the world now, and I always meet so many people saying, "Where should I start?" So I share all my tools (for) the way I live my life in my book. So my dream now is to inspire 101 million people to write down three dreams and go and chase them, because if everyone lived their best life, you would then inspire your community to do the same.