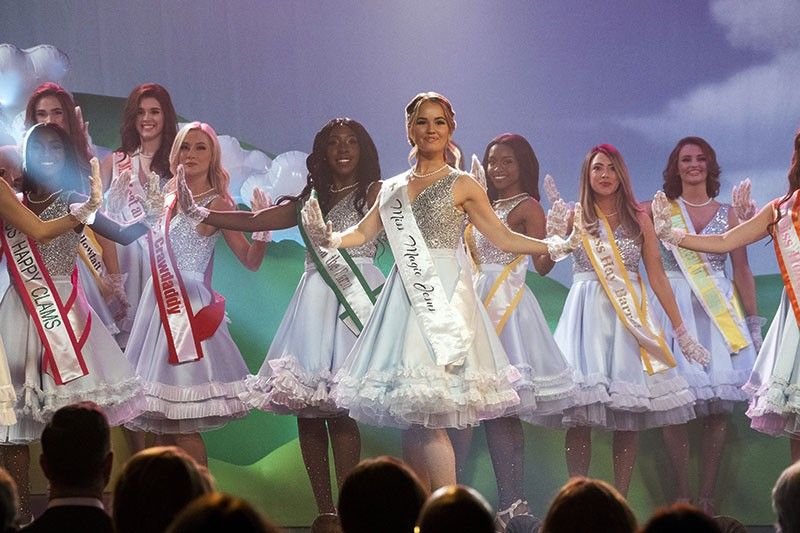 Debbie Ryan (center) returns on Insatiable as Patty Bladell, an aspiring beauty queen who's also looking to take revenge on everyone who's ever wronged her.
On Being Fat and 'Insatiable'
We're thrust into a pageant hall in Atlanta, Georgia, where Netflix's pageant comedy Insatiable is filming its second season finale. We take stock of the set, walking past gaggles of beautiful girls with big hair and high heels. We spot Christopher Gorham, who plays pageant dad and resident beefcake Bob Barnard on the show, diving into a slice of pound cake at craft service. He smiles and explains both succinctly and triumphantly, "My shirtless scenes are done for the season."
But not everything on this show is hairspray and sweet treats. When Insatiable first premiered on Netflix, it received a slew of negative reviews, saying its content was "fat-shaming" and going as far as to call it "a toxic teen iceberg." A change.org petition was created to cancel the show altogether. If you've never seen it, the show centers around Patty Bladell, exquisitely played by teen dream Debby Ryan, who sheds a massive amount of weight after an altercation requires that her mouth be wired shut. She finds Bob Armstrong, played by Dallas Roberts, a pageant coach in need of redemption. He seeks to mold her into something that will bring glory back to his name, while she is hungry for both acceptance and revenge against those who made her feel "less than." The show deals with several themes — sexuality, drug addiction and the forms addiction may take in children of addicts, body image, and eating disorders, just to name a few.
Creator Lauren Gussis has often referred to Patty as the demon of her youth, and is open about her personal experience with many of the things Patty deals with on the show. "The call is always coming from inside the house," she jokes. "I had to deal with that stuff. I'm recovering from an eating disorder and I had to come to terms with my sexuality; issues of authenticity and who can accept you and what happens when you get the thing you think you want, and it's not the thing you want it to be."
"I have always been able to identify with this feeling of 'not enough,'" says Ryan in agreement. "If I just do this or accomplish this or if I feel this way about myself, then maybe that will give me the 'enough.' And that is a moving target. That's what makes us driven and that's what makes us constantly seeking to be better, but it can also take us to dark places. I've experienced both ends of that spectrum."
Camp and circumstance
The atmosphere of the show itself is clearly camp and satire, and wildly interested in, as creator Gussis says, "turning it up to 11." It feels quite similar to the 1999 high school teenage comedy series Popular, which first showed the world what creator Ryan Murphy could do and which Insatiable's Gorham also starred in. It dealt with a lot of similar issues at the time, and was never described at the time as particularly flippant or dismissive. It almost feels like Insatiable would have had a smoother ride had it been made in the earlier aughts, but there is always a resistance against morally questionable characters, despite their existence being closer to reality. Gossip Girl, which has been branded "one of the best shows of our time," was initially met with similar resistance, with critics saying it imparted nothing to its mostly teen-to-20s audience.
The most heavily criticized part of Insatiable is its supposedly being rooted in fat-shaming. However, on a personal note, having been overweight all of my life, it's easy for me to see the lens through which the series was written. I honestly don't think it takes a stand on weight or says that fat people are worth less or that we should make fat people feel terrible. Rather, it's an exploration into how you're made to feel when you're larger than everybody else, and what happens when you don't have anyone helping you rein in your demons.
Much of the supposed fat-shaming comes from Patty herself, because she thought being thin would make her a different person, only to find that she was exactly the same person within. Ryan says, "It's the things that knock on the walls of your head that can never find themselves into sentences, because we're so precious and we don't want to be taken out of context. When you tread lightly, it feels like anything you say that has a strong point of view is irreverent — versus when there is camp and satire, it allows this playing field to touch on all the things that torment me in my head. If you've ever been in a room full of people discussing their eating disorders, there's a darkness and a heaviness to it, but also a lightness because this is our reality. It's nice to be able to operate within the sincerity of it."
"I agree it's important to depict women of all body types being successful and happy, having love," says Gussis. "I'm not dismissive of that, but that's not what this show is meant to be, ever. There are a lot of (shows) out there doing very good work in the world, and my version of it is to reveal the shadow part of it, which is the misery and what happens when it's never enough? The title of the show is Insatiable for a reason. Instead of just showing a pretty thin girl out in the world… we say, 'Look at how this person feels about (herself), even though I would be very pleased to look like that and it doesn't matter.'"
A darker season
As the show enters its second season, Gussis says they've taken all criticism against the show and reacted with further compassion in their writing. "People loved the show and I 100-percent stand by what we did, but the world changed in the middle. I feel like we have the responsibility to stay within the tone — the irreverent, satirical tone of the show — and also understand that the boundaries of comedy have changed. And learning to function inside of that in a more conscious way. We're always going to be that show that goes right up to the line, but when the line moves, you have to adjust where you're going up over to, and knowing that sometimes the only way to find that line is to go over it. There's no version of (the show) that's playing it safe in any way, it's just being more aware of the lines."
Gussis adds, "It's been such a long time that women's bodies have been misrepresented on television that we do have an accountability in a different way now. If you just tell the story and don't name the thing, then it starts to become irresponsible." She says they hired an adviser on eating disorders to walk through the material with them as they discuss Patty's illness in the second season, and says that the adviser's presence has been healing even for her. "I understand that your self-worth or your worth in the world has nothing to do with your body size, but to see that in practice really helps me identify the places where I've been fed all this stuff from day one. And then understanding how that impacts me going through the world, makes me feel like if I'm putting content out, I also have to be accountable for naming the things, even if we're still depicting the things. Which is the difference, right?"
Gussis also says that the second season is slightly darker, because the issues being tackled are of more consequence and depth. Ryan says, however, that those who love Patty shouldn't expect anything less from her, and that Patty is more herself than she's ever been. "Until I was her, I was never able to say out loud, really, or even make eye contact (about) how hungry I am. I think what I love about Patty is that she's so misguided and she looks in all the wrong places. But we're all looking for the same thing. We've all been told that once we find something, that we will be fixed and we will be whole and we will be happy. I love her because I have compassion for the fact that she doesn't know any better way to be. She was raised in chaos, and she was a product of that." Ryan then cracks a smile and adds, almost preciously, "I don't know. I'm rooting for her."
* * *
Season two of Insatiable is now streaming on Netflix.