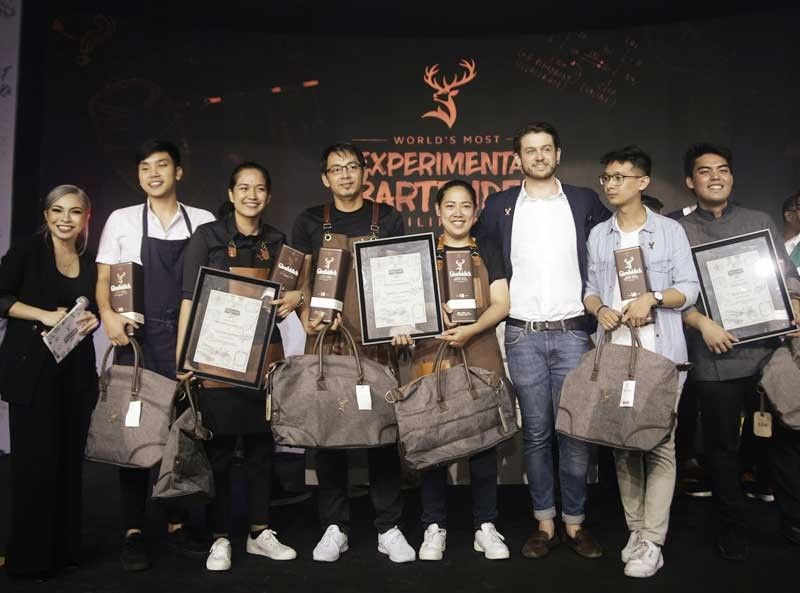 Three pairs of bartenders and local food experts, called "concoctionists," came out on top at Glenfiddich's Most Experimental Bartender competition.
Glenfiddich sets the bar higher for local mixologists
The scotch whisky brand holds the Most Experimental Bartender competition in the Philippines.
MANILA, Philippines — Nine pairs went in, and only three came out as victors — is this a bartending competition, or an episode of Survivor?
Glenfiddich recently challenged several young bartenders to test the limits of the beloved whisky drink. At the recent local qualifiers in the Philippines, nine bartenders served up their own versions of the drink, as attendees voted on their favorite unique take.
The beauty of the competition was in the pairing of a bartender and a local food expert. Coming out on top were three finalists: Kathrin May "Kate" Osmillo (head bartender, Oto) and pastry chef Fonso Sotero (pastry chef and owner of Lampara), Faye Fernando (bartender, Cove Manila) and James Llamera (research and development, EDSA Beverage Design Group), and John Lorenzo "Enzo" Luna (bartender, Run Rabbit Run) and Don Carpio (freelance baker and pastry chef).
It was interesting to see how each concoctionist (as they were called) used ingredients that you may not always find in your average bar. For Fernando and Llamera's combination, they used soya milk, to be mixed in the Glenfiddich 12 years single malt whisky, and came up with a rather grown-up version of taho in the form of an old-fashioned cocktail.
Divide and conquer was Osmillo and Sotero's method — they made their own version of an amuse bouche, with Roasted Malt Ball, the Soaked Munchkin, and the Highball Rock, to highlight the individual flavors of the scotch whisky.
Luna and Carpio's take was their version of a Filipino breakfast. "We did a classic Filipino breakfast consisting of malt barley sourdough pan de sal (for the bread), Glenfiddich butter and jam (for the spread), and hot salted Caramel apple batirol (for the drink)," they said. "For the bread we used malt barley (grains used to make Glenfiddich) as an ingredient — the idea is if you could make good whisky from malt barley, you could make good bread as well. The jam and butter are also infused with Glenfiddich. The drink is reminiscent of a fruity hot chocolate."
It's always exciting to see how people take their tipple to the next level. And indeed, these three pairs will move on to the World's Most Experimental Bartender National Finals, where the winner will get to experience the home of Glenfiddich, in Dufftown, Scotland and represent the Philippines in the global finals. Cheers to that.