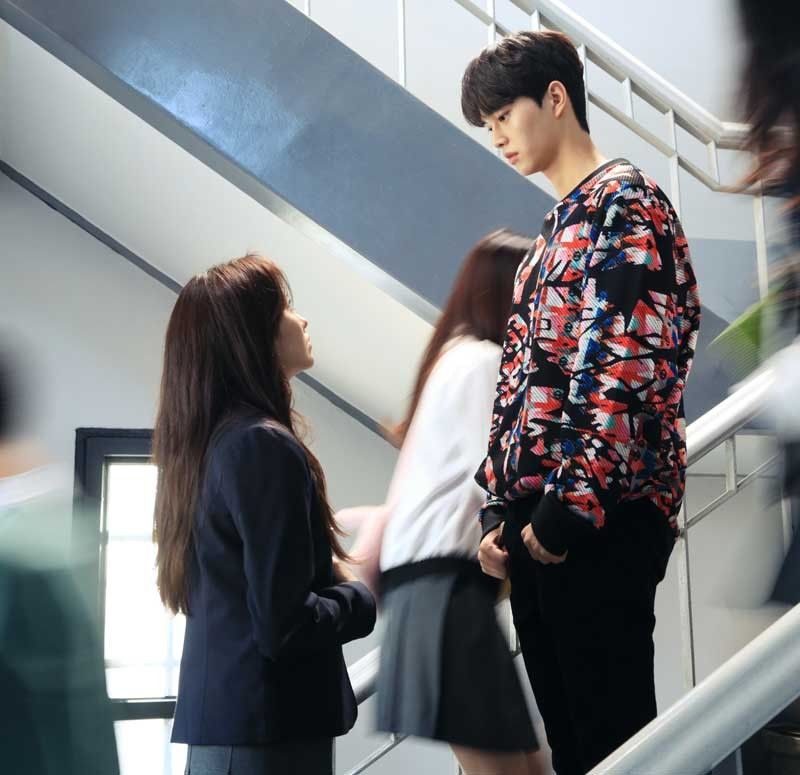 Kim So-hyun and Song Kang star in Love Alarm, about an app that tells its users who has romantic feelings for them within a 10-meter radius.
What if an app told you somebody has feelings for you? The new Netflix K-Drama 'Love Alarm' makes the case for back-to-basics romance under a high-technology premise.
MANILA, Philippines — A good romantic comedy can often be measured by its Big Declaration of Love, often taking place at the climax. This is why You've Got Mail, no matter how obsolete it's become, remains a classic — there are still undeniable sparks when Meg Ryan finally sees Tom Hanks with his dog in Central Park and can only say, over and over through tears, "I wanted it to be you."
So what happens when the love story makes the admission of feelings itself obsolete? Such is the case in the upcoming Netflix K-Drama Love Alarm, set in a society where people can find out who likes them through something as simple as a notification on their phone. Forget swiping right; with the Love Alarm app, which determines the romantic feelings of anyone within a 10-meter radius, you only need to walk by another user to make a match.
While this sounds simple and straightforward, it proves to be anything but. When it's become virtually impossible to hide your feelings, complications are bound to arise, as high school student Jojo (Kim So-hyun) finds out. The Love Alarm rings for her and resident heartthrob Sun-oh (Jung Ga-ram), indicating that their attraction is mutual. Meanwhile, Sun-oh's best friend Hye-young (Song Kang) has yet to download the app, preferring to keep it old-school with his feelings — and if he also happens to like Jojo, nobody needs to know.
In a world where all the guesswork and what-ifs are removed from dating, Love Alarm asks what it really means to have feelings for someone. If Jojo learns anything from the Love Alarm, it's that it doesn't always lead to happiness. You still have to decide what to do. You still have to choose your person. You still have to make the first move.
It's also in how you show these feelings, whether it's making time or getting coffee together — making a case that, even with fantasy technology, nothing can beat the little things that truly add up to romance.
* * *
Love Alarm launches on Netflix on Aug. 22.