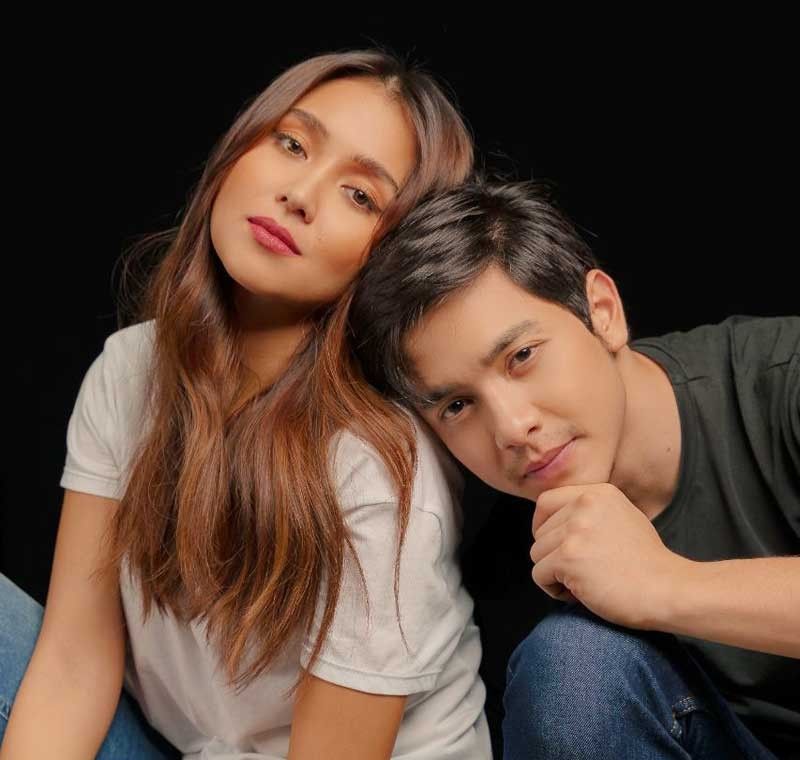 In Hello, Love, Goodbye, Kathryn Bernardo and Alden Richards play a pair of OFWs who meet in Hong Kong and try to pursue a romantic relationship.
Photo by RENZO NAVARRO
In their new film 'Hello, Love, Goodbye,' actors Alden Richards and Kathryn Bernardo are going back to square one, to relearn what it takes to build a love team.
MANILA, Philippines — It's a little after nine on a rainy Wednesday evening, but the workday for Kathryn Bernardo and Alden Richards is far from over. After a full day of running from one magazine shoot and interview to another with quick outfit changes and a flurry of hair and makeup retouches in between, you know for sure that they want this long day to be over just as much as the next person does. But even so, the two don't show it.
Every now and then I'd catch one of them staring blankly into space or yawning ever so discreetly, but even in the face of what could only be a mixture of boredom and fatigue, what's even more pronounced are these actors' professionalism and uncanny ability to power through a long work day.
Kathryn and Alden are no strangers to the long hours and the routines of being in the biz. The past few years have seen them taping top-rating TV shows and filming blockbuster hits of their own, and if there's one thing they both understand quite well, it's that theirs is an industry that requires copious amounts of dedication and patience. What these two stars are unfamiliar with, however, is each other — or at least that's how it was not too long ago.
When Star Cinema revealed in March of this year that their latest offering would put one of ABS-CBN's biggest stars, Kathryn Bernardo, opposite GMA-7 front-runner Alden Richards, fans and onlookers alike chimed in with mixed reactions. While some fans were excited about this unprecendented team-up, others were skeptical and didn't think that putting these top-billing stars from rival networks together was the best idea. But while everyone was busy worrying about whether this pairing up of the Teen Queen-turned-Phenomenal Box Office Queen and the Pambansang Bae would work, did anyone even stop to think that maybe, just maybe, the actual names on everyone's lips have their qualms, too?
Kathryn, having been one-half of the tried-and-tested love team KathNiel for almost half of her entire career, is quick to admit she was afraid going into a new partnership — and with Alden Richards of the equally impactful AlDub, no less. "At first I was scared, of course. Nakakatakot. But then, sa life, okay ang uncertainties sometimes because 'yun 'yung nagpapa-grow sa'tin, so na-enjoy ko 'yung proseso niya, 'yung dinaanan mo lahat ng emotions. Pero napaka-liberating nga ng feeling. Love team kasi kami ni DJ (Daniel Padilla's nickname) for seven, eight years? And okay 'yun, ang dami kong natutunan dun, pero ang dami mo rin palang matututunan kapag ikaw na lang tapos may bago kang makakasama, kung paano ka. Parang bumalik ako sa simula," shares Kathryn.
Alden shares the same sentiment, noting that it's the uncertainty of everything that makes this ride worthwhile. "The way I see life now, parang 'pag masyadong comfortable, walang challenge, eh. Walang push. Parang you're always there being safe, being pampered. With this project, parang ako personally, and Kath also, we jumped into this without really thinking of what could really happen. There are a lot of possibilities na pwedeng mangyari dito sa pair-up na either good or bad, but siguro that's the beauty of life, eh. 'Yung being uncertain and doing uncertain things — it's very liberating," he explains.
If we go by millennial Internet slang, Hello, Love, Goodbye could easily be one of the most ambitious crossover events in recent Pinoy movie history. While this certainly isn't the first local film that explores and tells the story of the Overseas Filipino Worker, the triumvirate that is Kathryn, Alden, and rom-com master Cathy Garcia-Molina is enough to let us know that we're on to something good. As soon as its official trailer came out, many were unable to deny the palpable chemistry between its two leads.
Unsurprisingly, both Alden and Kathryn claim it helped that they only ever interacted with each other at events and awards shows in the past prior to meeting each other for this project. "Siguro (what makes our tandem work is) 'yung pagka-stranger namin sa isa't isa. Nakatulong 'yung wala akong alam (kay Alden), walang alam din si Alden sa'kin. So (habang) 'yung characters nakikilala ('yung isa't isa) along the way, parang kasabay 'yun nung pagkilala ko (sa kanya) as Alden," she shares. "Sa mga scenes na iba, natural reaction mo talaga 'yun kasi…"
Before Kathryn can even find the next words, Alden finishes the sentence for her as he nods in agreement. "That's really how you feel at the moment," he concludes. He also believes that the gradual development of their relationship from co-workers to friends helped a great deal in making their characters more believable. "Siguro naging present, naging dominant 'yung trust. She trusted me, I trusted her, everything became organic. We became comfortable. That's what really works talaga, I think, 'yung style na 'di mo pipililtin para mag-work kasi eventually lalabas at lalabas siya," remarks Alden. "Do your work, do your job, then let everything flow."
Since day one, this project (and this team-up in general) has been about stepping outside of comfort zones and wading into uncharted territory, and this is particularly true when it comes to the roles they play in the film. In Hello, Love, Goodbye, Kathryn plays Joy, a domestic helper who takes life — and herself — almost a little too seriously, hustling night and day to give her family a better future. "Si Joy, very different siya from Kathryn kasi very introvert si Joy, and then mabilis siyang tao, wala siyang sinasayang na oras. And siya 'yung nagre-represent ng mga OFWs ngayon, mga DH natin sa Hong Kong. (Ako kasi), lumaki kasi ako na, alam mo 'yun, may mga tutulong sa'yo sa bahay. May gagawin ka, pero meron kang aasahan na ibang tao na kapag 'di mo kaya, tutulong agad sa'yo. So medyo dependent ako in a way," Kathryn admits.
For Alden, his character is too much of a free spirit for him to identify with. Even using his real name to emphasize just how much he differs from his role, Alden says, "This is one of the roles na masasabi ko talagang sobrang layo from the real Alden Richards — from Richard Faulkerson — kasi we differ in a way na how we see life. Happy-go-lucky lang 'to si Ethan, tsaka walang pakialam. Kumbaga hindi na niya iniisip ano pwede mangyari in the future." But, while Alden struggled to take on a role that he hardly connected with, he thanks his director, co-stars, and team for being there to guide him through it.
In the process of filming and gaining a better understanding of their characters' complexities, 27-year-old Alden and 23-year-old Kathryn also discovered deeper, more meaningful things about each other. For Kathryn, it's the young actor's love for his craft that makes him all the more admirable. "Na-witness ko kung gaano siya ka-passionate about acting, 'yung hunger niya, 'yung willingness niya para matuto, kung paano siya makinig kay Direk Cathy… And (nakita) ko kung gaano niya ka-mahal 'yung pagiging actor niya, so na-appreciate ko na ganun niya ka-mahal 'yung trabaho," she reveals.
Similarly, Alden is in awe of Kathryn's dedication to the job. He recalls an incident where she had requested to retake one of their longest, most critical, and most emotionally demanding scenes — which should be easy for you to envision if you've seen the movie — despite the long hours of filming, leaving to attend a separate work event, then coming back to resume shooting, all while committing about nine pages' worth of lines to memory. "That's the reason why she is where she is now," shares Alden.
This he says with conviction, the expression on his face betraying a sense of pride that comes from knowing the superstar seated right next to him. Kathryn is as humbled by this compliment as much as she is caught off guard, and in response, a shy smile forms on her lips. "Sometimes, kapag hindi ko naramdaman 'yung eksena ko, I really ask for a second chance sa director. I appreciate actors who (do) the same, 'yung nagpapaulit ng scene kasi they feel like they can give more. Goes to show na it's all right to have high standards for yourself; it's all right to be hard on yourself 'cause it's for you," Alden explains.
We go back to talking about Hello, Love, Goodbye, and I'm reminded of how their trailer touches on the idea of impermanence — of how moments and feelings are fleeting, so we must make the most of whatever time we're lucky enough to have. With this in mind, I ask Alden and Kathryn what they hope to contribute to an industry that's fast-paced and temporary, and one they eventually would have to leave. "(I want to be remembered as) someone who is real, someone who's not perfect," Kathryn shares. "Gusto ko makita nila ako as Kathryn na tao, hindi artista. Feeling kasi natin 'pag artista ang perfect, but now I'm very open with my imperfections. Feeling ko, they will love you more kapag pinakita mo na tao ka lang din. Na okay na magkamali, okay na masaktan. Mas nahu-humanize ka," she explains.
Alden doesn't stop nodding his head as the words come out of Kathryn's mouth, almost as if she just took the words right out of his. He lets her finish, takes a few seconds to compose his thoughts, and ultimately decides to emphasize one important thought: "Don't strive to be famous." He goes on to say that there's a lot more to the business than being rich and famous, and then adds, "It's about being passionate in what you're doing, being able to inspire lives through the work that you're doing. That's the higher purpose of being in this industry."
It's funny to think that just a few months ago, Kathryn Bernardo and Alden Richards were practically strangers. Now, they're friends who have inside jokes, shared expressions ("Inay!" seems to be their favorite, in case you were wondering), and even an unconscious habit of finishing each other's sentences. And although their team-up, like many others, will most likely be short-lived — at least where work is concerned — there's no reason we can't enjoy it for what it is right now.
Because whether this is a place for them to stay for a while, or merely a stopover on their individual journeys to who knows where, there's one thing we know for sure: Kathryn and Alden are making the most of their time together. And something tells me we should, too.