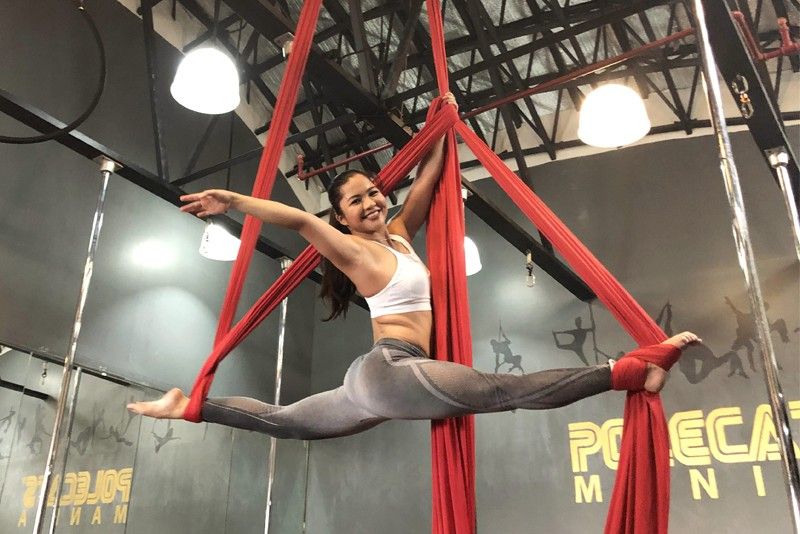 Polecats Manila celebrates its 10th anniversary with a newly expanded three-studio space for accessible and fun classes that are open to anyone who wants to give it a shot.
Polecats Manila's pole and aerial dance classes are just the thing you need to step out of your comfort zone and reach your limits.
MANILA, Philippines — July is fast approaching and the year is almost half done. And while it's not entirely unheard of for some of us to have stuck with our "me, only better" resolutions, it's just as likely that we've settled into the grooves of our day-to-day and gone easier on ourselves. (Which, if you think about it, isn't really such a bad thing.)
But if you think you've been letting yourself go, fret not. You don't need a symbolic beginning to get a fresh start, whether it's taking fitness more seriously, trying new things, or meeting new people. Your new hobby or even passion is always just around the corner, and you just need to be open to it.
If all of these things sound like, well, you to you, Polecats Manila may be what you're looking for. The country's first aerial arts and pole dance school is celebrating its 10th anniversary, and has recently expanded into a three-studio space in the heart of Ortigas. With an aim to empower and build confidence in its students through promoting aerial arts and pole dance as art forms and methods of fitness, Polecats holds classes that are accessible and enjoyable for beginners, as well as workshops featuring international pole stars and athletes.
You can choose from various Pole, Aerial Silks and Aerial Hoop classes to try out. There's also the Mighty Fit workout, which helps you build strength and stamina to take on classes you might find challenging. Instructor Kayleen Ortiz gently but firmly guides students through various routines that also make use of bands and weights, taking you out of your comfort zone but also helping you set and reach your limits. Set to a rollicking rock soundtrack — the playlist spans everything from Fall Out Boy to Queen (We Will Rock You, what else?) — it's like stepping into the turn-of-the-millennium cult dance movie Center Stage, only less fraught with drama and more fun and freeing.
Polecats is all about encouraging and uplifting one another and working toward improvement, and it's open to anyone, even those of us who don't really consider ourselves dancers or aren't into sports. As someone whose idea of exercise doesn't really expand beyond very, very long walks, it was a little daunting to just jump into an intense workout class at Polecats, but at the end of it I was able to feel a sense of camaraderie and fulfillment — even enjoyment. Hey, I survived, didn't I?
So who knows? You might find you have a knack for it — maybe even be good enough to feature in Stellar, their annual student showcase. There are plenty of class schedules you can squeeze in to your day-to-day life, and you'll find that there's no better time to start afresh and work on yourself than now. Even better, you'll get to join a community that's as skilled as it is supportive.
* * *
Polecats Manila is located at Ortigas Wellness Alliance, 22F Strata 100, F. Ortigas Avenue, Ortigas Center, Pasig City. Visit polecatsmanila.com for more information.