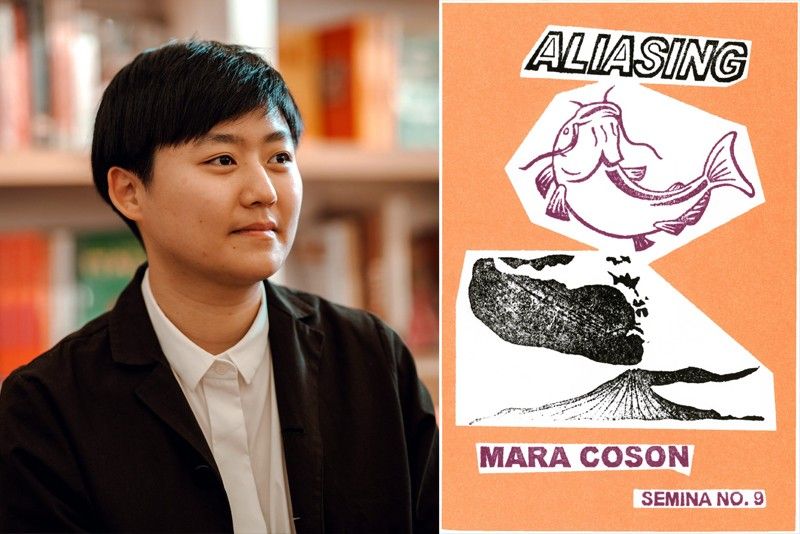 Mara Coson's first novel Aliasing weaves contemporary Filipino culture and history together in a vividly detailed narrative.
Photo by Iya Forbes
Mara Coson on strange tales and the Ibong Adarna
Debut author Mara Coson's novel 'Aliasing' creates an absurd snapshot of a postcolonial Philippines from another universe.
An alias, for the most part, is a name adopted by someone other than their real name. Although one could consider it a false one, it functions as a name by which its referent is called, and by virtue of that reasoning is, for the most part, "real." Aliasing is a similar phenomenon, though involving distortions in space and time, expressed through sound and vision, rather than a linguistic substitution. Simply (and by a layperson's understanding, a.k.a. mine), it is something that occurs during the processing of transmitted signals, where these signals become indistinguishable and, in turn, become aliases of one another.
Aliasing is Mara Coson's first novel. The ninth and last installment of London-based Book Works' Semina, it rounds out the series of experimental novels commissioned by the series' guest editor, Stewart Home. This iteration of Semina, a revival of sorts of "a series of nine loose-leaf magazines issued by Californian beat artist Wallace Berman in the 1960s," is "where the novel has a nervous breakdown."
Like the rest of the series' titles (which involve a fictional personification of Slavoj Žižek, reappropriations of pornographic spam emails, and "'found' texts and deliberate forgeries," among other things), Coson's contribution to the series is, for the most part, an experimental novel. It takes a while for (re-)orientation to the narrative it seeks to establish, and I personally found it best to go where it seemed to be taking me, instead of trying to grasp at some sort of slippery linearity, trying to steady my footing and keep upright, when the story wanted me to lean a little bit to the left.
Set in a fictional town called Turagsoy, Coson's unnamed protagonist shares parts of her life in vivid detail, calling to mind a slideshow of Filipino provincial towns, the ferocity of Marian devotion, and the repulsiveness of handsy old men with halitosis, to name but a few. The novel is, at turns, disorienting and familiar, like entering a recurring dream with a vague expectation of something somehow graspable and the trepidation of encountering something unexpected.
For such a slim volume, Aliasing is densely packed with very particular references and allusions recognizable to many who've spent a bit of their time growing up in the Philippines. Mythologized and historicized, the anecdotes are woven together to create a binakul of sorts — a picture, all adding to the anticipation of something that never quite happens.
Aliasing has created an absurd snapshot of a version of postcolonial Philippines, where we go to church, say grace, and go to confession, but still believe in kapres and mermaids. It feels like teetering on the narrow border of the in-between, where you are never quite fully in one place, and so are never quite firmly sited.
Below are excerpts of an email interview with the author.
Supreme: Aliasing is so compact and in some ways, succinct, but you managed to touch on a fair number of contemporary notes on Filipino culture and heritage, and even a bit of history. How did you decide on which ones to weave into the narrative?
Mara Coson: I initially set out doing away with any theme that readers tend to expect in writing from the Philippines: I wanted to see how I might write without using common tropes. Not to unburden or reject, but just to explore doing without. But as I set up the characters to float in space, I thought: how can I really do away with something I've not really tried? And how might I write about them?
So there's karaoke, kapres, and even the korido Ibong Adarna — and a few more you'd expect! But for the specific material itself, I liked coincidences— for some reason, I kept encountering the actress Sylvia Sidney, the grandma in Mars Attacks, in my research. But also I brought in material that tickled me and really matched that frequency of anxiety and humor and playfulness, like Dolphy's Ang Mga Anak in Facifica Falayfay. Dolphy played a cop with a trans alter-ego that chased drug lords, but at home was dealing with his gay son's wanting to be himself. (That his son, played by Roderick Paulate, is named Rodrigo, is just a coincidence.)
You've described a number of things so vividly, that even when the narrative itself is a bit hard to follow in the traditional sense, there exists a strong familiarity for me, as someone who grew up around a lot of these elements. Was there any deliberate intention to alienate international readers or would you say that that is a large and integral part of the project itself: both to alienate and tap into nodes of familiarity, as with the case of most Filipinos?
I didn't want any particular audience whether readers here or elsewhere to feel like the story had been written just for them, because then it would have made place feel exact and so the text quite inflexible. And while I had to consider where the book was printed, much of the book is untranslated (not in language). While I considered where the book was written, I didn't want people to assume "I know where that is." Because it's a bit of here, but not really there, or anywhere. Kind of Taal lake, but not. And still I wanted readers to find familiarity outside of street signs, and find, naturally, various lizards, brownouts, and songs like Survivor's Ever Since the World Began.
I've read a lot of your work and it's always thrilling and exciting. What made this the first story, in the form of the novel, you wanted to tell?
Thank you! No grand story, barely a novel form. I wanted to run dozens of stories and tie them together foot to elbow to gut. Or like driving down a road I wanted to see how far I'd get swerving with the car radio on. I have a terrible memory too, so some of these are stories from my childhood and from when I was writing the book that I wanted to remember. Like the doctor in the E.R. who had to pretend to resurrect a man already declared dead because his wife had barged in just as his mistress left. Or the panic of getting a bird inside the house because often birds get knocked out by windows and mirrors. Or the Ibong Adarna that sings seven times to put people to sleep, and then defecates on them to turn them to stone.
What was the most important thing about Aliasing that you wanted to get right?
I wanted to keep the book from taking itself too seriously as a work of literature. I think when people ask me how the best way to read it is, I think it's to water-slide through it and just enjoy the ride.
So, humor. I hope I got it right!
* * *
Aliasing is available in National Book Store and Powerbooks.