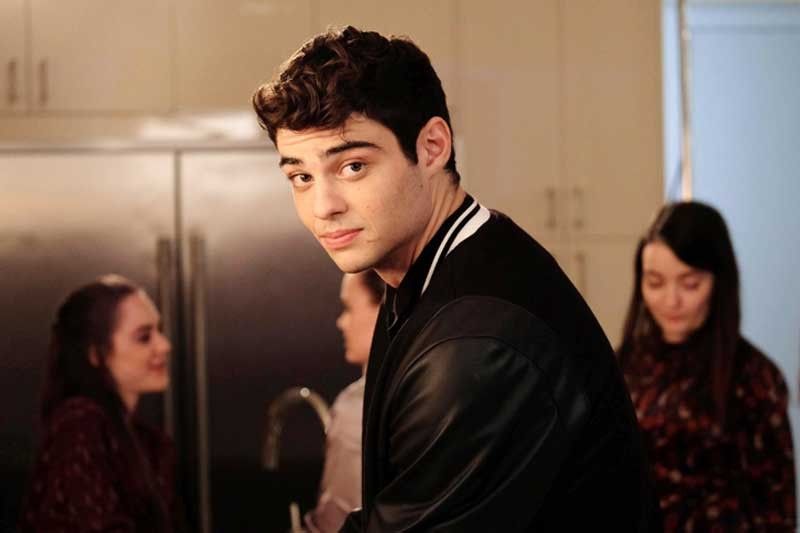 Dream boy: Playing Brooks Rattigan in The Perfect Date, Noah Centineo gives fans another reason to fall in love.
Falling in love with Noah Centineo
What does Internet boyfriend Noah Centineo look for in the perfect date? Time to find out.
Where was Noah Centineo when I was in high school?" I read this in a tweet the other day as I casually browsed my timeline. No context, no explanation; but I could picture the person typing this into their phones – wearing day-old pajamas, an empty bowl that used to have nacho chips and melted cheese squares, wondering how they have wasted an entire day watching rom-coms on Netflix.
That person may have been me, at one point this year. (Okay, month.) But they come across something as precious as To All the Boys I've Loved Before – the Lana Condor and Noah Centineo flick that launched both into the limelight – and they wonder, why was my high school full of boys in braces with questionable hygiene?
Where the hell was Noah Centineo during puberty?
Centineo is the newest obsession of every gal and her mom right now. How can you resist that face, after all? In fact, he's gotten so popular in the Philippines that local retailer Bench has added Centineo to their roster of Global Benchsetters. ("I'm actually going to be coming to the Philippines, I believe to Manila, at some point this year, which will be very fun. I can't wait to see you guys' home," Centineo hints, when asked about his new Bench endorsement.)
And as if the Internet needed any more reason to fall in love with him, Noah Centineo is now the main focus of a new Netflix film, The Perfect Date. Unlike in To All the Boys and in the more recent Sierra Burgess is a Loser, The Perfect Date is Noah's story. In it, he plays Brooks Rattigan, a high school senior who dreams of attending an ivy league school. When realizes that he needs a shiny CV, he designs a unique dating app based on code by his best friend Murph (Odiseas Georgiadis) — one in which people can book him for various dates. Somewhere along the way, he falls for popular girl Shelby Pace (Riverdale's Camila Mendes) but realizes along the way that he's really in love with Celia Lieberman (Laura Marano), a sassy combat boot-wearing gal who doesn't have time for Brooks' unique brand of charm.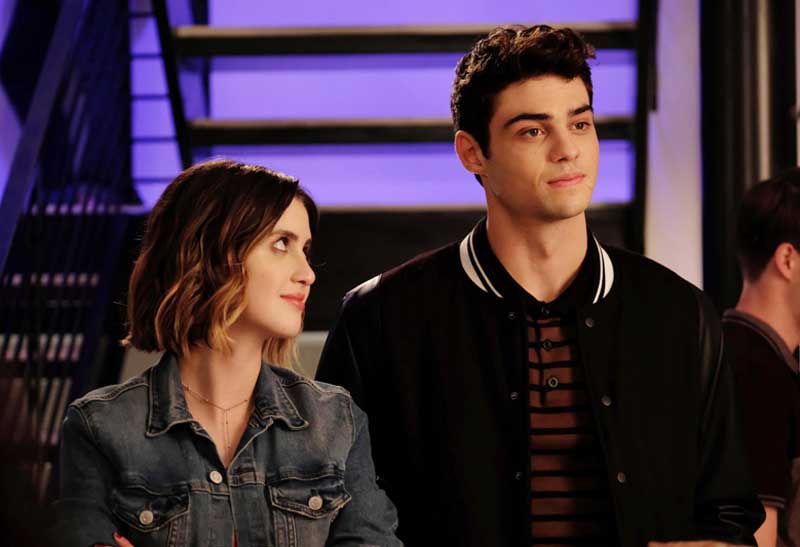 Love struck: Laura Merano and Noah Centineo are the stars behind Netflix's newest rom-com, The Perfect Date.
Despite its modern take on dating through the use of tech, The Perfect Date is a pretty classic story at its core — the usual tropes you'd find in your favorite '90s and even '80s films are ever-present, brought to life by a cast of characters that deserve more fleshing out. It's that, I would say, that film finds lacking: more moments for each character to get their own moment, especially for characters whose names don't rhyme with Shmoah Shmentineo. Brooks' dad Charlie, played by Matt Walsh, is a prime example. Walsh's comedic timing has always been woefully underrated (check him out as lovable doofus Mike McLintock on Veep) and the film gives him such few opportunities to shine — it would have been hilarious to see him act as a "cool dad" around Brooks' potential love interests, not to mention, a chance for both Walsh and Centineo to test out their own humor around each other.
But this really is Centineo's film, through and through. It's where you get to see that he's not mere iteration of previous Internet boyfriends before him. Whatever material he's got, he manages to work with it – whether he's playing a softboy jock or a go-getter set to study in Yale. His film posse, composed of Marano and Odiseas primarily anchor him with their sobriety of their own characters – they're the perfect foil to Brooks' starry-eyed optimism, reminding him that he's still got a lot to work on, despite creating "the perfect app."
In fact, it's that chemistry that really sells The Perfect Date. The trio of Brooks, Celia and Murph is perhaps what makes the film so endearing. And in real life – guess what, they're just as crazy about each other as they were in the film. When myself and members of the media met them, one Saturday afternoon in LA, we realized that we walked into a barkada hangout. They all liked each other — truly and genuinely. And for a film that sells itself as a love story, there really is some real love in it. And sometimes, friendship is an even stronger bond that romance.
We got to witness the three stars attempt to out-do each other with compliments, but in between, we actually asked him what it takes to come up with the perfect date – should they ever find themselves using Brooks' controversial app. (Interview has been edited for brevity.)
SUPREME: If you were using the app, what would you look for? What would you click on? What qualities would you look at? Good listener, what would you look for?
NOAH CENTINEO: I'll go first. I'll look for someone who is into taking care of themselves, you know? Some sort of like physically I mean, some sort of like, they're committed to yoga, they're committed to hiking, they're committed to something that they like something that takes care of their body. Someone who gives off the vibe that they give a shit about this world, this planet, and the people inhabiting it, someone who listens, but also knows how to speak and communicate effectively and isn't afraid to do so. I mean there are so many things that make up—
LAURA MARANO: You went so deep. I was not going to go that deep at all.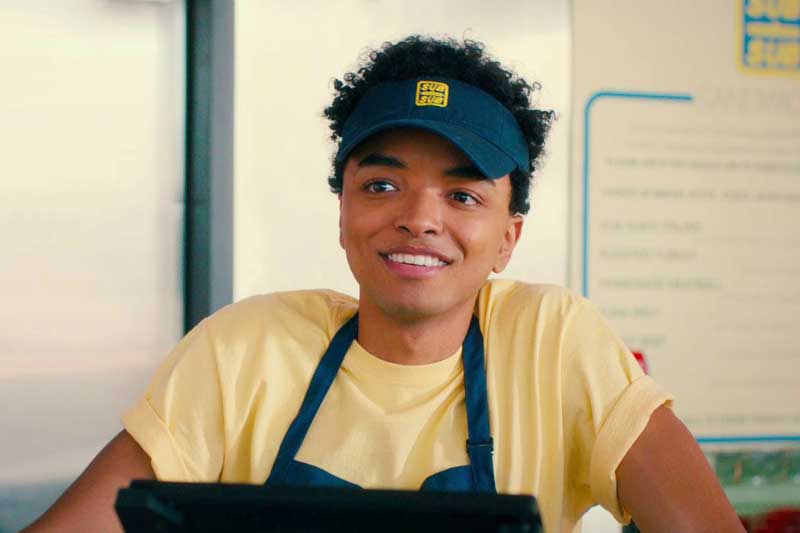 Best buds: Odiseas Georgiadis plays Brooks' best friend Murph in The Perfect Date.
Noah: What, blue eyes? (laughs)
Laura: I was gonna go like-
Noah: They don't have to have blue eyes for the record.
Wasn't this just for like a one-time date thing?
Laura: I know! (laughs) Classic Noah.
ODISEAS GEORGIADIS: I was actually gonna do that, go in.
Noah: We get to choose!
Laura: I was gonna be like my date would be in a bookstore…
Odiseas: That's nice!
Laura: He'd be a barista, and I'm gonna go all in. Like literally I plan the date like it's our first-time meeting, and so he'd be the barista, I come over order tea, set the table…
Odiseas: What! (laughs)
Laura: I'd have a script for him to like really go for it. I would want him to have some sort of accent? It could be anything, it could be…
Odiseas: As long as it's not American, just regular American?
Laura: Yeah as long as it's not like, California. It could go anywhere.
Noah: So this is making me think… I don't use dating apps, none of us do, but like I used to. And I had, I got this idea far after I started using dating apps, but I think it applies to this situation, creating a… pretending to meet for the first time in person, let's just put in my biary, wait biary? In my bio to "Hey, let's pick a place and a time to pretend that we met for the first time."
Laura: I love it!
Noah: Then just like message me for more information. Whatever. It's like I don't even wanna have this bullsh*t, superficial conversation in an app, but if you're interested, let's get coffee, and we can go from there.
Laura: Just meet at a specific beach or like—
Odiseas: At a beach?! Maybe we can go on a ferris wheel or something.
Laura: Go romantic, go for it. I don't know what would your stand-in date be? So, go deep. I'm the one that went weird.
Odiseas: Oh, man. See I was gonna go deep to because I'm not just looking for the physical… I mean, of course there has to be an attraction to both of us, after that, she just has to, to me, just be her, you know what I'm saying? Have her own thing, something that I can appreciate and something that we can appreciate each other and someone who's funny.
Laura: I love if you write it in the app, "Just be you."
Odiseas: Be you. Someone who's funny, someone who's… I can chalk it up to just like that. If she's her, that's about it because we go from there.
Laura: So you would not be into Brooks if he was a woman. Cuz he was, you were so…
Noah: I was all over the place. I'm a chameleon.
Laura: You were a cowboy, to—
Noah: Salsa dancing.
Laura: I was gonna say salsa dancing too!
Odiseas: Yeah, I'm into people who… like I can't be with anyone, for me it would be all like I can't be with anyone who treats other people differently, I feel like I wanna be with someone who treats everyone equally with the same amount of respect who knows herself. I mean it's always good to find someone, but yeah. Just in general, a nice person, you know? Or working to try to be nice, you know? Someone who has a vision preferably or wants to go for something.
Laura: Has goals.
Odiseas: That'd be awesome, you know what I'm saying.
Noah: You know what I'm saying, like sex has gotta be fire too, you know.
Laura: That went in a very different direction.
Noah: It's important! People are like, it's not important, but like come on, really? I think it's important.
Laura: You really took it there.
* * *
The Perfect Date is available for streaming on Netflix.