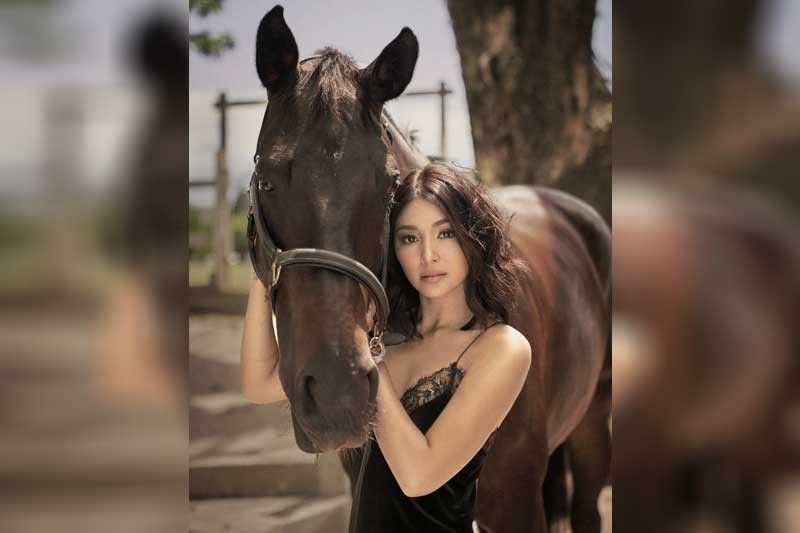 Solo star: Actress Nadine Lustre takes a break from her love team to star in Ulan, which alludes to Filipino folklore.
Apa Agbayani
(The Philippine Star) - March 16, 2019 - 12:00am
In 'Ulan,' Nadine Lustre proves she can run the show all by herself.
MANILA, Philippines — My favorite photo of Nadine Lustre doesn't come from any fashion editorial or portrait session. It's of her on Halloween last year (coincidentally her 25th birthday — a Scorpio) dressed as Him from The Powerpuff Girls. In the photo, she is covered in red body paint, wearing a red dress fringed with pink feathers, patent leather thigh-high boots and cartoony crab claws. Her half-smile is saucy with the right touch of evil, as if to say, "Yeah, I'm a sexy cartoon villain. What about it?"
The reason I love the photo is it immediately tells you so much about the actor. In it is the love of '90s cartoons, the attention to detail often lacking in Halloween costumes (step it up, y'all) and the willingness to commit to a crazy idea even if it means she doesn't look "beautiful" in any conventional sense.
It's a commitment we've seen in her craft as an actor, as well as the work she's done in other fields since her breakout performance in 2014's Diary ng Panget. In the last year, she's starred in Antoinette Jadaone's Never Not Love You opposite James Reid, released solo single St4y Up and launched her own makeup line and her own perfume. Just last week, she headlined the first Philippine collaboration with H&M, the swimwear collection Selected by Nadine, making her the fast fashion juggernaut's first Filipino ambassador.
Now she's breaking even more new ground in Irene Emma Villamor's Ulan, which marks her first solo lead performance outside of her pairing with James. Ulan is a film that's difficult to categorize. It's the story of Maya, a woman searching for love against a backdrop of stories and creatures from Filipino folklore. "Filipino folktales are very central to the story, especially the one about the tikbalang, 'yung kapag umuulan while it's sunny, merong tikbalang na kinakasal," Nadine shares. "It has a big impact on (Maya), especially how she looks at love and romance as she gets older. She becomes fascinated and at the same time fearful of the rain because of these folktales."
As Maya, Nadine nails all the comedy and drama notes in the script, investing a touch of wonder in Maya's every movement. What has always set a Nadine Lustre performance apart is how quickly you root for her character. She builds these relatable everywomen from the ground up, embodying their desires and letting you into the character's inner world.
Asked what made the experience of filming Ulan unique, Nadine points immediately to the fact that she's doing this solo. "Just being on my own and not having James as a co-star — nakakapanibago and a bit challenging na wala ang usual crutch ko. The role itself is quite different from the previous ones I've done in movies. It's a coming-of-age journey of a young woman into self-love."
It's no coincidence that Nadine's last two films (with her best performances yet) have been written and directed by women. Their female characters feel more central to the story, more real, thus offering more room for someone like Nadine to make full use of her powers as an actor. "There's definitely an advantage working with female directors like them who also write their own scripts," she says. "The characters, especially the female roles, are more fleshed out. They're not just caricatures. They're more real, more believable. I think that's why their movies are more relatable."
Maybe the JaDine fans will kill me for saying this but I have to say it is refreshing to see Nadine without James. (Honestly, I'd love to see the inverse as well!) It's interesting because you're left with a story that's no longer confined by rom-com tropes. You never know what the character's going to do next. Is she going to meet a new man? Which one will she really end up with, if any of them at all?
"I was really excited going into this movie because maganda talaga ang story and, yeah, it's something different with all the magic realism in it and having not just one love interest," Nadine says. "I know my fans are as excited as I am to see me try new things and to see me grow as an artist. I hope the movie will appeal to other viewers who want to see something fresh in movies."
Nadine's not the only one looking for these fresh narratives. Just this week, Star Cinema announced a new film with Kathryn Bernardo and Alden Richards, their first outside their respective love teams KathNiel and AlDub. Jadaone's Alone/Together, the last big studio romance in cinemas, did away with so many rom-com tropes, you could hardly even call it one. We don't know what lies ahead for the landscape of Philippine cinema but it's an exciting time to be in it and to see actors as brave and committed as Nadine metamorphose for us onscreen. Whether she's surrounded by monsters or she's dressed as the monster herself, we can't wait to see what she does next.
Photographed by BJ PASCUAL
Creative direction by DAVID MILAN
Styled by JOANNA GARCIA
Dress from MISS SELFRIDGE
Special thanks to HARVEY ALUMISIN
Also featured: JOLINKA VON PAPINLO