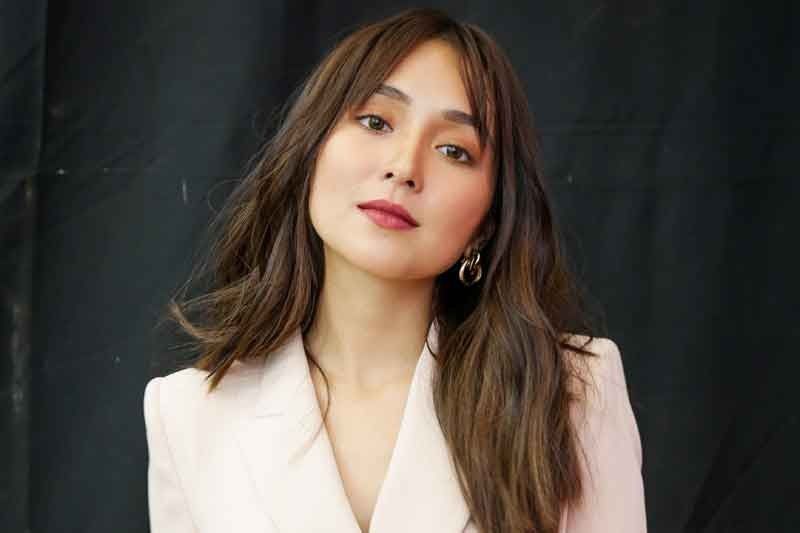 'Karamihan, natatakot na sila to be themselves. Feeling nila people judge them and hindi sila ma-accept ng society but at the end of the day, being authentic is the secret para mas mahalin ka ng mga tao.'
Photos by GEREMY PINTOLO
The authenticity of Kathryn Bernardo
It's hard to write about Kathryn Bernardo without mentioning Daniel Padilla. But the long-running are-they-or-aren't-they charade that is KathNiel has finally been confirmed, as they just revealed the real status of their relationship this week. In front of the press, during a conference for their upcoming film The Hows of Us, they admitted that they have officially been a couple for more than five years now — and yet somehow, it doesn't feel like such a reveal. Kathryn Bernardo has always been forthcoming about her thoughts and feelings — even those feelings for Daniel. And it's the same openness that comes with all her endeavors as a person and an actress.
At 12 characters long, "Authenticity" is a mouthful that almost didn't make it as the name of a nude pink matte lipstick shade in Kathryn Bernardo's makeup collection with Generation Happy Skin, homegrown beauty brand Happy Skin's diffusion line that launched last week. This is her first makeup collab, but it's already one of many for Happy Skin, having just released new gel polish colors with KC Concepcion and reissued lipsticks with Heart Evangelista all in the same month.
It was only out of practicality that they prodded against Authenticity. "They found (the name) too long, that maybe it's hard to remember," Kathryn recalls. "But I said no. We have to push 'authenticity' because it's very me." She wants it to be a reminder to whoever wears it. "Karamihan, natatakot na sila to be themselves. Feeling nila people judge them and hindi sila ma-accept ng society but at the end of the day, being authentic is the secret para mas mahalin ka ng mga tao," she tells me backstage during the launch. The rest of her lipstick shades represent her values, too: Courage is a nude brown, Spunk is a peach brown, Wonder is a berry red, and Moxie is a deep red.
After all, staying authentic — as much as one can possibly be in show business — is what has kept Kathryn in the game for so long.
A young morena with bright, expressive eyes and round, high cheekbones, it was in 2003 that Kathryn first had a TV role in It Might Be You, a pre-woke time when halfie mestizas and chinitas were the mainstream beauty standard. I mean, Kathryn's Cielo grew up to be the half-British Bea Alonzo. It had been generations since a young morena found fandom not unlike that of Sharon Cuneta and Nora Aunor.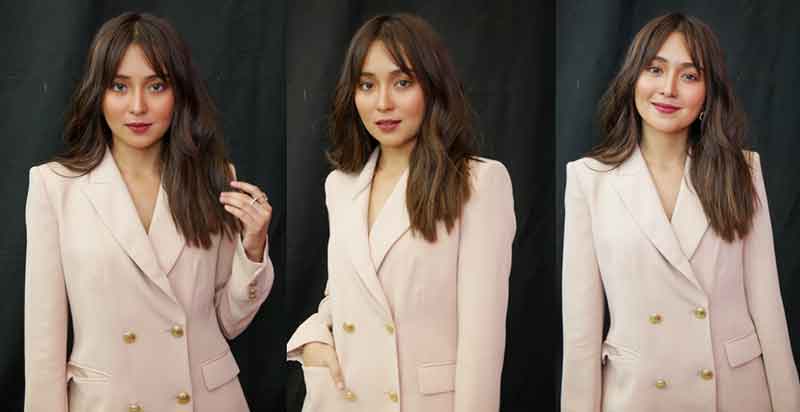 The future looks bright for Kathryn Bernardo. She leads the upcoming film The Hows of Us alongside Daniel Padilla, and launches her own lipstick collaboration with Happy Skin. Photos by GEREMY PINTOLO
And then there was Kathryn. I don't think I'm completely mistaken when I say she paved the resurgence of the morena Filipina beauty among the youth. It's not like Kathryn was making a big statement out of her color, or her looks. She was just staying true.
Being true to yourself doesn't mean being brash and reckless, not for someone calm and disciplined like Kathryn. She has long come to terms with the circumstances of the dream she chose to chase — and that the journey is not hers alone. "Being an artista, we all know na hindi namin pwede gawin lahat ng gusto namin kasi lahat ng mata nasa sa amin. Hindi ko masabi na may enough freedom ako like the usual but I think it's part of the job talaga," she admits. "My secret is I had to balance it. In a way, na feel ko pa rin that I'm still living my life. Less freedom doesn't mean I can't be myself anymore. Mas minahal ako ng fans ko ng alam nila na ang nakikita nila totoo. Parati ko sinasabi sa kanila na I'm not perfect. I make mistakes but I learn from them. I'm open sa lahat ng sinasabi ng mga tao. Yun lang ginagawa ko. Gets nila."
Visually, her ride-or-die makeup artist Denise Go-Ochoa is a big part of how Kathryn shaped her image. Denise's go-to look for Kathryn these days is a diffused and glowy face for the actress who wants the focus to be less on looking pretty and more on being able to convey emotions. Brushed-up brows, colored contact lenses and fluffy lashes make her eyes the focal point without the use of dark eyeliners and any harsh lines. It was also Denise who introduced Kathryn to Happy Skin's products as Denise had a collaboration with the main line. "Ever since, kikay na ako as a kid. As time went by, nag-iba yung taste ko sa makeup. At the age of 22, nalaman ko na kung ano yung bagay sa akin but I'm still exploring. I have a lot of things to learn pa and Ate Denise is guiding me, introducing me to different techniques."
She uses the peach brown matte lipstick Spunk from her Generation Happy Skin line in her upcoming drama film The Hows of Us. Like when she wears Authenticity, putting on the lipstick gives her courage — even when it means digging deep in her emotions and personal relationship experiences with Daniel Padilla, portraying one half of a long-term couple confronted with the inevitable growing pains of adulting. Letting the world witness the catharsis takes guts, too. "I decided two years ago to be something else," she shares, hinting at Barcelona Kathryn. "Kasi pag parati kang safe, minsan boring. I just had to have spunk to be different, to evolve, and it's happening."