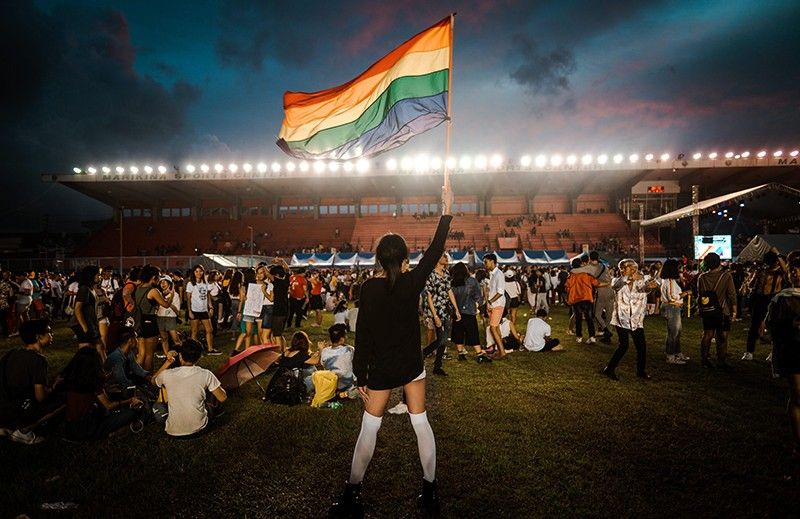 First-time attendee Ken Opiña, 21, raises a rainbow flag at the annual Pride March held on Saturday, June 30, in Marikina City.
Photos by Iya Forbes
An estimated 25,000 people showed up in this year's Metro Manila Pride March — the strongest and most infectious show of protest, hope, and love for all.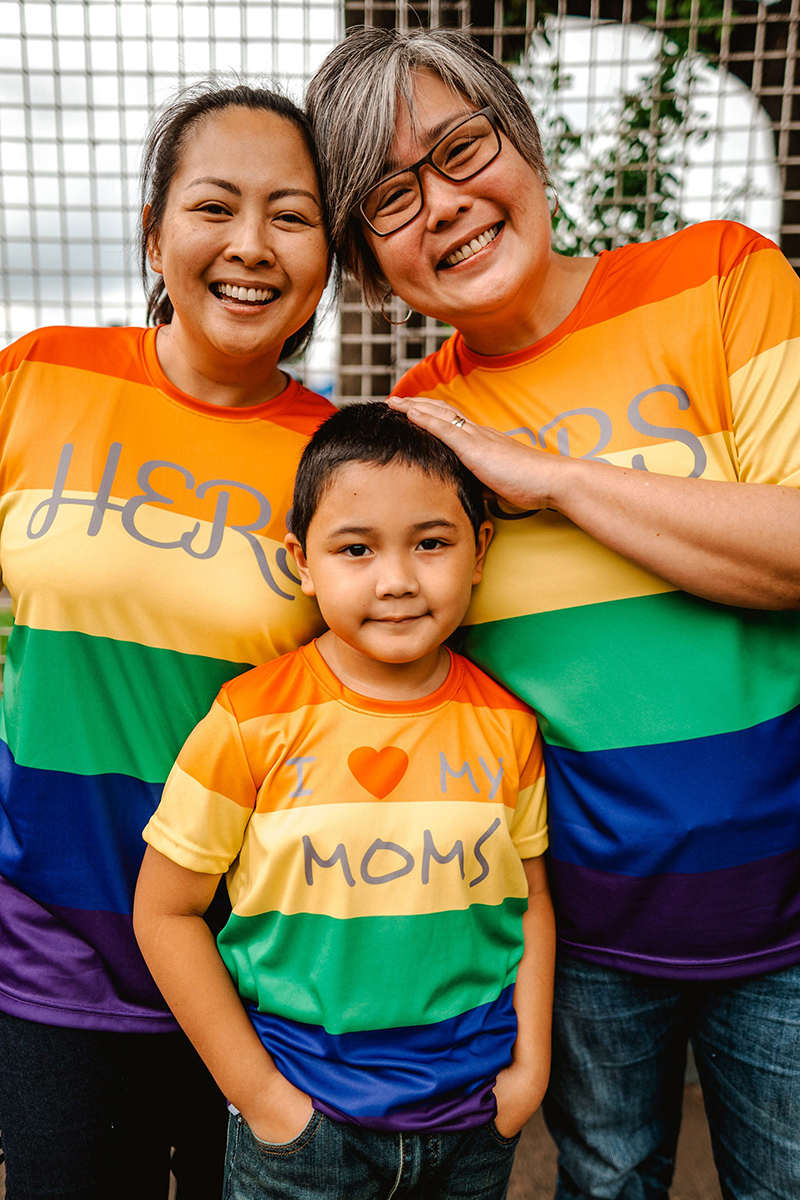 Ida Ramos and Sandy Aloba with their son, Liam, pose for a picture at the annual Pride March celebration. "We've been together almost 22 years now. This is our first Pride as a family, it took us a while," shares Aloba. "I'm proud of my family. Because look at us!"
On June 30 in Manila, it was freedom day — when the brave went out to the streets in full color. At high noon, people started painting the town rainbow, with around 25,000 members and allies of the On June 30 in Manila, it was freedom day — when the brave went out to the streets in full color. marching their cry and support for human rights, freedom, and equality — a cry that has gotten louder over the past 24 years. The Marikina Sports Center field became a safe space for all forms of expression of love.
It must have been strange, in a country where writers run out of synonyms for "kill" and "death" to witness a rainbow blast under the sky the color of an old wizard's beard. In my mind, that was what went down in the Pride March 2018 — a reminder to a nation that often seems to have forgetten all about love; a reminder that there were stories with different shades within the spectrum that needed to be told.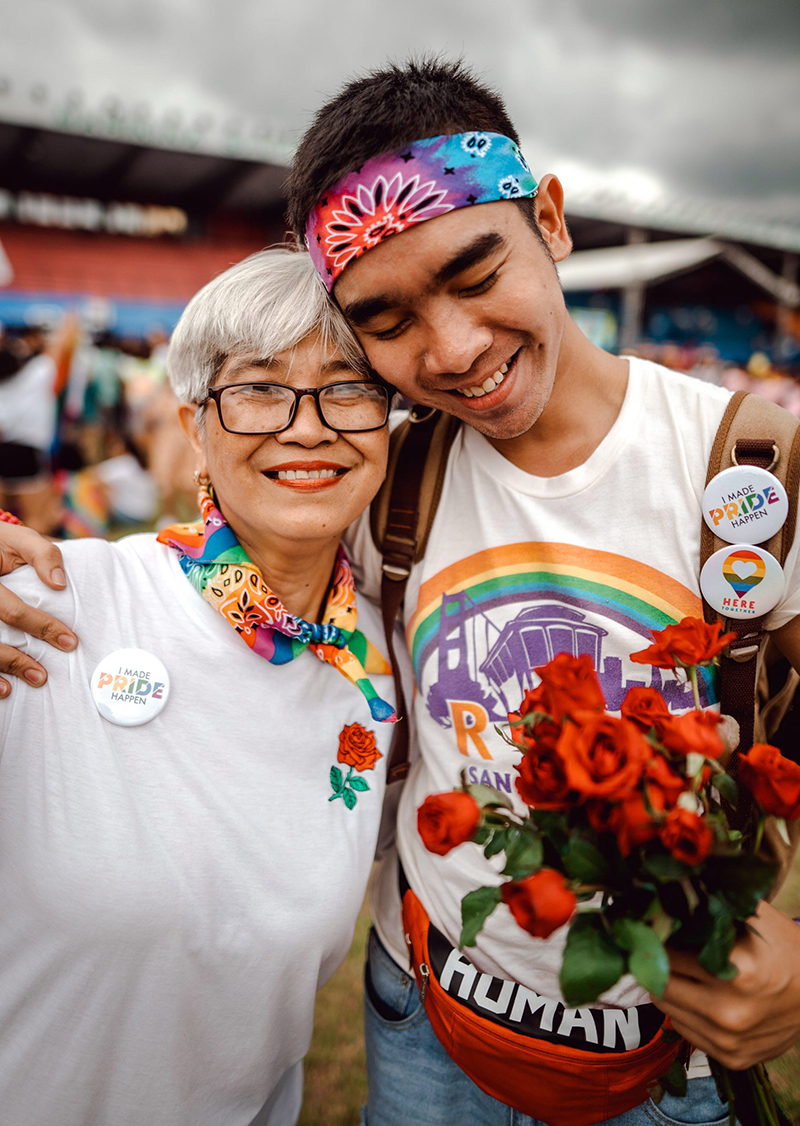 A mother and her gay son pose for a picture. "Gusto namin ni mama na to get to know 'yung LGBT community para mas mututunan pa namin where I'm coming from… so right now everything is new to us. "
Love rejoices with the truth. It is only this year when Tony (not his real name) realized that he is a part of the LGBTQ+ community. His mother, Joan (not her real name), was initially not supportive of him when he opened up about it. But love conquers all oppositions and disappointments. "Kasi sinusuportahan ko lang siya kung ano 'yung gusto niya, so sabi niya, 'just take a chance," expressed Joan. They went to their first-ever Pride together and it was obvious that they were enjoying themselves, walking around giving roses to the people. "I'm proud I made Pride happen," she added with a smile, quoting the pin she was donning.
Love perseveres. There are also stories that make you feel like you can conquer anything with love like that of Almira Castro and Angelica Albarico. Although the journey to their own happy-ever-after wasn't easy, they are gleaming with pride because they made it to the point of their relationship where they can be open to their families. "Mahirap kasi syempre, maraming discrimination, then makasalanan daw kami… pero love 'to eh… and we're so proud kasi we're both legal sa parehas na sides [namin] and 'yung nanay nga niya manunuod daw eh," Almira said.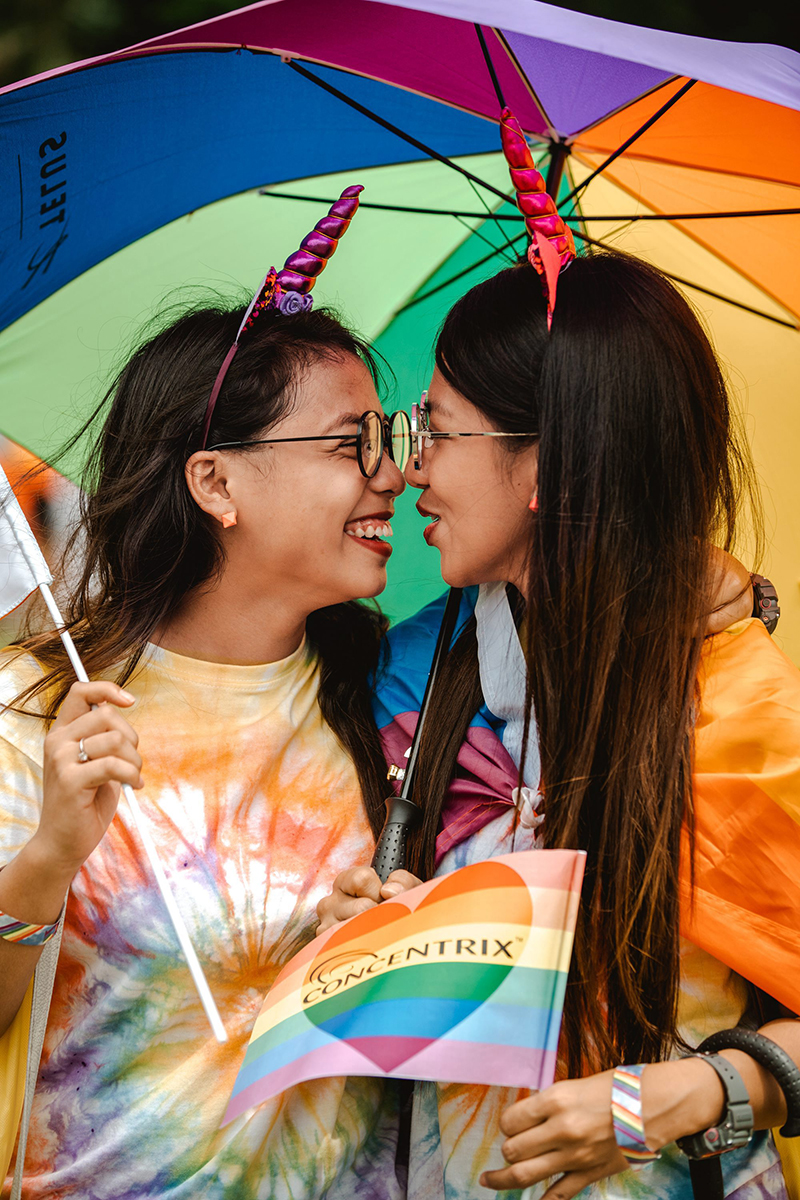 Almira Castro and Angelica Albarico share a loving moment during the annual celebration of the LGBTQ. "(It's our) first Pride, yes" shares Castro. "We're so proud kasi we're both legal sa parehas
na sides and 'yung nanay nga niya (Albarico's) manunuod daw eh."
Love liberates. His name is Artem. He is wearing vibrant rainbow socks and he stands along with his friends, Frank and Jules. He is from Ukraine, and Artem shares that he left his country so that he could be himself. Some may find that loving yourself is already hard enough, but imagine crossing oceans, leaving everything behind just so you can be that "self" you always wanted to be with no fear.
But even on the day of the Pride March, it wasn't all rainbows and butterflies. Moral watchdogs, Bible preachers, and anti-LGBT activists continued to muddy the waters with their brand of hate and tyranny, associated with their morality and version of Christianity. They barked out messages of social crucifixion in the faces of the community members, branding them sinners. They must have forgotten that if their god was to hate sinners, then it is also the same god that will hate and reject the world for that reason — including the moral few, as they claim to be themselves.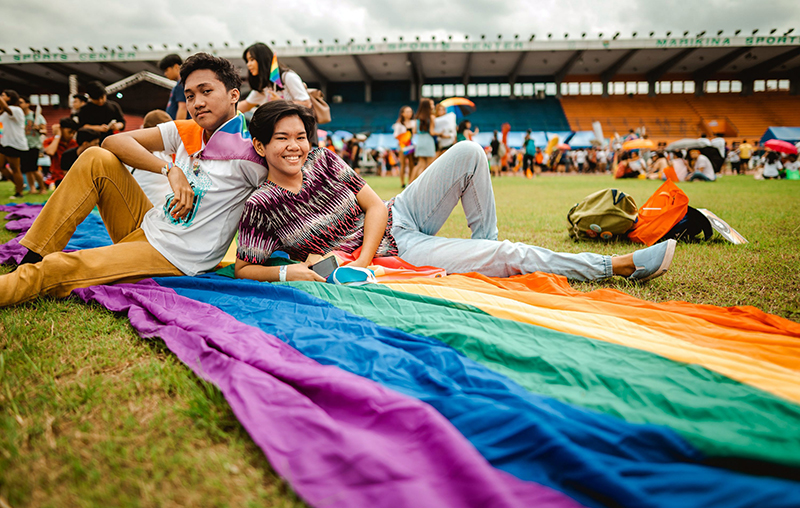 Sedrick Cerado and Caira De Leon pose on a rainbow flag.
Dressed as Gay Jesus crowned with thorns, Paolo Dumlao, seemed to have expected the haters to rain on their parade. "I dressed up like this kasi we all know na may lamat 'yung Christianity and the LGBT community and I want people to know na let's not promote hate," he said. Every year, he makes sure to fashion a statement. Previously, he protested his refusal to be bounded by social norms. This time, it was on the cry for equality.
Despite being a LGBTQ+ event, heterosexual allies joined to march for the community. Andre and Natasha, quietly standing on the field under the pouring rain, are one of these hetero couples. "I think if you support human rights in general, then it doesn't make sense to exclude anyone, any demographic," Natasha explained.
The celebration was a demographic sweet spot. It was where thousands of people proved that indeed, love speaks for itself. "I am so surprised, but happily surprised. We expected, bigger crowd this year because last year was the highest or biggest [at around] 7,000 but we didn't expect it to be this big," says Atty. Jesus Falcis, an advocate for marriage equality. "It's not a bad thing, but it seems like the youth right now are taking charge," he noted, observing that a big chunk of the population this year were millennials.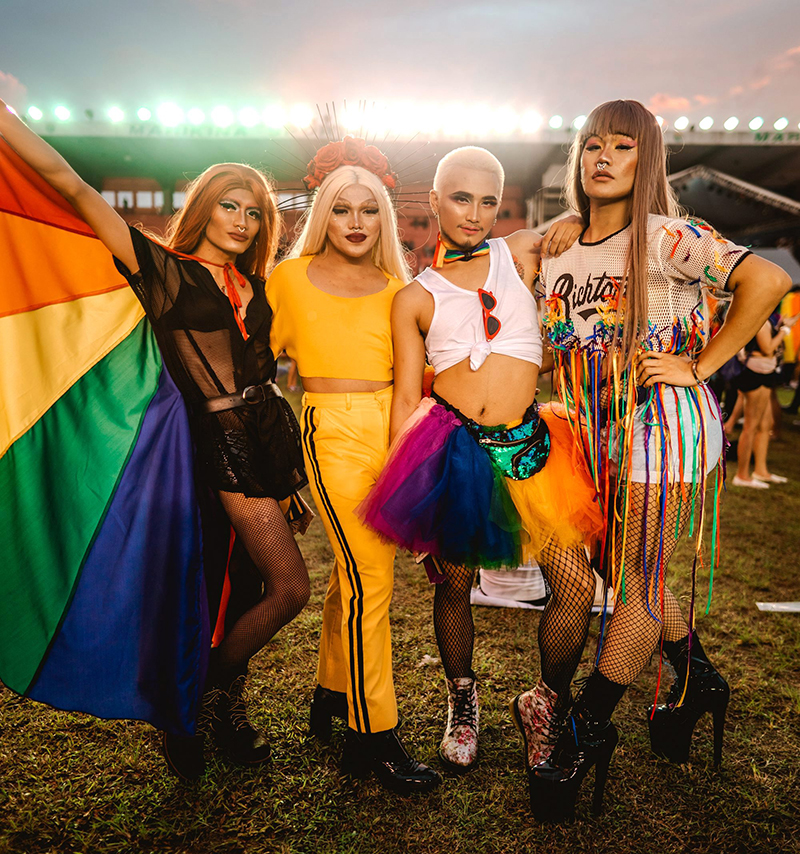 Supporters strike a pose.
Atty. Jesus Falcis is also the petitioner behind same-sex marriage, challenging the strongman who claims to be a supporter of the LGBTQ+ that, all evidence to the contrary notwithstanding, the President should talk to the Solicitor General, who flies in the face of reason in contesting same-sex marriage before the Supreme Court.
"Everybody's brave, everybody is empowered, we're here to fight for our rights: anti-discrimination, marriage equality, gender recognition; [if] people want it, people will assert their right," Atty. Falcis said.
Love bears all things. Even the limitations of the laws. Partners Ida Ramos and Sandy Aloba have been together for almost 22 years. It was just on the 16th year of their relationship that they finally decided to have a son, whom they have brought to celebrate their first Pride as a family. "Oh my god, 22 years ago, when we were young and beautiful, we were hot. But times have changed, now we we're old and ugly, but we're still hot," Sandy joked when asked about how they've changed in 22 years.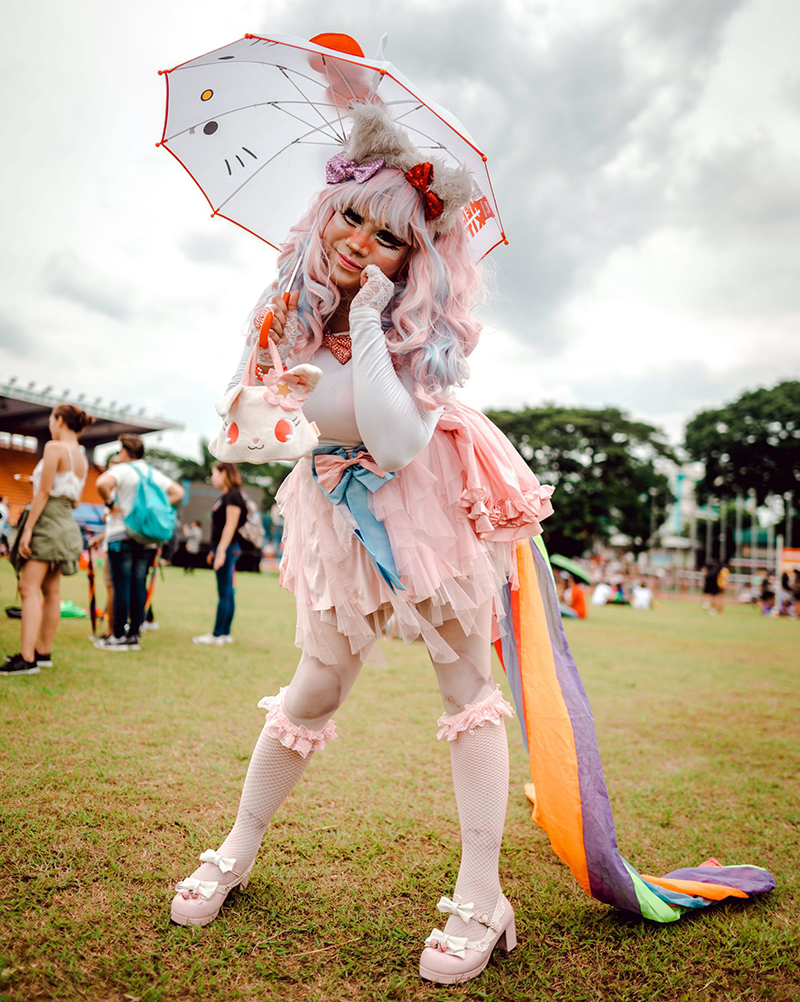 Drag queen Fritz Gerald Billano, better known as "Melrose the Doll," poses for a picture. As drag queen Melrose the Doll, Billano can show the world "The real me. Out and proud and totally gay, happily ecstatically gay."
It was just a few weeks ago when another couple moved to the country. David left the US and accompanied Gerome and his family to the Philippines because of the dangers they felt under the Trump administration. The couple mocks the fact that they are not allowed to get married in this country. "We've been married for three years in the United States, but now we're just boyfriends here in the Philippines," said David laughing.
As Pride is a celebration of love and acceptance, it is also a point of reflection: in this republic, when will love really win? Ironically, we protest for the love of God, for the love of country and even for the love of ourselves — we want things for the sake of love, we want love. But when worse comes to worst, for some reason, we pretend that love— in any form— is foolish, that it is stupid, and that it is immoral. Maybe, like how young people couldn't understand the things that grownups did until they become grownups themselves, haters can never really understand the LGBTQ+ Pride and all it speaks of until they themselves try to understand real love. I have come to think that perhaps, in the midst of madness, love wins in a republic that truly understands how to love.