The Thing About Miss Pring
MANILA, Philippines — Because Joyce Pring is a woman who made her bones on the internet, you kind of expect to arrive at a meeting with her to find the TV host/content creator fiddling with her smartphone, possibly checking her social media engagement stats; and maybe answering email inquiries from brands that wish to collaborate with her. But this afternoon, on the second floor of a café occupied mostly by college kids reviewing for their exams, she's engrossed in something quite analogue: a book called The Lotus and the Cross: Jesus Talks with Buddha by Ravi Zacharias. It's one of the two books she brought with her today (the other is C.S. Lewis' Mere Christianity), and just one of the many titles she has consumed in her young life. In a country that's not exactly known for its strong reading culture, Joyce belongs to the 0.003% who actively buys books and actually reads (and rereads) them. You see, reading is more than just a casual hobby for Joyce. Growing up, it was a lifeline. Poring over other people's printed thoughts and stories taught the naturally expressive girl how to articulate her opinions and tales — a learned skill which became her meal ticket; her springboard out of chronic poverty.
(Tondo) Girl Most Likely To
You wouldn't guess it looking at her now — fresh-faced, in-demand host and performer, and endorser of blue-chip brands — but Joyce Pring is a child of Tondo, one of the grittiest, toughest 'hoods in the country. The thing about Miss Pring is her backstory reads like the starting point of a GMA 7 telenovela. Joyce's mom had her and her brother very young, and she was forced to leave her babies in the care of her own mother as she tried her luck in Hong Kong, Singapore and Japan. "Wherever she could find money, she went there," Joyce says, admittedly unsure what it was her mom did exactly. Little Joyce and her brother shuttled between two "very small, dilapidated old houses": one in Balut, Tondo, and one by the train tracks in Santa Mesa.
Joyce got schooled at T. Paez, a public school, which she laconically describes as "kagulo!" But for all its flaws, she credits her fluency in English — an important currency in her career — to T. Paez, as well as Quezon City Science High School and University of the Philippines, the subsequent institutions the scholar attended. "You wanna hear my theory?" she asks, the 4 p.m. sunlight turning her vibrant eyes hazel. "My English is good because I learned it in a formal manner. Wala kasing nag-e-English sa bahay so wala akong pagkukuhanan dun. I learned it from school. I learned it from books. (I learned it) from The Knowledge Channel. I had nowhere else to pick up my diction or my vocabulary from but from people who actually spoke English well."
Joyce got a taste of the whole nine yards of public school life — from being forced to buy pastillas from her shady-because-underpaid teacher ("Tapos bawal mo sabihin kahit kanino kasi ibabagsak ka niya pag merong snitch.") to supplementing her five-peso baon through raket science. ("I would design dresses for my classmates' paper dolls and be like, 'Gusto mo ng bagong damit para sa doll mo? Piso lang.' Or minsan di ba cleaners ka? Bayaran mo ko dos, ako magki-clean para sa'yo.") In hindsight, she says her desire to make money at a young age sprang from a desire she didn't — couldn't? — verbalize then: "I just wanted for my mom to be home."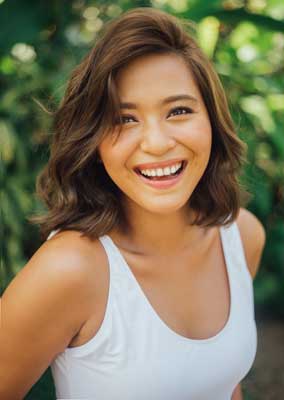 Home was a shanty where Lola did her very best to keep all her grandkids fed and safe. "Pinapakain niya kami sa balde," Joyce says, recalling the time when she shared a shoebox of a house with her grandmother and cousins. "So meron siyang pinaghalong kanin, ulam, at gulay sa balde. Pipila ka. Subo. Balik sa likod." Lola wasn't always able to keep them unscathed, however. The noticeable scar on Joyce's right eyebrow is the result of a fall which resulted in her face slamming onto a surface that had a protruding nail.
That home along da riles, regularly disrupted by the rumbling trains, was a case study in the Filipino diaspora. Lola's children dispersed across the globe in search of a better financial future for themselves and the kids they left in their mother's care. "Before talaga kung gusto mong makaahon sa hirap, mag-OFW ka. So lahat ng mga tita ko, tito, lahat sila nasa abroad." It was definitely "a poor household," says Joyce, albeit one "with a weird balance of luxury, kasi merong mga pasalubong from Japan or Hong Kong or Singapore." Little things, like a snack or a poster — normal stuff for middle-class and rich kids — were luxuries in their home. "I remember pag bibili ako ng Choco Mallows before, talagang sobrang big deal na siya," she recalls with a small smile. "Or 'yung mga pinsan ko who were older than me, pag nakabili sila ng poster ni Britney Spears, parang, 'Ooh. It's a good day in the household.'"
Self-Help/Help-Self
Kids like Joyce who grow up in an environment of glaring lack either end up like the ones who raised them or go off on a tangent. She deliberately did the latter. "I decided I never want to be like that," she says, and by that she means having a poverty mindset like her beloved Lola. "Di ba minsan may ganung feeling 'yung mga matatanda? 'Ah, mayayaman! Masasama ugali ng mga yan,'" she explains. "Ayaw nilang yumaman. They don't want to live better lives because they feel like they're going to be selfish, heartless people."
Joyce's defining juncture was at 17, when she began raising questions about money and existence. "I had this epiphany na, 'If God is real and eventually we're all going to die, there's really no point to all this," she recounts. "There's no point to being famous or having lots of money." Two life-changing books (Being Happy by Andrew Matthews and The 7 Habits of Highly Effective People by Stephen R. Covey) and a conversation with her stepdad (Chandro Concepcion, a former actor whom Joyce describes as a "very kind-hearted Christian man") helped her see the value of money in our ephemeral lives. "He was like, 'But anak, when you have more money, you have more ways of helping other people. You have more avenues for extending grace and kindness,"" she says. "It's hard to give pag wala kang maibigay. Kung saktong sakto lang yung kinikita mo, if it's not more than what you're living off of, how are you going to help?" Since then, Joyce has viewed money as a means to an end, rather than a complete end.
That outlook is what fuels Joyce's hustle. At first, she worked to help herself, balancing her full Fine Arts freshman load at UP with a BPO job that began at 12 midnight and ended at 9 a.m. (They had an implicit understanding at home that if she and her brother wanted a degree, they were going to have to work for it.) Gifted with good pipes, she also did the whole "banda-banda" thing but stopped because, "Wala eh. Walang pera." She gamely said yes to small modeling gigs for University fairs, and accepted hosting gigs that paid P5,000 for four hours of crowd-rousing. Even at the nascent stage of her career, the key ingredient of Joyce's success has always been her relationships with people. "Clients got me for hosting jobs because they're my friends. They knew I needed that shot. They knew I needed the money." But these jobs weren't enough to earn. The shrewd Tondo girl did a lot of creative budgeting to survive. "I tricked people into buying me meals. As in, "Libre mo naman ako oh!'" she says, laughing at the memory. "Tapos pag nag-aaya silang mag-McDo sa Katipunan, hindi na lang ako sasama kasi wala kong pera. Sinasabi ko I have to finish a plate pero wala naman talaga." The thing about Miss Pring is she doesn't relay these hard-knock-life stories with bitterness or drama or a sense of superiority over those who never struggled. For her, her past was just what it was: the past. "It's not a big deal to me. I just know that it was a formative experience for me. When I look at it now, it's like, 'Oh that's why my personality is like this. Kaya ako ganito magtrabaho, kaya ako ganito makipag-usap sa tao.'" Unfortunately or fortunately, depending on whom you ask, Joyce didn't get around to finishing school because life offered her an opportunity to be a music channel VJ — a lucky break that led to Joyce eventually becoming an internet star, a radio jock, and now, a bonafide TV host.
Becoming
These days, "TV" isn't just limited to the stationary black box. Smartphones and laptops have become portable boob tubes and websites are the new "networks." Joyce's new gig All Access is a "TV" show that gives viewers an exclusive behind-the-scenes look at GMA 7's programs, with new episodes dropping every Wednesday at 5 p.m. via GMANetwork.com/AllAccess and the network's official YouTube channel. "We give you a glimpse of how things work, why GMA produces that kind of content," she explains. "It gives a human side to the artistas and production life. It gives you a stripped-down version of a glamorously perceived person and industry." (For the pilot episode, Joyce crashed the set of campy, meme-worthy Ika-6 na Utos and got slapped by Gabby Concepcion during a sampalan how-to. In the second one, Joyce played dog whisperer to Serena, the canine star of Sherlock Jr.) All Access program manager Ian Roxas thinks Joyce is the perfect girl for this peek-behind-the-curtain show because of her ability to "ask the right questions" and her "natural curiosity about the people and things around her."
This curiosity sets good things in motion. In 2016, Joyce took up a summer course in Philosophy at the Univeristy of Oxford in the UK, something she did to feel like she deserved her former DJ spot at Magic 89.9, a job she got without much effort: "I'm so used to hardships that it didn't feel natural to be in such an easy state of life," she explains. "I wanted to haul myself out of my comfort zone and make myself experience hardship again. When I was in Oxford, I cried. I criiieeed. Kasi smart ako dito sa Pilipinas eh. As in dumating sa point na, 'HAAA? HINDI KO MA-GETS.'"
Like most digital influencers, Joyce's Instagram is a museum of herself: replete with pretty selfies and IG stories of her days, but that self-promotion is just part of the job description. Any inclination to become too self-absorbed is nixed by an inner voice that constantly reminds her she's not the center of the solar system. "Once you start focusing on the 'what I can achieve, or what I can attain, or who I can become,' you get lost in all of it," she stresses. "Any selfish pursuit just kind of obliterates on its own." The thing about Miss Pring is she has a predilection to go "outward," whether that be through asking her interviewer thoughtful questions, or through constantly thinking of ways to improve her game to continuously provide jobs for her management, her glam team and her driver. For Joyce, the vision is "external": that is, to give her family a good life, to inspire the people who look up to her, to help give the kids under World Vision's care a chance at a better life through education.
Deserving
Hustle. That is such an important part of this 25-year-old's life. In college, Joyce hustled to help herself, and now, it's to serve the people she loves the most. (She takes care of the bills at home, pays for her pamangkins' schooling, and has become her Lola's caretaker.)
The other day, Joyce treated her Lola to a meal at a casual dining Chinese restaurant, the same Lola who made sure their meager food was divided equally among Joyce and her cousins by using a balde years ago. Lola was so scandalized by the prices on the menu, quipping. "P1,800 ang set meal! Dalawang linggong pamalengke ko na yan!" Joyce, unable to stop herself, told grandma, "Mommy! Kaya nga ako nagtatrabaho eh. Tigilan mo na. Bawal ba mag-enjoy?"
After years of self-improvement through her books, after years of relentless passion and hard work, Joyce has more than earned that Chinese food coma with grandma. And so have you, Lola, for raising a fighter who rose from the ashes, just like a heroine in a GMA telenovela.
* * *
Tweet the author @IrishDDizon.