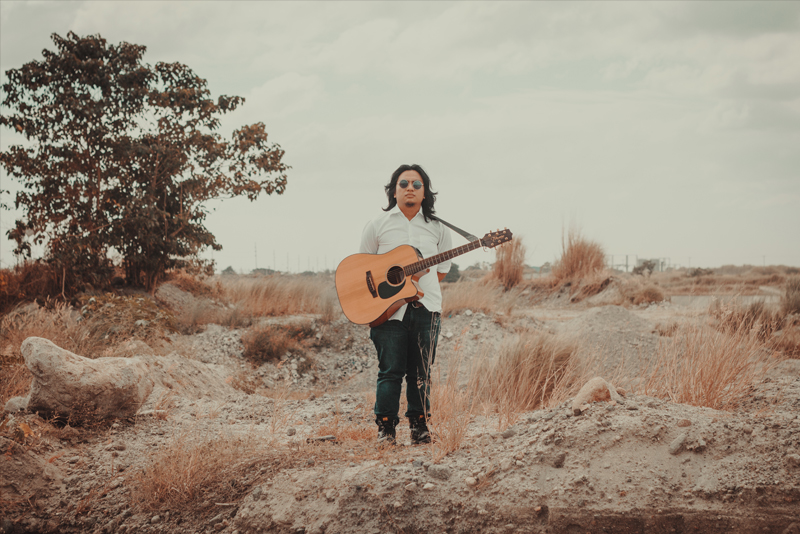 Shirebound and Busking's new single A Million Little Things is now available for streaming on Spotify, iTunes and Apple Music. Photo by Chealsy Dale
Ian Urrutia
(The Philippine Star) - February 3, 2018 - 12:00am
There's something whimsically poetic about lahar. It's as though the ruins of mudflow and volcanic eruption have allowed towns nearby Mount Pinatubo to sprink up, geological edifices that peer far, far down dead rivers and dried fields, carrying hope in the face of misery. It's ironic how remnants of a disaster have evolved into an idyllic countryside: probably in the same vein of a love lost, burned and parched, but somehow finding new life in towering rock formations and quarry sites. "Lahar is supposed to convey emptiness and aftermath of a disaster," Gabi Na Naman Productions' very own Milley Habito reflects as we drive down the dusty stretch of Porac, Pampanga for Shirebound and Busking's photo shoot. "But it's also a beautiful showcase of what is lost and found. It's when you see things from a different perspective that you actually get to appreciate what's left to be seen."
An hour after we've reached the destination, a private quarry site that enjoys a view of postcard-beautiful mountains and crimson clouds, Shirebound and Busking's Lego Tan is in his top element, basking in the glow of lahar canyons at nine in the morning. In between shots and location changes, he cracks jokes, discusses at length his take on the latest Star Wars and J.R.R. Tolkien epic, and explains the inspiration behind his songs. "It's as much about the parts of you that are shared with a special person as it is about the parts you keep to yourself," the young singer-songwriter muses on A Million Little Things, the first single off his debut album to be released this year. Lego's lilting confessional breezes through stripped-down arrangements with an effortless charm. It reminds me of home, a sense of comfort one feels in the wide-eyed wonderment of words and melodies. He writes non-love songs that function like love songs: a gift that makes listeners swoon as their hearts are voluntarily shred into pieces.
His biggest online hits Lloydy and Waltz of Four Left Feet speak of what-ifs and closed-door intimacies, wading through sentiments that just feel right outside the prying eyes of the world, humbly deserving their place. The latter was part of the soundtrack of the sleeper indie hit I'm Drunk I Love You, starring Maja Salvador and Paolo Avelino as best friends caught in the middle of a romantic whirlwind. "It was great working with Direk JP Habac," Lego tells us. "The film was such an earnest work, and the people involved were very warm and sincere as well. Shooting was a haze. I was drunk on the set."
Two hours after the shoot, we decide to embark on a road trip and look for a restaurant that serves authentic Kapampangan cuisine. Everybody is dead tired, but Lego is still in his usual hyper mode, rapid-fire geek-speak about his favorite films and music. Our conversation goes from the need to assert the position of women in the canon of local music history to questioning the old guards on why those that deserve critical plaudits remain criminally unrecognized. "Favorite ko talaga si Elisabeth Ramsey. She's a badass performer and a comedic thespian, tapos kakaiba 'yung boses niya eh: soulful, malalim, andaming layers." After ruining everyone's chances of sleeping soundly and hassle-free, I decide to take advantage of the moment and get Lego on tape to discuss the release of his upcoming debut album under Gabi Na Naman Productions. "So far, we've recorded demos for almost all the songs in the track list and have arranged most of them. We should be scheduling the actual recording sessions soon." Shirebound and Busking's full-length record, For Princesses, By Thieves o Mga Awit Para sa Guni-guning Sinta will contain 10 tracks, with Ang Bandang Shirley's Ean Aguila at the helm of production duties. "My collaborators are primarily members of the UP Underground Music Community, probably most notable of whom is Ean Aguila, and other friends in the independent music scene," Lego adds. "The album is sort of a thesis on unrequited love, heartbreak, and the acceptance of such. I made sure not to repeat myself when I wrote. Mas conscious na ako ngayon. Kapag may big words ako lalo na in Filipino na gagamitin, ayoko sanang ulitin. But of course, substance muna over form."
Judging from the demos I've heard online, Shirebound and Busking's music has always been about preserving unguarded moments in your life, articulating a very specific kind of warmth through awkward conversations and secret glances, and getting yourself lost in the haze of emotional uncertainties and fear. As a musician and singer-songwriter, he may owe a bit to the likes of Ebe Dancel and Bullet Dumas, or perhaps the middle ground that binds their distinct styles, but his effortless earworms defy the notions of the world in his own terms. Sure, it's still pretty much a work in progress that needs a little bit of guidance and growing up, but its rawness banks on earnestness and captivating promise, convincing enough in its presentation of a love lost, burned and parched. Like lahar, it finds new life in the ruins — a metaphor that best describes his music.