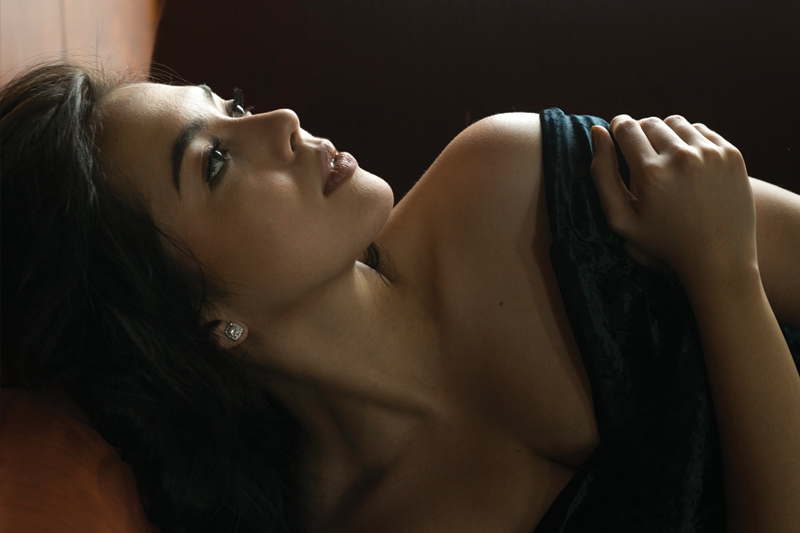 Julia Montes plays Ana in the latest melodrama Asintado, airing nationwide on Jan. 15. Photos by Regine David Styling by Myrrh Lao To, Makeup by Harlyn Fernandez, Hair by Ethan David, Produced by David Milan
Julia Montes' Projectile Motion
MANILA, Philippines - May something 'yung 2018 for me. Sumakto siya na year for change," Julia Montes admits, luxuriating in the calm before the Asintado press conference early this week. "First, Asintado. Tapos family ko super happy na. Super stable na. Lahat ng inaasam ko na change, nangyari na noong end of 2017 entering 2018."
Asintado is the 22-year-old's first project since she changed managements and moved to Cornerstone in October. The Star Magic baby of Going Bulilit and teeny bopper Mara Clara fame turned the trajectory of her career from the makings of becoming a teen queen (a title her Mara Clara co-star Kathryn Bernardo has) to taking the crown as the newest queen of afternoon dramas in Doble Kara as the titular lead where she played twins Kara and Sara. It was a daily soap, which ran with high ratings for two years. As one of the most hard-working actresses in the business, after a fantasy Wansapanatym episode to lighten things up, she took a break.
There was a time that she was the sole breadwinner of the Hautea household (she was born Mara Hautea Schnittka and has a German biological father). Then some relationships in her life didn't make it easier. At work, she would break into palpitations while taping. But she carried on, offsetting the mental and emotional workload with Krav Maga and firing lessons, beating and shooting the pain away.
"I was always putting other people first. May ganun ako na personality before. Tapos na ako doon, na ako 'yung lagi there for friends and other people," she looks back.
The thought of leaving show business crossed her mind; maybe it was about time to take up that culinary venture she daydreamed about, baseball cap and sunglasses on, grocery-shopping ingredients for her latest Filipino fusion recipe, a combination of her family's recipes and Mediterranean cuisine, her new favorite. She would check out locations and actually picture it: a casual dining restaurant? A bistro? At the same time, rumors of offers from a rival TV network would pop up, but she says these are completely unfounded.
"Nasa point ako now na hindi na ako natatakot na wala akong love team. It's not about the project. It's about me as an actress. Alam ko basta okay ang project, I can stay for as long as I can," she says. "Kung kaya ko pa, kung gusto pa ako ng tao, at kung willing pa ako mag work."
ABS-CBN's Dreamscape rises to the challenge with a brief to directors Onat Diaz and Lino Cayetano to create a dramatic vehicle for the actress Julia to grow into. They saw her tough side in Doble Kara and the public clamored for more. In Asintado, she is Ana, wrongly blamed by her sister (played by Shaina Magdayao) for killing their parents in a blaze. A love triangle (with Paulo Avelino) starts the fiery series with characters all fighting for something. Ana ends up murdered; Julia singles this out as one of the most challenging scenes she's ever had to do because she ends up alive with a thirst for vengeance. As the title suggests, and as confirmed by the posters, she will be holding a gun at some point, so maybe those firing lessons will come in handy. But will Ana pull the trigger?
"How do you seek justice without being a purveyor of injustice? How do you slay a monster without becoming a monster yourself?" director Diaz asks, describing the character's dilemma. Working with Julia for the first time, he recognizes the unique place from which she draws her strength to hit the target in Asintado. "This is the most challenging project Julia has ever encountered, even Doble Kara — to play the character as believable and as sympathetic a manner as possible. Off-camera, she's a sensitive person…giving and very mindful of others. Her empathy is built-in. It's why she can empathize with her characters easily."
Lino, on the other hand, worked with Julia in Mara Clara. "I am amazed by her growth because of how talented she is and also the material that was given to her. It's up to her to accept it or not, or how she will take the challenge, but with what's given to her, from Mara Clara to this, you can see where she took it."
The Julia we now see isn't exactly that much stronger; she was just channeling all that inner strength in the wrong places. "In real life, urong-sulong ako, overthinking. Portraying Ana is like telling myself, 'You can do it. Do it, Julia!'" she admits.
But what is "it"? She goes back to her New Year's resolutions. She vows to work on her health and fitness for longevity. Off-cam, Julia is practically the unofficial caterer of the Asintado set, but she's determined to legitimize it this year and make a business out of her cooking skills.
"This year, I'll say yes sa mga bagay na hindi ako open before, as long as my religion at pananaw ko as a woman, hindi masisira. Tapusin ko na ang fear, ang second thoughts," she says of her career goals. She's in luck; Asintado's storyline is bound to only get more challenging. Julia has the focus of a sharpshooter now — and the same faith to allow the elements to take hold as the bullet takes its course. She adds, as though offering us a bold assurance, "I'll move forward."