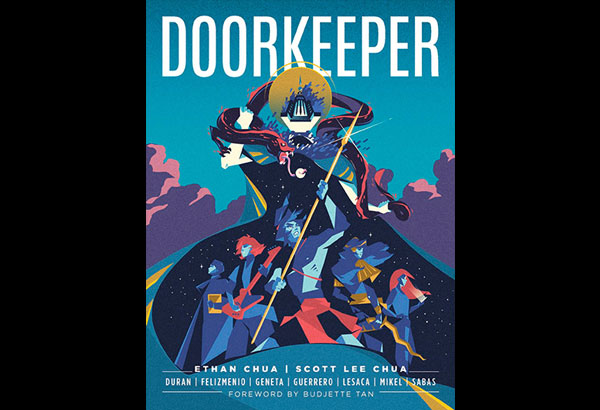 Doorkeeper will be launched on November 10-11 at the Komikon 2017.
'Doorkeeper' opens doors to Philippine history and folklore
(The Philippine Star) - November 3, 2017 - 4:00pm
MANILA, Philippines — When it comes to literature, immortal and omniscient characters that traverse the fabric of time to save humankind aren't exactly new — TV's Doctor Who comes to mind, a Time Lord who travels in and out of different periods throughout history, helping people in need, all the while gaining a deeper understanding of humanity.
The concept is hardly the first of its kind, yet Doorkeeper, a graphic novel co-created by university students Ethan Chua and Scott Lee Chua, proves that familiar doesn't have to be tired. While the authors' origin story sounds like the preface to Michael Chabon's The Amazing Adventures of Kavalier & Clay, Ethan and Scott Lee have already proven their mettle as award-winning authors — Scott Lee Chua received the Nick Joaquin Literary Award for short fiction this year, and his children's book series Top Ten Travels was a finalist at the National Book Awards. Ethan, meanwhile, received the 2017 Geballe Prize for short fiction, and is a member of Stanford University's Spoken Word Collective.
Doorkeeper turns the trope on its head and weaves through Philippine tradition, blending history and folklore together into a rich narrative.
"One thing I've always loved about comics is their scope and scale," Ethan says. "With the art and the writing of a comic, you can give readers access to a great expanse of time and imagination. And we really wanted to write an anthology that captured the scope and scale of Philippine history."
Ethan and Scott Lee's creation, the Doorkeeper, centers on a cosmic being that safeguards the conventions of time and space, appearing during the country's most significant periods in time. Throughout the novel, six different eras are presented: pre-colonial Philippines, the world of Florante at Laura, the eve of the 1898 Revolution, World War II, Martial Law, and the far future. At the heart of these different ages are characters that deal with the Doorkeeper, who helps these people make crucial choices that define their lives and the universe, and in turn allow the Doorkeeper to question his own existence.
Doorkeeper was conceptualized in between college classes by Ethan and Scott Lee, stemming from a conversation about the Butterfly Effect — the idea that big consequences derive from seemingly small and mundane choices. "This seemed like a problem, and the Doorkeeper was our solution," Scott Lee shares, adding, "He would be the Keeper of the Ways, the Steward of Choice, who appears to people on the brink of making such pivotal decisions and shows them the consequences."
Ethan adds, "That's when we decided to come up with a character who could take us through time and through space, allowing us to experience all these different parts of history — a character who could guide the reader in moving through the universe."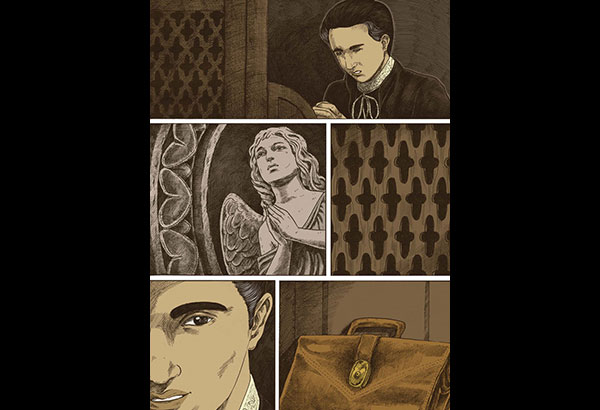 The graphic novel was written by Ethan and Scott Lee Chua, and illustrated by eight different Filipino artists.
Doorkeeper is hardly a straight history lesson, however. The graphic novel takes real-life facts and runs rampant, such as altering the world of Florante at Laura, moving Balagtas' classic piece closer to home, literally. Ethan and Scott Lee set their reinterpretation of Florante at Laura in the Philippines, whereas the epic originally took place in Europe. Still, there's no denying that their comic book deals with truths in spite of working in a fantasy genre.
Of this change, Ethan says, "Balagtas's Florante at Laura is a classic, but one set in Europe that was kind of aspiring towards Greek/Roman ideals, with all these references to Western scholarship, Western philosophy and Western religions. It was a cathartic and also rebellious choice to take Florante at Laura, Adolfo, to take these characters, to bring them back to a familiar place, to kind of decolonize our relationship with the literary canon of the Philippines. That, for me, was a really powerful tool of storytelling: to remake history, to revisit old narratives, and to make them new and exciting."
Although Ethan and Scott Lee are at the helm of Doorkeeper, the duo also sought the help of eight Filipino artists to bring the Doorkeeper and the Philippine universe to life, a vibrant mix of comic book veterans and up-and-coming visionaries, each bringing their own distinct flair and aesthetic: Allen Geneta, Bianca Lesaca, Jap Mikel, Gia Dominique Duran, Brent Sabas, Bow Guerrero, and Aaron Felizmenio, while Borg Sinaban and Raymund Bermudez contributed additional art.
Of the selection of artists, Ethan said that they wanted the comic book to feel like "a treasure chest of memory." The author adds, "We wanted the feel of the Spanish-era Philippines to be distinct from the feel of the far-future Philippines. Part of the variety of our artists came from asking not just how we'd push boundaries narratively, but also how we'd push boundaries visually."
The comic book's heady premise sounds promising, and will soon enthrall its own horde of Pinoy audiences when it makes its debut at the Komikon this month. With the fusion of local history, lore and talent, Doorkeeper pushes boundaries and mirrors its own truth: of what Philippine art is and can be in the future.