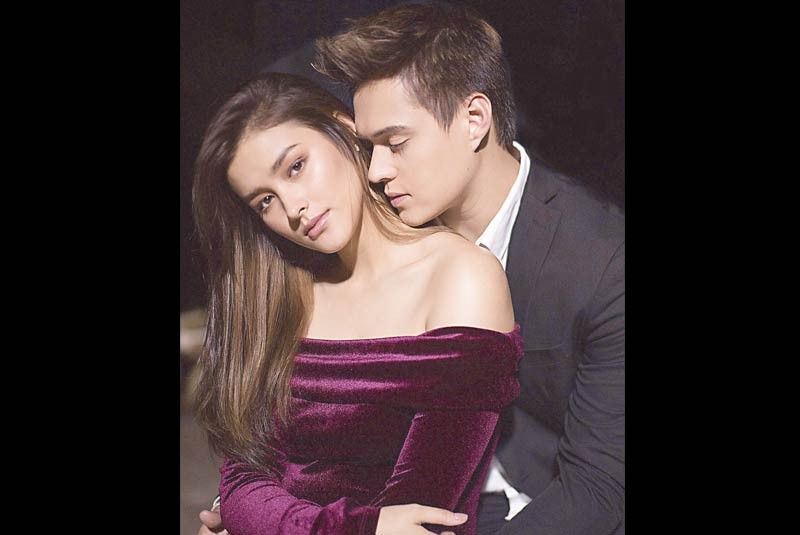 'They're not in a relationship ah!' Liza Soberano's and Enrique Gil's managers clarify. The air they shared with 'Supreme' for this cover story, however, was thick with chemistry and coy little sparks.
MANILA, Philippines - The typical flurry of activity minutes leading up to the first layout of a shoot ensues in this one — the photographer checks the lights, someone checks aloud if we are on schedule, hi's and hellos between collaborators are exchanged. Everyone does their thing, as usual, but it doesn't really quiet down in the way it does when Liza Soberano finally walks into the room. Everyone just has to get a look at her. It's true what they say — the beauty that has launched a endorsements and projects and a thousand memes — is striking to behold. Her partner — and boyfriend? — Enrique Gil follows shortly. Everyone's attention is on Soberano, even Gil, who beats Soberano's stylist and assistants from pulling up her velvet off-shoulder dress' neckline when it was beginning to slip. He can't take her eyes off of her. At times, he leans back, letting her bask in the light as she smolders on the viewfinder.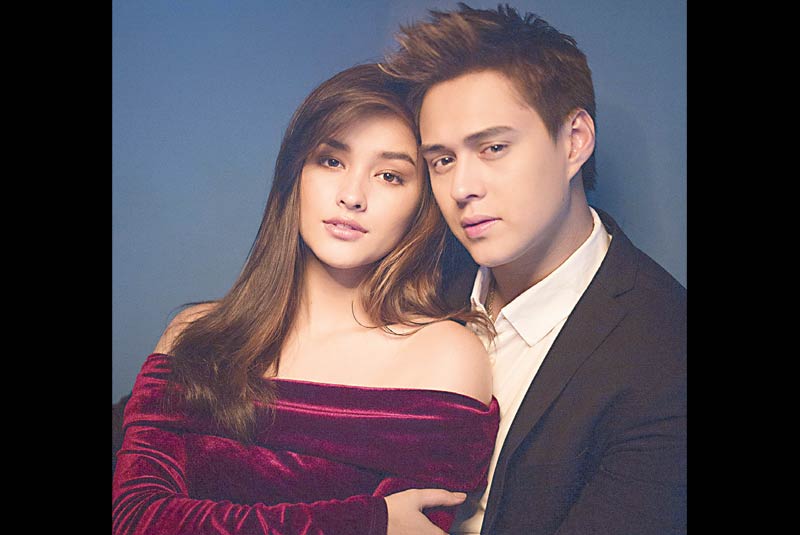 But Soberano is in apparent discomfort over something the two vehemently discussed between whispers, her voice alarmed as he responds with a hush to soothe her. Everyone in the room senses the tension. Gil puts his arm around Soberano for a layout, and she hastily shoves it off and rolls her eyes. Is there trouble in paradise? A few moments later, she lets out a sneeze, and then one after the other. She has an allergy.
After the shoot wraps up, the two heckle and joke around incessantly. "She makes me feel butterflies in my stomach — that makes me wanna poop," he says.
She interjects, "Yeah, I'm annoying. Like today!"
"I'm used to it!" he crosses his arms.
Soberano sighs, "Pasaway siya. He's 24 but acts like he's 16."
Those who travel together, end up together?
If any of the lucky Star Cinema millennial couple's projects were imitating real life, it would appear to be so. Nearly half of the hit teleserye Dolce Amore was filmed throughout Italy together with Matteo Guidicelli (who they will be spending Valentine's Day with in his trattoria in Cebu). Another Cathy Molina collaboration, My Ex and Whys brings them to Korea and Tagaytay as an estranged couple, Cali and Gio, testing the waters if love is indeed sweeter the second time around, and if people — and feelings — truly change. Gil hints at an upcoming project in Las Vegas.
Thrust into a foreign land, away from our associations and any distraction, the two found themselves bonding in this constant state of travel, whether for taping, shoots, or appearances, that they became close. It all began in Forevermore, a month of taping with no cellphone signal, their tents pitched in the middle of nowhere in Baguio. They were left with no choice but to be their most comfortable as they got to know each other. Rare trips to Baguio City for breaks had the duo shrieking "Civilization!" running amok in the malls like the kids they are, sneaking in movie dates in the horror genre starring no less than an evil doll Annabel. Gil recalls Soberano being terrified, clutching onto his arm. She says, "I'm afraid of dolls but I'm not afraid of anything else."
It wasn't all fun and laughs for the two who felt free to be away from it all. Real life caught on as Soberano received news about her mother after nearly a decade — something about the past that was so heartbreaking that her family struggled to keep it hidden from her. Soberano turned to Gil, sobbing uncontrollably and opened up. (Soberano reunited with her mother afterwards in her hometown California, in time for the North America screening of Just the Way You Are. Gil stayed by her side.)
"She was telling me, 'Everybody is lying to me, you're the only one who's there for me, the only one I can trust.' You were saying those exact lines!" Gil, even at this moment, teases her. "Then na-in love siya sa akin, joke lang!" She blushes and denies it. With an icy gaze, she waits for him to stop laughing and he gets it. It's easy to forget that Gil is five years her senior.
Gifts are a language of love
"He said he wanted to be my father," Soberano recalls on a more serious note. On her 17th birthday, news broke out of Gil gifting her a — he hesitates — an "Heer-mes bracelet," he finally shares, the concrete evidence of his feelings to cheer her up. Soberano controls her laughter and corrects him right away.
But Gil indeed does, in his own little way, try to be a protective, wise figure in Soberano's life. For one, he has an opinion about her wardrobe choices, pointing out Soberano's camisole and cardigan combo with a classic, "You're not just going to wear that, are you?" The girl doesn't back down, of course.
We are cramped up in a dressing room with the two and their respective teams huddled up together. "They're not in a relationship ah!" their management clarifies. "Baka kasi iba isipin..."
Soberano agrees: "We are not in a relationship-relationship ha. We're in a reel-ationship."
"We got a relationship going on but not that kinda relationship," Gil confirms.
Couples set standards
While most of us have the luxury of growing years — and precious privacy — to fumble with the complexity of our relationships and family drama, Soberano has either no experience to speak of or too much of a burden to bear at only 19 years old. She has never had a boyfriend and has never had a suitor. For all her beauty and the world's admiration of it, she doesn't think men are all that into her either.
She shifts the focus onto Gil, resident hip-hop party boy with his share of conscious coupling and uncoupling reported by every showbiz news outlet throughout his career: "He's the expert!"
He doesn't deny it, shrugs, "I used to party a lot back in my time."
But how different is his time from hers? "There's something about guys these days," Soberano muses. "Hindi sila marunong manligaw. Before, I thought when I grew up, guys would give flowers, surprise you with a whole bunch of stuff. I never experienced ligawan so I can't tell if someone likes me unless they do that. Quen is the one who tells me when a guy likes me or not, but I don't believe it because the guy isn't showing any affection at all."
"Guys aren't in it for affection, they want the action, yo!" and he quickly adds, "I mean a lot of guys right now. Not me." Soberano giggles.
Seven minutes in heaven
The on-screen pairing begins with Gil half-naked — "like a baby," Soberano comments — and she in a muscle shirt having their turn of Seven Minutes in Heaven inside a conveniently tight closet. Gil's Gio is the more experienced one, leading the way as Soberano's good girl Cali was only peer pressured to go inside. The relationship ran its course and they ended up separating and reuniting. It was only then that Cali was able to reveal the pain she endured, that they broke up because he had cheated on her. As seen in their viral confrontation, she challenged, "Pangit ba ako, kapalit-palit ba ako?" Ex and Whys is her first brush with a relationship falling apart.
"I had a really hard time doing this movie. Direk Cathy guided me in each and every scene. That scene took eight hours for my shot alone. I couldn't relate to it. Direk Cathy told me to approximate the pain. Think of a scenario that happened in my life where I felt betrayed and inadequate," she shares, which is what she did, sparring the same lines with Gil for two days.
Gil, on the other hand, as Soberano points out, is a "grandpa. You're turning 30 in five years."
Twenty-five is in no way old, but Gil finds himself reflecting on relationships with a different frame of mind. He has been in the business since 2008 — fame and fortune and its share of characters have him craving for the opposite. "I want it to be super chill, no trying." No clubbing? None of the courtship that Soberano idealizes? "Yeah, just hanging out. Somebody I can be friends with. A girl I can take out on a date with and doesn't just order fish and a salad. I want somebody to eat tacos and nachos with."
Soberano reflects on her own standards: "I have nothing to base it on. I don't really know what I want when it comes to relationships. Because I'm an artista, I just know I don't want it to be public. I don't want the whole world to know about every single thing we do." But she knows a thing or two about what a relationship should feel like. And if her education solely comes from portraying women of different stripes falling in and out of love onscreen and scripted, why not? Isn't a grand, silver screen kind of love a worthy ideal to aspire to? "I don't want to get into a relationship and not feel like he's the one. There has to be a big spark. It has to be something long term."
Gil, as if agreeing, sits up and adds, "Me, I don't mind if it's public or not. I don't have boundaries in a relationship. Now I think of relationships as something for the long run. Having a house, moving in together, hindi lang 'girlfriend ko to.'" It appears they both have a lot to learn together.
Soberano shakes her head laughing, "That's what I said!"
* * *
Tweet the author @marbbiedoll.
Photo by REGINE DAVID
Produced by DAVID MILAN