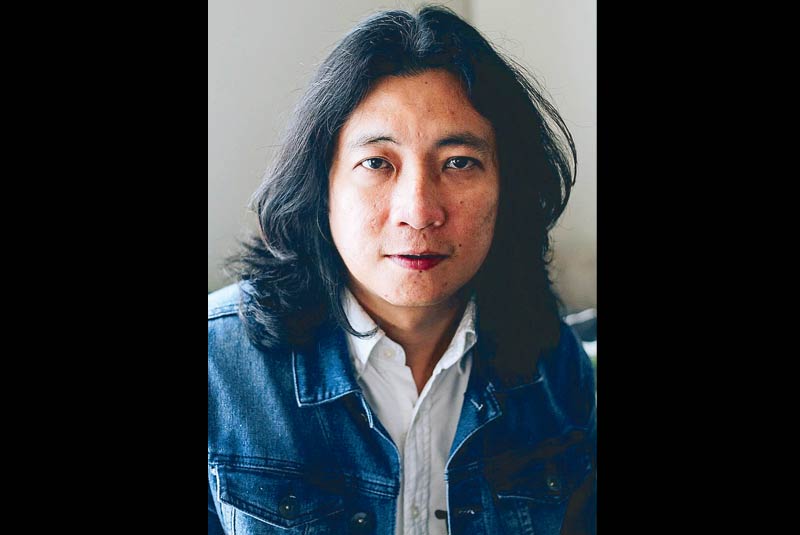 Clem Castro reunites with his band after a four-year hiatus with the release of a grittier new album. Photo by Chealsy Dale
FEATURE: Let's talk about Clem
Ian Urrutia
(The Philippine Star) - February 4, 2017 - 12:00am
MANILA, Philippines - No matter which musical era of Clem Castro you're fond of, his work has always been a spectacle to behold. The prolific pop craftsman doesn't need to peel back to appeal to a specific demographic or redefine sonic landscapes to warrant attention. Clem's predominant currency is his ability to make songs that feel like open wounds to one's private affair, written as if they hold the key to our brokenness and emotional truths.
With Orange and Lemons, he made sure that his sophisticated grasp of Pinoy pop sensibilities wouldn't go unnoticed. The band's sophomore album and major label debut, Strike Whilst the Iron is Hot, achieved Platinum status in less than a year and produced anthemic hits such as Hanggang Kailan, Heaven Knows (This Angel Has Flown), Lihim, and the inescapable Pinoy Ako. Being the major creative force and chief lyricist behind the first two albums, Clem decided to pursue his experiments without sacrificing the accessibility of their first two albums, giving birth to Moonlane Gardens — a showcase of sprawling, exquisite pop tunes that landed them the prestigious Album of the Year nod at the NU Rock Awards 2007.
Dissolution of a Legacy Band
"I got kicked out of the band after the release of Moonlane Gardens," Clem tells Supreme. "That's part of my trauma. I regret not being able to promote it with the band because I've worked so hard for it." Unlike their previous releases, "Moonlane Gardens" raids the record bins of the past while carefully remolding its essentials beyond recognition: the kundiman blues of Ang Katulad Mong Walang Katulad and Buhay at Pag-ibig is reimagined with a brooding slant; the psychedelic ambition of the title track and "New Day" captures moments of transcendence and idiosyncrasy; and the post-punk surges of Moonjive benefit hugely from Clem's more obscure '80s pop influences.
Despite operating with a chock-full of big statements, the record label and his band members weren't exactly pleased with the artistic direction that Clem embraced and fought for during that album cycle, hence, leading to the fallout of one of the biggest local bands of the noughties. Music fans remain optimistic about their comeback, some even hoping for the rough skies to clear out from both camps. But such possibilities seem remote for now. "It's pointless," he explains with equal parts gloom and certainty — two feelings that don't exactly gel in one sentence. "It doesn't make sense to have a reunion. To associate myself with them again, for me, is a little disastrous. Nonsense na eh. We're not friends. We haven't communicated with each other for 10 years." The former Orange and Lemons guitarist admits that there were several offers for the band to reunite for a big show or a new album, but he is quick to turn it down every single time. "It's not gonna happen especially on my end," says Clem. "And if I compare my solo material with them, sobrang layo na talaga. I don't want to say anything derogatory to what they're doing. Kung yun talaga yung trip nila, it doesn't jive with the direction that I want to take."
Start of Something New and Old
Clem's recent music endeavors reveal his continuing desire to expand his sonic alley, exploring a more ornate musical landscape while revisiting his old fundamentals from time to time. The Camerawalls, the break-away band that Clem started after the ONL dissolution, eventually took off with two acclaimed records under its belt: 2008's whimsical opus Pocket Guide To The Otherworld and the indie-pop EP Bread And Circus, both released under his flagship independent label, Lilystars Records. While The Camerawalls didn't turn out to be a commercial breakthrough for Clem and company, it struck a primal chord with listeners who wanted to get inside Clem's mind, and immerse even just for a moment, into the failures, heartbreaks, joys, and dreams that inspired the storytelling in the record.
But due to the demands of being in a full-time band, he eventually called for a hiatus. "I got a little tired of what's happening," shares Clem. "So I asked them if we could go on a break. I told them to explore other opportunities outside of the band first, find a job, and support their family, so when the timing is right, maybe we can regroup. I went to the States for five months. I was supposed to be there for good, but nagkaroon ako ng reflection period. I decided to go back and do a solo project."
Solo Affair with Dragonfly Collector
As expected from someone whose gift for creating resonant, boundary-shattering music never seems to diminish on the creative forefront, Clem formed Dragonfly Collector and embarked on a whopping four-month, 44-city tour to promote his debut solo effort, The World Is Your Oyster. The album earned critical accolades from various critics and music sites. Aldus Santos of Pinoytuner raved about the record for "bursting through genre walls with its chin up." Local music website Vandals On The Wall ranked it the second best album of 2015, singling out Clem Castro for "bearing the hallmarks of a pop craftsman who knows that the way to a listener's heart isn't an easy one, but a task that requires patience, creativity and personal vision."
While Dragonfly Collector succeeded in championing searing, life-affirming music with a more intimate kind of songwriting, it was obvious that Clem missed collaborating with his peers from The Camerawalls. "Everyone is stable now. Everyone is busy doing their own thing, plus we've been wanting to work again as a band," says Clem.
The Camerawalls: Reunited
The timing is indeed right this 2017 as the four-year inactivity finally comes to a halt with a big reunion show at the Music Museum on March 15. Aptly titled Above The Weather, the independently produced concert will feature the newest lineup of The Camerawalls collaborating with a 16-piece string orchestra. "I'm very excited about how we'll reimagine the songs with an orchestra," says Clem. "I've heard some of the arrangements, and it's a dream of mine to perform in a setting like that." Frequent collaborator Venj Gatmaitan (lead guitars), who also happens to play bass for Dragonfly Collector, will be joining Clem Castro (frontman/guitars), Law Santiago (bass/backing vocals) and Bach Rudica (drums/percussions) in this one-night-only affair.
On the heels of the reunion is a new single called Boys In The Backroom off The Camerawalls' highly anticipated third album to be released at the end of the year. "It's grittier, it's a different beast, because I don't repeat myself with any of my work," Clem shares with beaming confidence. "The lyrics are a little bit political, but we want to mask that with a more upbeat exterior: a dance tune inspired by my Britpop leanings." I haven't listened to the track yet, but I'm sure it will lift my spirits right back up the way "Clinically Dead For Sixteen Hours" did. Judging from Clem's ability to occupy his own distinct space outside of pop's cultural currency, I know he's on the right track. Reinvention is his wheel, and nothing, no one, not even a disastrous event can take that away from him.