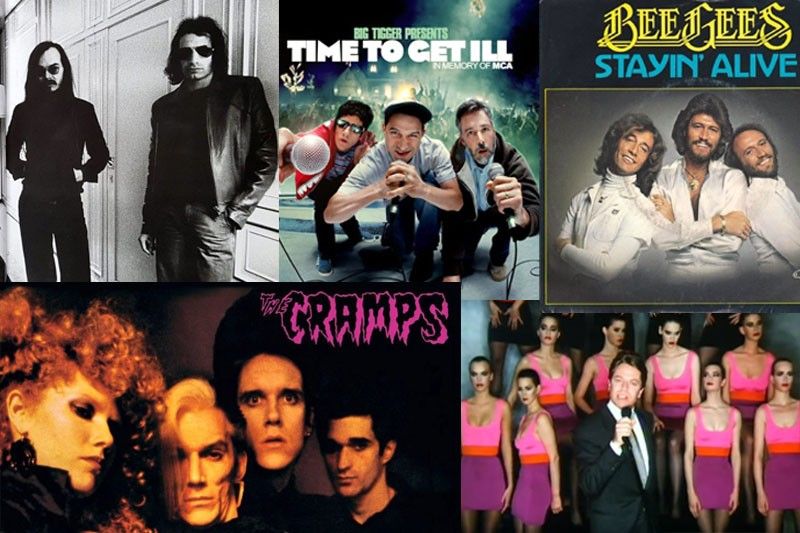 Fever pitch: Steely Dan, Beastie Boys, BeeGees, The Cramps, Robert Palmer
A Spotify 'plaguelist' for these COVID times
Okay, this is going to seem like very bad taste, in light of fears over Covid-19, but I tend to do this whenever anything weird or seasonal happens: I create a music playlist.
Or maybe it's a "plague-list." These are songs that seem appropriate to ponder in these uncertain days as the novel coronavirus switches from health crisis to "global pandemic." In other words, it's moving up the charts with a bullet! (I am sorry; gallows humor does seem to come naturally to me. Stephen King also had a peculiar sense of humor over plague, calling his deadly virus "Captain Trips" in his novel The Stand.)
Of course, this will be a playlist that includes songs with "doctor" in the title, or "fever," or "ill," but may also include bands that seem eerily on-point in these troubled times (such as The Cure, and LA's hardcore band The Germs).
It's also, typically, dated: stuck in the '70s, the '80s. I'm sure Madonna and Justin Timberlake's 4 Minutes (To Save the World) could easily squeeze into a younger music listener's playlist, but it's not my jam.
And no, it's probably not "The End of the World As We Know It," as R.E.M. once opined, but nor should we all just "Take It Easy," as the Eagles sang, either.
So, on with the final countdown. (Or is that a bad choice of words?)
• Bad Case of Loving You (Doctor Doctor) by Robert Palmer. Palmer, known for his catchy '80s videos for Addicted to Love and Simply Irresistable, had this to say about love as a medical condition that needs a physician's cure. That metaphor gets a lot of play on this playlist. Such as…
• Rock And Roll Doctor, Little Feat. This Southern boogie band knew how to whip up a sonic gumbo, even if it wasn't effective against Covid-19.
• Doctor's Orders, Carol Douglas. If this earworm early disco hit wasn't on your radio in the '70s, you might have caught it somewhere during Sex and the City's run in the '90s.
• Doctor Robert, The Beatles. "If you're down, he'll pick you up," sang the Fab Four, and they weren't talking about mild flu symptoms, but a certain New York physician who dispensed vitamin and amphetamine cocktails to rock stars and (allegedly) JFK back in the crazy '60s.
• Doctor Wu, Steely Dan. Keeping with our medical theme, the Dan talk about a certain sickness that comes into play when a certain physician does not arrive with the necessary medicine on time. Plus it's a great jam and Phil Woods alto sax solo.
• Don't Touch Me There, The Tubes. This sultry '60s girl group pastiche also doubles as useful medical advice in these uncertain times.
• Touch Me, I'm Sick, Mudhoney. Whether it's the original or Sonic Youth's live cover version, there's nothing like embracing the coronavirus with a YOLO spirit, and rolling them dice. This song sounds like how your bronchial passage might feel after a dose of Covid.
• Isolation, Joy Division. Never the cheeriest Manchester band, here, Ian Curtis and bandmates offer sound medical advice to the afflicted: just stay out of circulation for a while.
• Time to Get Ill, Beastie Boys. What's the time? The Beasties always knew how illin' it was to add "ill" to a lyric. They've apparently grown up a bit, because their recent tour has been cancelled in light of Covid-19.
• The Sick Bed of Cuchulainn, The Pogues. This Irish band always sounded like they were up for a festive wake, so enjoy this folky punk jig that features a guy visited by ghosts and Grim Reapers at his bedside, and ends in a flurry of snare drums, accordion and flutes.
• I'm Sick of You, Iggy and the Stooges. Recorded during their Bomp! sessions, this one winds up to a full-throttle punk shred that could scare off any unwanted influenza germs from your system.
• Sick Things, Alice Cooper. There's sick, and then there's sick. This Bob Ezrin-produced guitar epic comes from Alice's head-chopping, snake-handling zenith.
• Sick Again, Led Zeppelin. From their fertile "Physical Graffiti"/Hedley Grange era, this lurching jam features a Jimmy Page guitar that sounds like it needs a flu shot. (Or penicillin, as legend has it.)
• Aqualung, Jethro Tull. Mostly there for the line, "Snot is running down his nose," plus the scruffy, grimy character depicted on the album cover.
• Dog Breath, in the Year of the Plague, Frank Zappa & The Mothers Of Invention. From their "Uncle Meat" album, this bebop jam oddity conjures up Camus as much as it does '50s cruisin' songs.
• Shake Dog Shake/Sleep When I'm Dead/A Short Term Effect/Disintegration, The Cure. Let's face it, few acts embody the dread of Kafkaesque isolation and Poe-like emotions like this '80s goth band. Just put the whole Cure discography there, just to be safe.
• I Want a New Drug, Huey Lewis and The News. One that, even if it doesn't combat Covid, will get you hunting up music videos from the '80s on YouTube.
• Shakin' All Over, The Who. The effect of a female within gaze gives the singer chills and flu-like symptoms. This version from "Live at Leeds" should get you back on your feet in no time.
• Fever, The Cramps. Peggy Lee did it better, but few capture the pure sickness of the condition like this psychobilly '80s band.
• Cure For Pain, Morphine. And now we come to relief. Boston's Morphine opines that, when they find a cure for pain, "that's when they'll take my drugs away." Don't forget to wash your hands thoroughly and stay properly hydrated as well.
• Girl, You Have No Faith In Medicine, The White Stripes. Over a "Nuggets" trash punk riff, the singer tries to assure his loved one that acetaminophen will "make the headache go away." Thank you, Dr. Jack White.
• Stayin' Alive, Bee Gees. The Gibb brothers, with a call to fight off the germs, set to a strutting '70s disco beat. Who could lie down after that?
• I'll Feel a Whole Lot Better (When You're Gone), The Byrds. As messages go, this one pretty much hits the spot: when this flu finally takes a hike, the singer — and all of us — will all feel a whole lot better.