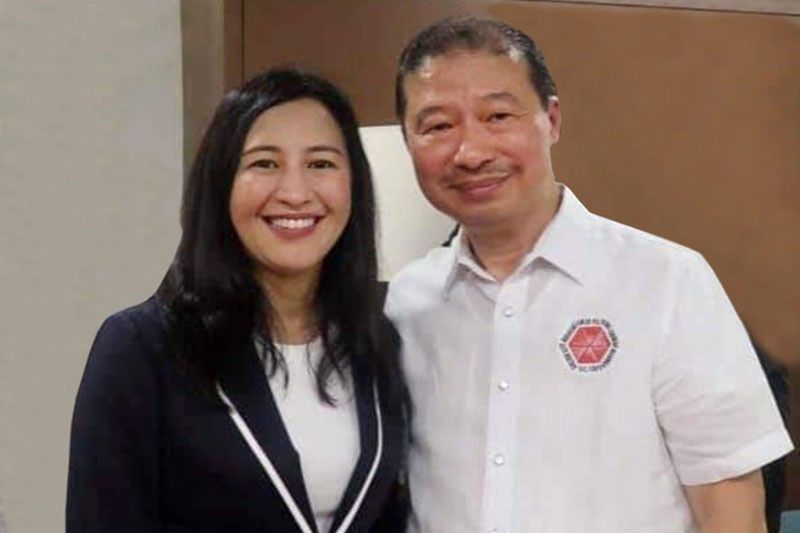 Quezon City Mayor Joy Belmonte and Quezon City Association of Filipino Chinese Businessmen Inc. president Joseph Lim Bon Huan
Quezon City has biggest Chinatown in Philippines, celebrates on January 26
Do you know that, on Jan. 25 it will already be year 4717 in the Chinese lunar calendar? Do you know that the Philippines' biggest Chinatown in terms of land area and even in terms of welcome arches aren't those in Binondo district of Manila or Cebu City or Davao City, but in the western portion of Quezon City or the Santa Mesa Heights area which was developed several years ago under then Vice Mayor and now Mayor Joy Belmonte?
In the western Gregorian calendar, we mark this as year 2020. Although the ancient Chinese calendar traditionally does not use continuously numbered years, outside China its years are sometimes numbered starting from the reign of the legendary Yellow Emperor in the 3rd millennium BC. Thus, by this count, the year 2020 is the Chinese Year 4717, which begins on Jan. 25.
The globally important ancient Chinese Lunar New Year — the new animal zodiac is "Year of the Rat" — will start its first day on Jan. 25, a Saturday. On Jan. 26, from 4 p.m. onwards, QC officials will celebrate "the Philippines' biggest Chinatown" located at Banawe Avenue corner Calamba Street.
Among the unique festivities will be traditional dragon and lion dance performances; a Chinatown motorcade; Chinese deli food and trade bazaar; Chinese music and arts performances; a wushu or kung fu martial arts exhibition; traditional Chinese cooking demonstrations; feng shui predictions; a grand concert by the singer/songwriter Rico Blanco, and more.
Leading the festivities will be Quezon City Mayor Joy Belmonte, special guest China Ambassador Huang Xilian, Federation of Filipino Chinese Chambers and Industry, Inc. (FFCCCII) president Dr. Henry Lim Bon Liong, Quezon City Association of Filipino Chinese Businessmen Inc. (QCAFCBI) president Joseph Lim Bon Huan, Quezon City Chinatown Development Foundation (QCCDF) chairman Charles Chen, among others.
The organizers of the celebration are QC Mayor Joy Belmonte, the QC Tourism Department led by acting action officer Maria Teresa A. Tirona, Quezon City Association of Filipino Chinese Businessmen, Inc. QCAFCBI president Joseph Lim Bon Huan and QCCDF chairman Charles Chen.
According to organizers, the auspicious color of this Chinese New Year is classic blue.
By the way, Ateneo de Manila University's Ricardo Leong Center for Chinese Studies is also inviting the public to enjoy free world-class Chinese cinema with its annual Spring Film Festival at Shangri-La Plaza mall in Mandaluyong from Jan. 19 to 26. Other cultural events will also be held there.
Also popularly referred to as "Lunar New Year" or "Spring Festival," Chinese New Year is celebrated worldwide, especially in China, Singapore, Macau, Hong Kong, Taiwan, called "Seol" in South Korea, called "Tet" in Vietnam, North America, Europe, Latin America and other regions.
Just as the western New Year follows the lunar cycle and changes in date every year, Chinese New Year varies in date due to the lunar cycle.
The popular Chinese New Year greeting worldwide in Mandarin or Pudonghua Chinese national language is "Gong Xi Fa Chai," meaning "Congratulations and Be Prosperous."
In the Philippines, the ideal Chinese New Year greeting is pronounced "Kiong-Hee Huat-Chay" in the Hokkien, Minnan or southern Fujian language which is spoken by the ethnic Chinese communities in the Philippines, Singapore, Taiwan, Malaysia and Indonesia. This language originated in Quanzhou, Jinjiang, Xiamen, Nan-An cities in the south part of Fujian province in southeast China.
Internationally famous due to the global tourism and trade city Hong Kong is the same Chinese New Year greeting's Cantonese language pronunciation of "Kong-Hei Fat-Choy" spoken in the Chinese communities in Hong Kong, Macau, Shenzhen, Kuala Lumpur City of Malaysia, etc. The Cantonese language originated from Guangdong province of southeastern China.
Incidentally, "angpao" is a Hokkien pronunciation of the "red envelope" tradition of giving cash gifts inside red envelopes during Chinese New Year, weddings, birthdays and other happy occasions, which is different from the "ampaw" Chinese puffed rice pastry. The second word "ampaw" has also entered the Filipino or Tagalog and other vernacular languages of the Philippines as "empty" or "hollow," much like the sweet puffed rice dessert.
Among the many time-honored traditions during Chinese New Year are family reunion feasts; the giving of lucky "angpao" (pronounced as "hongbao" in Mandarin) red envelopes with money for young people, unmarried adults, seniors and employees; eating of the sweet sticky glutinous rice cake called "tikoy" in Hokkien (called "nian-gao" in Mandarin) which symbolizes happiness and unity; visits to Taoist or Buddhist temples or churches for prayers; wearing new clothes, particularly red in color; fireworks and firecrackers; annual cleaning of one's house or office; paying off old debts; and visits to relatives and friends.
The ancient and quasi-scientific feng shui or "wind and water" tradition plus other fortune-telling predictions have also become fascinating folk traditions. However, I think some have over-commercialized these into businesses and some have even been bastardized as bawdy entertainment.
Whatever traditional beliefs and superstitions we prefer to follow, let us be reminded that the bottom line for real blessings and achieving success are the classic, timeless and old-fashioned values of hard work, faith in God, prayer, integrity, perseverance, positive thinking and nonstop studying.
* * *
Thanks for your feedback at willsoonflourish@gmail.com! Follow @wilsonleeflores on Instagram, Twitter, Facebook. Buy PhilSTAR's Tagalog tabloid "Pilipino STAR Ngayon" every Friday and read my column "Kuwentong Panadero." Read also https://investment.fwd.com.ph/experts/asia-s-business-leaders-and-what- we-can-learn-from-them.