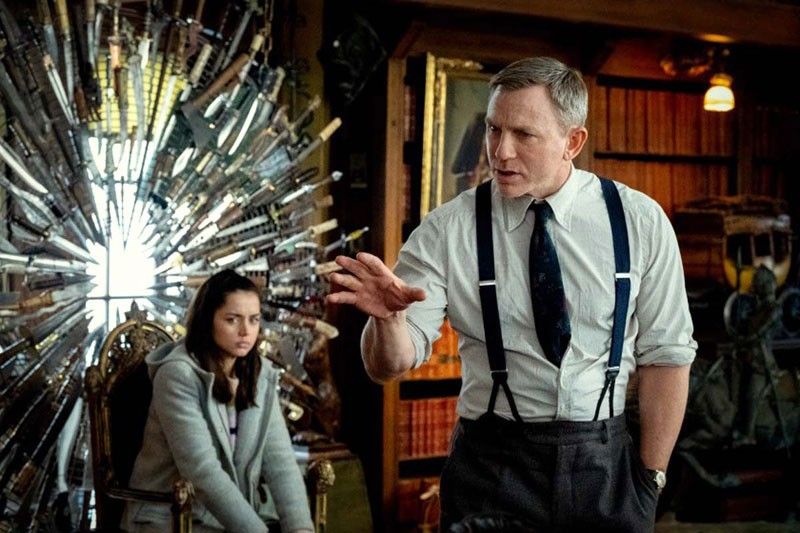 Daniel Craig (shown with Ana de Armas) gets to the point in Rian Johnson's Knives Out.
A twisty game of 'Clue' in the Trump era
MANILA, Philippines — Last week was Thanksgiving for Americans, and what could be worse than sitting around with family and arguing over US politics? Sitting around with family and sparring over who's getting cut out of Daddy's will. Plus, arguing over US politics.
Rian Johnson, who likes directing intricate mysteries and mindbenders such as Brick, Looper and Star Wars: The Last Jedi (in which the mystery was: why was Carrie Fisher floating in space like Iron-Man?), now brings us Knives Out, a clever, knotty murder mystery in the Agatha Christie vein that casts Jamie Lee Curtis, Chris Evans, Toni Colette, Don Johnson and Michael Shannon as family members sent into a tailspin when their successful murder mystery-writing patriarch, Harlan Thrombey (a wry and lively Christopher Plummer), turns up dead, his throat cut inside an ornate mansion that is fashioned after key scenes from his mysteries. An apparent suicide — that is, until private detective Benoit Blanc (hammy Southern gothic, but fun) turns up to find out what really happened.
As in most Agatha Christie novels, it turns out each family member is a parasitic creep, all after the Thrombey fortune. Linda Drysdale (Curtis) at least runs her own real estate company; her hubby Richard (Johnson) is a Trump-loving capitalist who resents immigrants; Walt (Shannon) runs Harlan's publishing business, but isn't allowed to turn those novels into more lucrative movie, TV and Netflix deals; Joni (Colette) is the liberal daughter-in-law who relies on Harlan's largesse to put daughter Meg (Katherine Langford) through college, meanwhile skimming extra tuition payments for her own bank account; and Hugh "Ransom" Drysdale (Evans) is a spoiled playboy who has shamelessly bummed off the Thrombey estate for decades.
The person at the center of this Trump-era whodunit is Marta (Blade Runner: 2049's Ana de Armas), Harlan's personal nurse, who saw a few things go down on the night the famous writer turned up dead in his games room.
Knives Out conjures up the tone of '70s-era murder mysteries like Sleuth and Murder on the Orient Express, and at times it's a little hokey in honoring those stylistic conventions but it's all the little details that make it a joy to watch.
Craig, with his Foghorn Leghorn Southern accent and ornate verbiage ("I simply search the perimeter until I find the nexus of gravity's rainbow"), is clearly enthralled by his own case-cracking prowess which gives screenwriter Johnson a great opportunity to send up the Hercules Poirots and Charlie Chans of the genre. But Benoit does know his business.
When he quickly discerns that each family member has a possible motive for doing away with Harlan, he turns to Marta whom, he learns, "becomes regurgitative" when caught in a lie (i.e., she pukes) for a moral barometer reading on this motley crew. Marta, unfortunately, has her own problems: her mom is an undocumented immigrant from (Ecuador? Uruguay? Brazil? None of the white Thrombey clan can be bothered to remember), and she doesn't want her family to be deported.
Thus, Johnson's murder mystery is really a cheeky stab at the Trump era fixation on illegal immigration and white entitlement: the sense that the US is being taken over by outsiders who don't deserve a crack at inheriting it all. This sly jab runs throughout Knives Out, until it becomes a social satire on the struggle between the haves and have-nots in America, somewhat akin to Jordan Peele's Us, though with fewer homicidal doppelgangers.
The mansion, where most of the story takes place, is a hoot check out that "Iron Throne" knives chair, for one and Plummer's a joy to watch, and there are just enough twists and turns to throw you off the scent and play along with this extended game of "Clue," up until that satisfying last shot of Marta holding a coffee mug.
* * *
Now in cinemas.