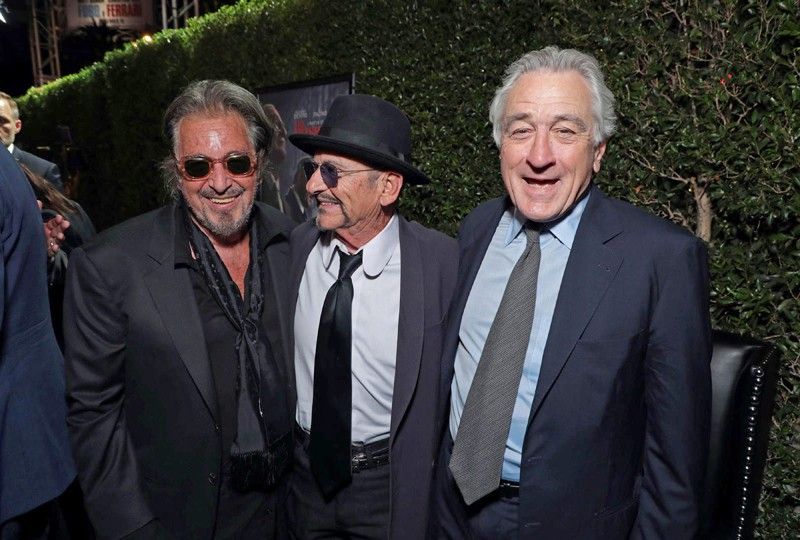 Icons of cinema Al Pacino and Robert De Niro flank co-star Joe Pesci during the Los Angeles premiere of The Irishman at TCL Chinese Theatre in Hollywood hosted by Netflix.
'The Irishman' cometh: Robert De Niro & Al Pacino star in the last great mob epic
Imagine if you will a road trip — only this time it is not a trek across an idyllic country with its proud highways, roadside inns, songs and static of AM-FM radio buzzing in the great heartland and beyond. Rather it is a backdoor detour into the United States of shadowy paths, dark alleys, mob machinations and organized crime. How — maybe becoming more pronounced in the Fifties — two Americas run concurrently: one is soundtracked by America the Beautiful, with the free and the brave holding hands across the canyons and the coasts of the world's superpower under the rockets' red glare; while the other blares doo-wop and bubblegum pop counterpointed by the sounds of shotguns, breaking glass, last gasps and mafia capos giving the order.
Legendary filmmaker Martin Scorsese has taken audiences on a jaunt through alternate histories, showing the rise and fall of wiseguys and made men, and the dark, decadent side of the Italian-American Dream (just like the unholy Roman Empire with the same level of plotting and bloodshed but with more family bonding and the obligatory stirring of the pasta sauce). If Goodfellas (1990) and Casino (1995) map out the tantalizing rise and tempestuous fall of being part of a criminal organization (the guns, the goons and the gore), then Scorsese's latest film, dubbed The Irishman, traces the same trajectory albeit in a subtler, more sober, uncharacteristically subdued and contemplative manner.
It is the summation in a trilogy, maybe its distillation.
The film is based on Charles Brandt's non-fiction book titled I Heard You Paint Houses, which was adapted by Academy Award-winning screenwriter Steven Zaillian (Schindler's List, Gangs of New York, etc.). And, fittingly enough, a road trip functions as a fulcrum for the film. The protagonists and their wives travel by car from Pennsylvania to Michigan to attend a wedding in Detroit, making stops along the way to conduct their nefarious business. They pass by several landmarks that dig up old memories, good or otherwise. It's a trip, all right. And it unfurls in a non-chronological way from 1949 to 2000 with its flashbacks within flashbacks, pitstops for every decade, popping up with corpses and captions predicting the manner of death of certain operators. The voice of a not-entirely-reliable narrator, our man on the inside, provides a guided tour.
The movie still packs heat, don't get me wrong. Badassery and headshots still abound. But it is less about journeying to the heart of darkness, and more about carrying around a heart in constant conflict with itself. What all great dramatists dream of writing.
The eponymous protagonist — played by Robert De Niro, who also starred in the two aforementioned Scorsese movies — is more bone-tired and world-weary (not like the ever-scheming Jimmy Conway in Goodfellas who is always up for a good airline heist, or the ever-calculating Ace Rothstein in Casino who is consumed with keeping the entire doomed Vegas enterprise shitting gold). In fact, Frank "The Irishman" Sheeran — a truck driver who gets recruited as an enforcer for the mob — is more introspective and, in a way, more accepting of the consequences of his decades of hits after hits after hits.
De Niro and Scorsese reunite with Joe Pesci, who breathed life into a pair of unforgettably livewire, volatile characters, Nicky Santoro and Tommy DeVito in Casino and Goodfellas, respectively. Only this time he takes on the role of a quiet don with a quiet fire, Russell Bufalino. Pesci, who has not appeared in a movie since 2010, was convinced to come out of retirement by Marty and Bob — an offer he couldn't refuse. In The Irishman, Joe effectively portrays the fine quintessence of the head of a mob family. Frankly, it is quite refreshing to see Pesci turn it down a notch and not constantly motor-mouth the F-word or bash people's skulls in with fancy footwear. Still, he pulls most of the strings, sets things in motion, calm as f*ck.
Completing the Mount Rushmore of cinematic legends is Al Pacino as Jimmy Hoffa, the bombastic and charismatic union leader. Sheeran becomes Hoffa's bodyguard and then, later on, his friend. A killer of a pair, these two iconic actors. Pacino was Michael Corleone to De Niro's Don Vito Corleone (in Francis Ford Coppola's magnificent The Godfather Part Two) and Vincent Hanna to De Niro's Neil McCauley (in Michael Mann's equally magnificent Heat). Well, what about the routine cop thriller Righteous Kill? Forget about it. The only thing I remember about this flick is that 50 Cent appears in it, and that can't be good. The Irishman, its world inhabited by characters burdened by doubt and duty, effectively wipes away the memory of the awfully unrighteous mess and, hopefully, makes it sleep with the fishes.
In a Manhattan suite, Pacino tells The STAR: "It's apparent in these characters (how they are in constant conflict with themselves), with what they go through and everything. It's about friendship, love and choices, really. Hoffa, in the movie, is a mirror of my interpretation. Sometimes, he would act before thinking. It would backtrack and get in his way, and it created a kind of stubbornness. But what I love about this character is that he believes in something so strongly. And (is passionate) in this pursuit of his vision of what is fair in life."
In the film's opening scene in a Philadelphia nursing home, Frank Sheeran takes stock of what he has done, how many houses he painted blood-red, how many targets he "sent to Australia" and wiped off the face of the earth, and that one friend he had no choice but to betray. A sad soliloquy about mortality in a home for the aged. No matter how many hits, rats to the Feds, or car bombs he has dodged, Sheeran ends up at the mercy of Father Time (who shall remain undefeated, as NBA legends Sir Charles and Shaq have a predilection of saying). And that dude who runs out the clock is ruthless and unforgiving.
Speaking of the march of time, the de-aging technology (courtesy of George Lucas' Industrial Light & Magic) that transforms the grizzled actors into younger versions of themselves is apparent but non-obtrusive.
"It looks pretty good," De Niro says, sitting right beside Pacino, during our interview (two icons, one room). "I'm hoping that the audiences will go with it. And it's interesting that even before the de-aging was complete — as it was in the final film — people who saw it at Marty's screening told us that the age thing didn't get in the way of the story."
Pacino agrees. "That's what a good story can do."
Sheeran's tale intersects with a lot of key moments in American history: the Kennedy Assassination, the Bay of Pigs Invasion, and the disappearance of Hoffa, the head of the International Brotherhood of Teamsters. Conspiracy theorists will have a field day cherry-picking delicious tidbits. Historians will contest the veracity of certain claims made in The Irishman (especially how Hoffa meets his end, which the author of The Hoffa Wars strongly refutes — "You're being conned, Mr. De Niro!"). But Scorsese stresses that the film is not about stirring the hornet's nest of perceived history or starting parlor debates. "What we wanted to deal with was the nature of who we are as human beings," the director explains. "What's great about the story is this triangle, these three guys and the classic saga of loyalty, brotherhood and betrayal. It's Faustian, and it shows the emotional and psychological toll of that situation. It just seemed to fall into place for our age." It's about love and death and power, man — a few of our favorite things.
The director adds that both he and De Niro are now in their 70s, bearing a different perception of life and different approach to storytelling.
Thus, The Irishman resonates on another level. Its tone is elegiac. We can see it as the autumn of the gangland patriarchs, a twilight of the idols, a reckoning and a recapitulation. The last call at the bar of the angels of death.
With De Niro, Pacino, Pesci, and Harvey Keitel as mob boss Angelo Bruno (who was equally brilliant with De Niro in Mean Streets and Taxi Driver, both directed by Marty, and was iconic in Quentin Tarantino's Reservoir Dogs and Pulp Fiction), as well as character actors such as Bobby Cannavale and Stephen Graham, The Irishman is undoubtedly a masterpiece. And it is probably the last time we get to see this particular dream team together. It is, as they say, the end of an era for epic gangster movies. Scorsese even laments how, nowadays, major film studios don't want anything to do with the kinds of pictures the filmmaker wants to make. "It's over, it's finished," he adds. Superhero movies and TV series almost always get the green light and the bags of cash. (Dull Fantastic Four, drab Iron Fist, another Spider-Man reboot, more force-fed sequels and spinoffs, anyone?). But a great storyteller such as Martin Scorsese nearly had the plug pulled from his Irishman if not for the intercession of Netflix.
Netflix was able to provide the necessary financing to see the film through. Ted Sarandos, the internet entertainment platform's chief content officer, says they are "honored to be working with the Scorsese-De Niro team on this historic and momentous collaboration."
Well, the movie itself has taken a long, arduous road trip of its own (spiraling production costs, Paramount and STX pulling out, etc.) before its premiere at the New York Film Festival last Sept. 27 and screening at the BFI London Film Festival. It is currently on a limited theatrical run before being streamed globally on Netflix starting Nov. 27.
For the times they are a-changing, according to one of Scorsese's favorite musicians. This film is the end of something, what that is we don't exactly know. "It's a whole new game out there, we don't know where this is gonna go," says the director. It may very well be the last bullet in the chamber, so to speak. You could almost hear Robbie Robertson play the outro with his beautiful bronze Last Waltz Stratocaster.
What a ride it has been, though. A loud, blazing, revelatory ride across another America.
What a ride.
* * *
The Irishman streams on Netflix starting Nov. 27. For information, visit netflix.com/theirishman or follow The Irishman @theirishmanfilm, @netflixfilm, and #theirishman on social media. Special thanks to Ad Pub Hub and Netflix Singapore.