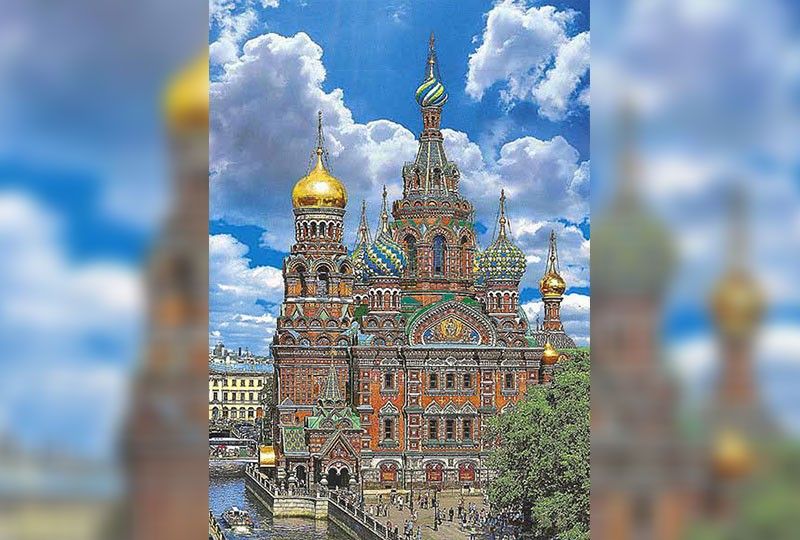 9. St. Petersburg is definitely a sight to behold.
St. Petersburg: A city dipped in gold
St. Petersburg is a city dipped in gold. Walking through St. Petersburg will make you feel as if you have traveled back to a more lavish and opulent age. Palaces, museums, churches and government buildings all tend to be exceedingly ornate without coming across as homogeneous. In this one city, you'll find numerous shining examples of neoclassical and Baroque architecture, as well as buildings in the Stalinist modern and neo-gothic styles.
St. Petersburg is the "strangest of all Russian cities." It is a unique entity with a highly pronounced individuality and a complex and subtle spirit, which leads to a mysterious, dramatic life of its own. No other Russian city is the subject of so many myths and legends. No other city has aroused such mixed responses from the very moment it was born: it has been loved and hated, lauded and damned, but it has left no one indifferent.
On the Disney Cruise, we disembarked in St. Petersburg for a short excursion. Together with my sister Jaqui Dayrit-Boncan, her friend Dr. Marite Vergara, daughters Nikki Boncan Buensalido and Christel Boncan-Constantino, with husbands Jason Buensalido and Mike Constantino, respectively, with their children Annika Buensalido and Pablo Constantino, we toured the city while the weather was crisp and chilly, to our joy.
St. Petersburg's grandiose architecture and picturesque canals were born from the glittering ambition of Peter the Great in the 18th century. Progressively gilded by generations of Russian royalty, Peter dreamt of building a city to rival Europe's greatest capitals. His vision of a cultured capital is fully realized in the superb Russian Museum, the polished columns of St. Isaac's Cathedral, and the elegant theaters. Architectural splendor and majestic landmarks abound as well. So where do you begin in this city so full of sights?
St. Petersburg lies around 400 miles to the northwest of Moscow. Nestled on the Neva River, it spreads out from its banks and across a series of islands that lie within the river delta. On the bus while driving from the port of St. Petersburg, there was a certain mystery in the air. The brutalist buildings reminded me of Russia's history and how powerful the country was during the height of the Imperial Russian Empire.
St. Petersburg is the cultural capital of Russia, our tour guide said, yet even in the midst of culture and the arts, buildings remained concrete and uniform. Its historic center is a UNESCO World Heritage Site, while the city as a whole is home to some 8,000 monuments. Every year, the European Union designates a city as the capital of culture for one calendar year, given that Russia is not a part of the EU and is not considered a potential candidate. St. Petersburg has earned itself a similar title — that of cultural capital — and it's one without a time limit.
St. Petersburg was the country's capital city in the time of Imperial Russia. For centuries it served as a gathering point for creative types from a wide variety of disciplines, including music, painting, architecture, science, theater, dance and more. This history of the arts has shaped St. Petersburg into the city it is today. Everywhere you look, modernity coexists with testaments to its past, boasting over 200 museums, countless cultural establishments and numerous architectural wonders.
Most visitors start their adventures right in the heart of historic St. Petersburg. Palace Square is dominated by the Alexander Column and is home to the Winter Palace. This monumental palace is a legacy of Catherine the Great and was designed to reflect the might and power of Imperial Russia. Experience some of the country's most extravagant architecture by strolling along Nevsky Prospect, the city's main avenue.
St. Petersburg is renowned for its majestic palaces such as the stunning Catherine Palace, with its striking blue-and-white facade stretching for nearly 1,000 feet. This is one of the world's largest palaces. We toured this palace extensively and marveled at the exterior and interior finishings. It brought Nikki back to her younger years when she would watch Disney's version of Anastasia, the story of the Grand Duchess who was said to have survived the horrific murder of the imperial family. She was curious to know more about them. The palace was loved by Catherine the Great, who would hold extravagant costume parties in the Great Hall. It was said she owned 14,000 dresses and never wore the same one twice. The refined detail, decals and décor of the place stood out to Nikki; it told her that the palace was rich in history.
The opulence of the palace left us in awe and we wondered how the imperial family really lived. They took us to the receiving hall and we were asked to put on protective covers over our shoes as even the wooden floors were delicate. They even gave us a special stroller for the kids. The stroller's wheels had some sort of rubberized protection as well.
To continue the tour, we were whisked away by coach to the Peter and Pushkin grounds, another imperial palace that was inspired by Versailles of France. We were told that it was the Winter Palace of the Romanovs, where they entertained guests and other heads of state. Like St. Catherine's Palace, the rooms were astounding and the one could just imagine how the imperial family lived. The highlight of this palace was the 3,900-hectare garden, which needs about 200 gardeners to maintain. We were once again transported back to Imperial Russia's time of opulence and grandeur, mystery and romance. The garden featured smaller guest palaces, an aviary, animals, beautiful flowers, impressive fountains and even hidden nozzles of water meant to trick you into getting wet. It was stunning. We all enjoyed the cold outdoor weather and twirled, imagining we were part of the imperial court.
It's the attention to detail both inside and out that make this city one-of-a-kind in its opulence. Buildings like the legendary Hermitage Museum and Winter Palace are ornate from floor to ceiling. Whether it's a chandelier or a doorknob, everything you encounter is likely to be the most beautiful version you've ever seen — from churches to fountains. St. Petersburg is a city constructed with incomprehensible attention to detail.
One could spend an entire trip to St. Petersburg visiting nothing but religious sites. The Church of the Saviour on Spilled Blood, with its medieval Russian architectural style, is mind-bogglingly elaborate, from its candy-colored, heavily textured domes, to its unparalleled mosaic work. It will leave your jaw on the floor, though there are numerous churches and cathedrals that deserve attention.
The crowning jewel is Saint Isaac's Cathedral, which now serves as a museum. This Russian Orthodox marble edifice is, by some measures, the fourth largest cathedral in the world, and a must-see for any lover of art and architecture.
The mystery of the palaces and imperial family captured my attention so much, I felt the need to research and read up on them. I even watched a documentary about them to know their real story when we got back home to Manila. We only had a few hours to spare in St. Petersburg and I am certain there is still more to discover, but one thing is for sure: the place felt mysterious and rich in history. Wishing that the walls of the palace could talk and tell the tales and conversations they heard, my mind still wonders about the country's history and stories and wanders back to St. Petersburg and Imperial Russia.
Stroll through this city when you can and understand why it's called "The City Dipped in Gold."
* * *
Email the author at miladay.star@gmail.com. Qatar Air flies from Manila to Copenhagen, where you board the Disney Cruise. St Petersburg is one of the ports of call.