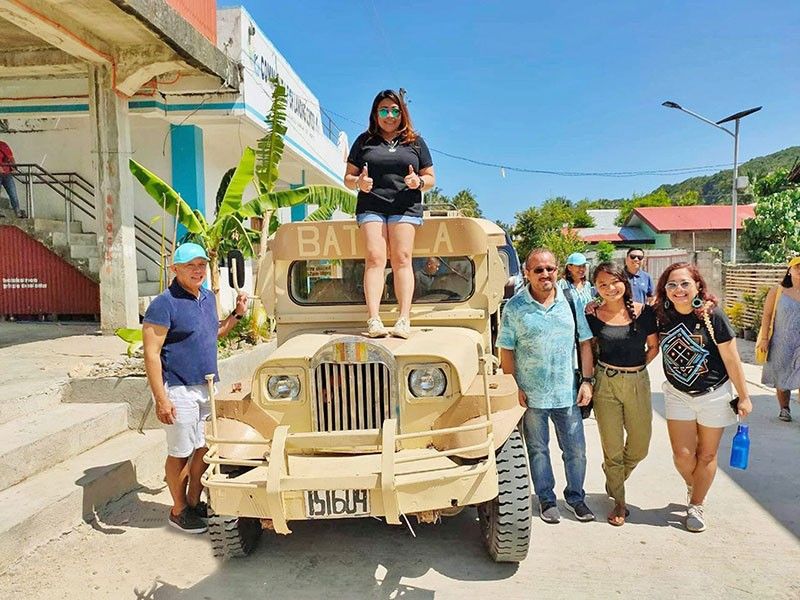 Magic bus: Globe CEO and president Ernest Cu with Camille Banzon, who runs Bathala Siargao tour bus, doing coffee-tasting, basket-weaving and river tours, sharing profits with NGOs. Also shown are Globe myBusiness sales head Cleo Santos, Globe CCO Albert de Larrazabal and Globe myBusiness Strategy, Innovation and Transformation head Mitsch Tapia.
Enzo Luna
Surfing for sustainability in Siargao
MANILA, Philippines — People in Siargao love to surf. They also love surfing the net.
That's partly why Globe head Ernest Cu was in the "surfing capital of the Philippines" — a place where his caravan encountered stretches of 30 kilometers with no LTE service — last week to formally launch three new cell sites in Dapa, Pilar and General Luna.
On his trip from Siargao Domestic Airport, he also noticed there were virtually no banks. Anywhere. That's okay. Globe has virtual banks.
"You don't need banks here," Cu told us, holding up his cellphone. "This is your bank."
He was talking about GCash, Globe's e-wallet app that allows transferring funds electronically for everyday purchases. On that day's visit, Cu was eager to share the power of a cashless society. But it was a joint message: Globe is now partnering with the Department of Tourism to "jump-start the digital transformation" of the Philippine tourism industry towards "an innovative and sustainable" future, as DOT Secretary Berna Romulo-Puyat put it in a video.
Siargao is a lovely backdrop for this. Known for its surfing culture — as Cloud 9 revs up for the 25th Siargao International Surfing Cup from Oct. 4-9 — it's a nonstop parade of tats, tans and long boards, where "good vibes" reign.
It's ripe for sustainability. Many establishments have targeted plastic reduction — like the place we stayed, Apsaras Tribe resort, with its refillable aluminum bottles in each room and bicycles for guest use. Along the streets overlooking the Siargao mountains, kids sold bundles of bamboo drinking straws; they know the value of eco-friendly souvenir items among woke tourists. Near Cloud 9, Globe itself set up Eco-Booths to receive plastic bags and bottles in exchange for "goodies" like data cards, ice cream and snacks.
On a bigger scale, local businesses here are working to become more organic, sustainable and earth-friendly.
• At Lokal Market and Bayatakan Farm Experience in Burgos, Analyn Dulpina and Sam Wilson run an agri-farm where guests pay to stay overnight, pick (and plant) their own organic vegetables and learn how sustainability works in the off roads of Siargao. Sam was moved to join the farm after noticing how most European tourist experiences are generic, lacking local character. Analyn explains how her farm uses time-tested organic planting methods to avoid harmful pesticides — like planting flowers nearby as a decoy to attract bugs away from lettuce and okra, or planting spring onions near tomatoes because the onions make the worms blind so they can't find the fruit; and their attached pig and goat farm is close to 100-percent organic (vegetarian) feeding.
(Check out: Instagram @bayatakanfarm, @lokalmarket.co)
• Young Camille Banzon runs Bathala Siargao, a jeepney business that operates daily land tours to local coffee tasting sites, weaving communities, and soon, river tours. Hop on the beige-colored bus for included meals, where guests are encouraged to use renewable water bottles and get to weave their own baskets for carrying all their stuff away. "We're showing that it's possible to do these tours without producing any trash," Camille says. Half of the proceeds go to NGOs, which help sustain this type of grassroots, sustainable tourism.
(Check out: Instagram @bathalasiargao)
• Coffee entrepreneur Omar Tawfek runs MA+D (Make.Advocate+Delight), a brew-by-hand beachfront café in General Luna, sourcing from fair-trade cooperative farms throughout the Philippines. "There are still places where, sadly, farmers still sell their beans at P10 per kilo," says Omar. "So we're trying to increase that price through cooperatives. Since there are farms in Benguet that sell beans for P300 per kilo, we're trying to get them to do the same." Raising the prices helps the farmers, even if it's more expensive for buyers. "It's about coffee-growing education — we need to teach them how to grow better coffee so they can increase their price," instead of selling it dirt-cheap.
(Visit Facebook.com/madsiargao, @madsiargao)
• At Harana Surf Shop in General Luna, pro surfer and personal trainer Ana Mae Alipayo instructs us newbies in "surf etiquette" and good vibes, learning how to appreciate nature's flow, and how good surf practices help sustain a balance with the island's biggest economic draw. (Visit www.haranasurf.com)
• Run by Swedish national Sanne Sevig, Nature Kids of Siargao is a charity and volunteer organization that involves kids in recycling activities, such as plastic and Styrofoam upcycling, and turning the vast amount of used boat tarpaulins on the island into something marketable, like the "clean" end product stone paper which releases no harmful gasses when burned.
(Visit www.naturekidsofsiargao.com)
The common thread of these local ventures, we noticed, was the GCash payment sign displayed out front, or their connection to the e-wallet service. People can book their tours with Camille, order produce from Analyn, or pay for Omar's coffee using GCash.
Surfing the digital wave
It's fitting that Globe launched its Sustainable Tourism Week from Sept. 23-28, coinciding with World Tourism Day. Cu met with sustainability advocate Marc Nelson and Joyce Pring at the International Surfing Cup viewing dock, where fans each day get to see plenty of live surfing action out on Cloud 9's peaks.
In fact, Cloud 9 is ranked the fifth best surfing spot in the world, and now that surfing is an Olympic sport, it could help net the Philippines its first gold medal. Globe is the platinum sponsor for this year's silver competition. Cu is aware of the huge opportunity here for tourism, but adds a note of caution: "Surfing is the keystone attraction, so it's wise to disseminate that to the rest of the world and draw them in, but draw them in responsibly."
At the same time, Cu believes that better digital connectivity helps everybody. Globe has 12 cell sites now in Siargao — though Cu would rather see 100 or more. "These are places that didn't have coverage before. We can see the transformation in people's lives — they can stream videos, share experiences. And as tourists come, it's fantastic for them to share those experiences with the rest of the world."
Local businesses benefit too, he adds: "SMEs in the Philippines are truly small. They need a lot of help. It's gratifying to hear sustainable tourism people say 'Thank you for bringing GCash.' It's a different form of transformation for Filipinos. Filipinos were previously unbanked: no access to financial services. This whole world of financial inclusion, when you make it a wider circle, it's great for the country."
But there's also a strong sustainability pulse at work here. Listen to Congressman Bingo Matugas from 1st District Surigao Del Norte, who spearheads waste management efforts here: "We want Siargao to remain as laidback as possible. We don't too much modernization, except for maybe communications. Fastfood, we don't want here. It generates more waste, and more pressure to take care of it afterwards. I told some of them coming in, 'If you become part of the problem, you get out.'"
Even as DOT Sec. Romulo-Puyat promised Siargao is "only the first stop" in its partnership with Globe, she also put out this message: "As we pursue inclusive growth, all of us — tourists, citizens, businesses, government and the private sector — are responsible for the protection of our environmental resources. We all have to work together to deliver great travel experiences and make it more fun in the Philippines… forever."