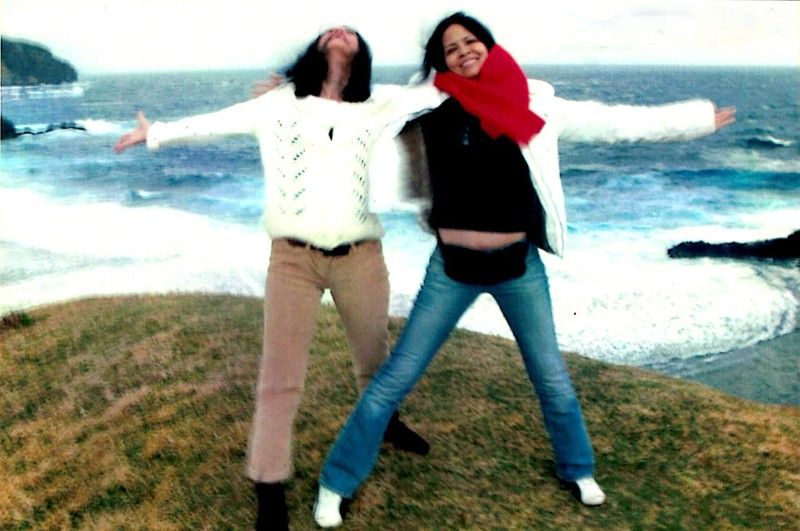 I believe I can fly: Gina and I somewhere in Batanes
Gina Lopez believed she could fly
I will always remember Gina for her can-do spirit — her absolute refusal to accept that something cannot be done. Not only was she a dreamer, she was a doer.
We had just scaled a steep cliff overlooking a waterfall in Sibuyan, Romblon. I was still catching my breath when, suddenly, to my utter amazement, Gina flew by us, plunging into the unknown water below.
Inspired by her brash fearlessness, the kids followed suit. I didn't dare jump. It was quite a ways down. But for Gina, it was just another challenge waiting to be conquered. Such was her mantra throughout her beautiful life.
My friendship with Gina Lopez really started with our involvement in our kids' schooling. We journeyed together, seeking the best education for our kids, from the Rudolf Steiner Waldorf School, to Philippine Montessori, then, finally, to International School Manila. In the process, Gina would touch the lives of my entire family. My sons, Ethan, Kirby and Basti became great friends with her two sons, Roberto and Benjamin. My husband Kevin even served in her Bantay Kalikasan board after she found out he was one of the country's premier cactus and succulent enthusiasts (one of his many quirks).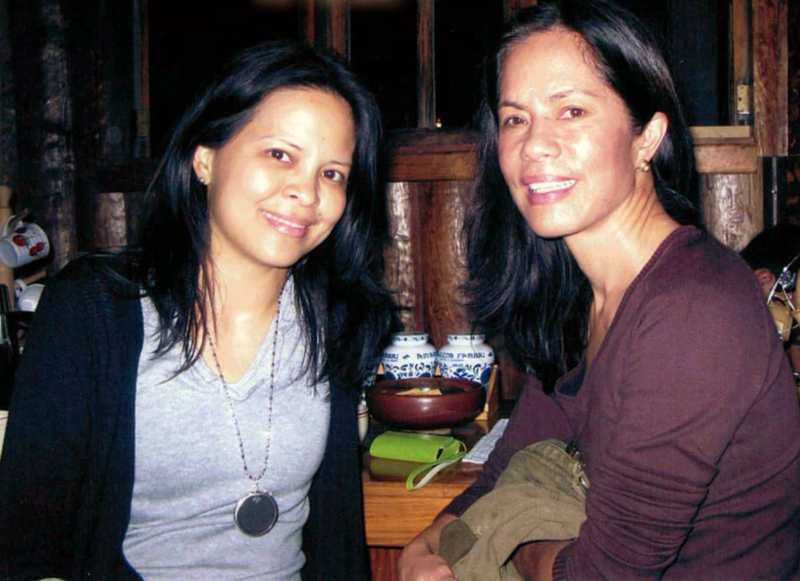 After a usual hectic day, a time to relax for the author and Gina
Throughout the years, Gina and I became very close. While I am timid by nature, Gina always managed to bring me out of my shell, and we always did "gaga" things together. During a festival in Sorsogon, we danced in the streets from day till night, partnered with the locals. It was exhausting, but so much fun.
There are countless other magical moments that my family and I shared with Gina. Together with our kids, we watched thousands of bats burst through an opening on the side of a cliff and into the sunset-lit sky in Cagayan after a particularly strenuous whitewater-rafting excursion.
We traversed the Banaue Rice Terraces and spelunked the caves in Sagada, pausing to meditate in the heart of the famous Crystal Cave (in typical Gina fashion). We watched, in complete awe, as 10 million fireflies illuminated the night sky in the mangroves of Sibuyan.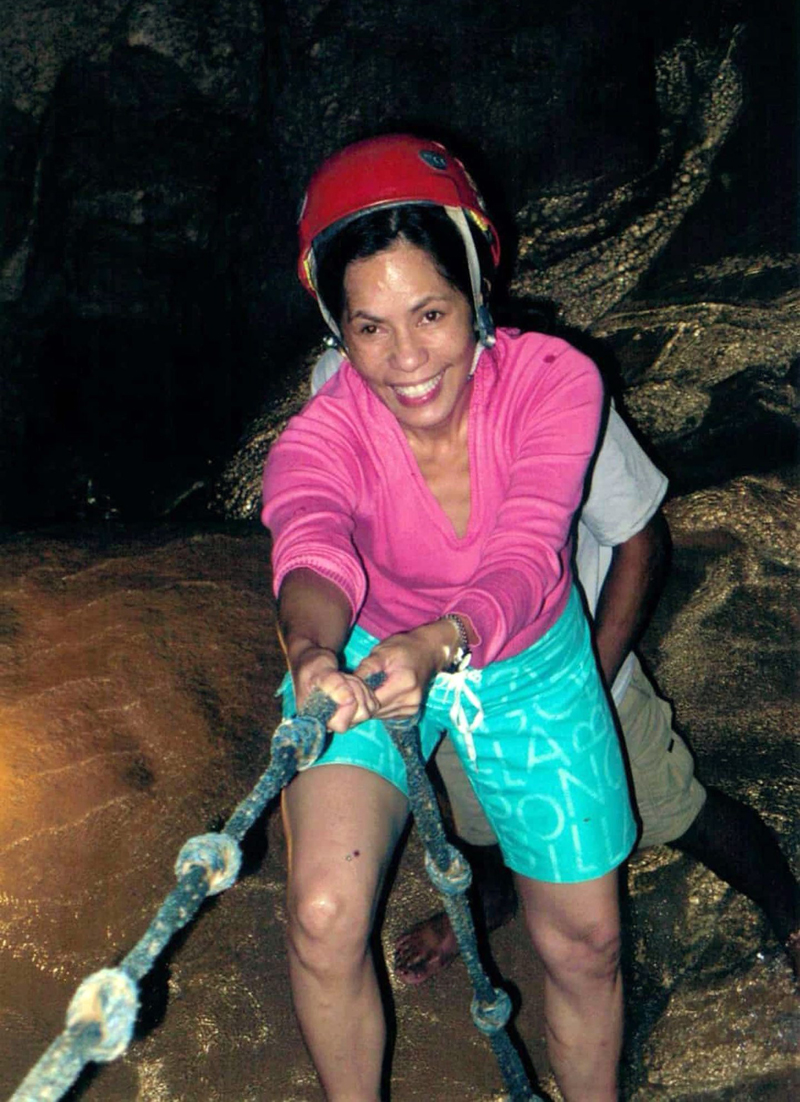 Gina Lopez spelunking in a cave in Sagada
Gina truly was fearless. In Romblon, we climbed up a seriously high cliff before zip-lining down, over a raging river scattered with sharp boulders and into the outstretched arms of two locals ready to "catch" us at the base.
In Saranggani, we para-glided off a mountain after waiting for hours for the wind to blow in just the right direction.
In Batanes, we took seemingly precarious but surprisingly robust banca boats to cross from one island to another under perilous wind conditions (Ethan and I thought we were goners on that one; I recall that Gina looked fine, though). Gina even risked her own safety by rescuing a fallen kayaker while we whitewater-rafted in Cagayan!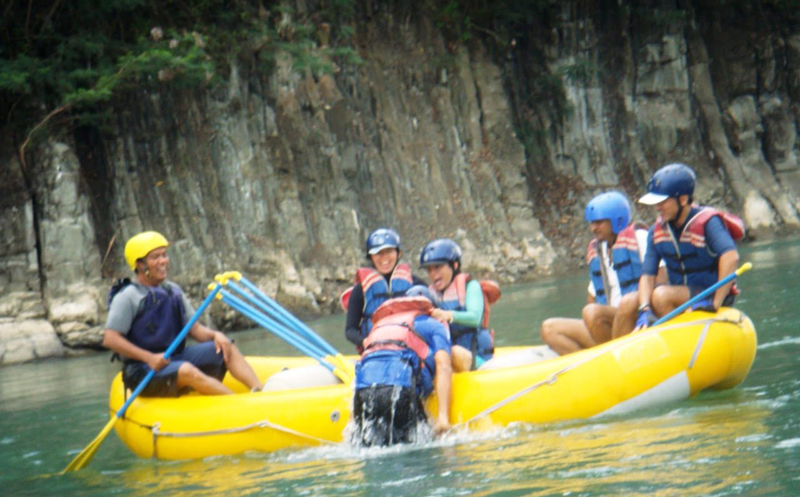 Gina rescues an errant whitewater rafter in Cagayan
With Gina, we traveled across the country and got to experience so much of its wonderful sights. Gina even took Ethan and Kirby on a weeklong diving expedition to Apo Reef and Tubbataha just a week after they received their diving certification. They even did night dives! The stories that the boys told about this unforgettable trip were truly amazing, and, to this day, that trip with their Tita Gina remains one of the highlights of their lives.
We also did an autumn trip to Nagoya, Japan, with our families, along with some of our other good friends. As usual, Gina orchestrated the entire trip, from planning the itinerary to booking the plane tickets. I still vividly remember the ryokan where we stayed. Under a backdrop of towering mountains, it was completely submerged in nature. It was so spiritual. It was so Gina. I also remember the hikes we did through pristine forests, occasionally ringing a bell to let the mountain bears know that we were there and for them to stay away.
Gina's sense of wonder and adventure extended to the people she met. She had the ability to put people at ease. She would talk to strangers with a genuine curiosity about their lives. She would talk to anyone. She once interviewed my yaya, asking about her relationship with her husband.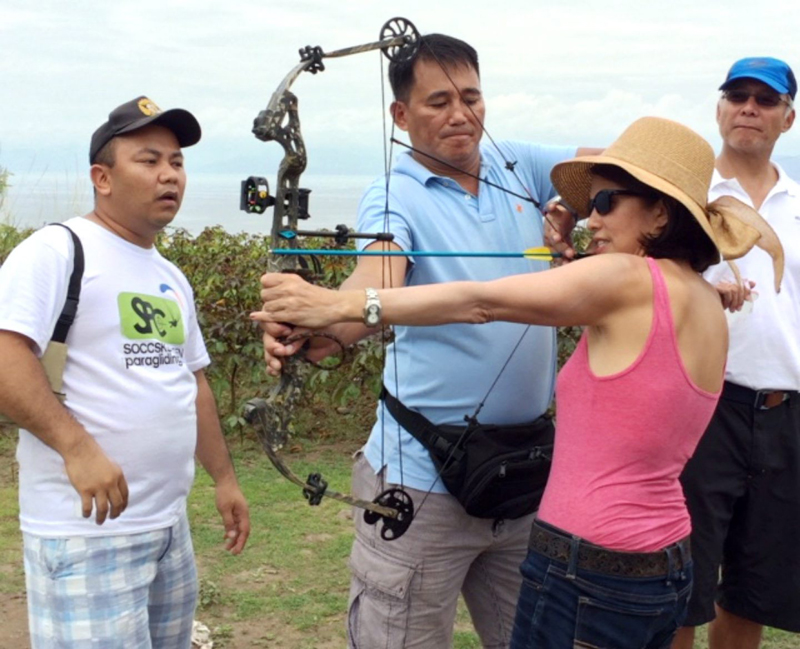 Gina the archer in Saranggani
She was not afraid to get dirty: she would play kickball, patintero, and agawan base with our kids, as well as with local kids, drivers, yayas, and gardeners. With anyone. In social situations, she was generous with praise. She made you feel comfortable and confident in yourself. She built people up and brought out the best in them. No matter who you are, her presence, her curiosity, and most importantly, her love, empowered.
Gina was into healthy living. We did an extensive trip to The Farm in San Benito where the boys and us detoxed. In her home, eating vegetarian fare was always a treat: her homemade garlic nuts, guinataang squash, and vegetable soup. Even her cookies!
I would constantly stock an array of her G-stuff products: Doterra oils, pili nuts, coconut oil, cologne, and soaps. She was so passionate about helping the farmers. I got a call from her one day asking me to buy some locally sourced vegetables from her house. She sent me 10 heads of cabbage, 12 heads of cauliflower, lots and lots of pechay, spinach and carrots. I remember our entire household was so healthy for the next few weeks.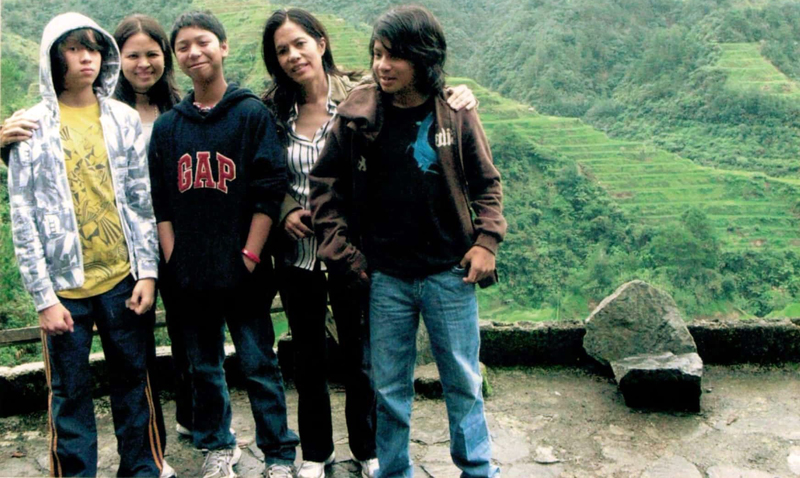 By the Banaue Rice Terraces with Kirby Belmonte, Gabo Esguerra and Benj Roy
Last February, Gina invited me to Tublay, Benguet. I had the flu but she was so adamant that I go. She said it was my birthday gift, even though my birthday is in November. The day she left for the trip, she called, insisting that her silver colloidal (one of her alternative medications) would take care of my flu and that I should go. I didn't. How I wish now I had taken up her offer on the silver colloidal.
The last text I got from Gina was a week before her passing. She said, "Hey Sweetheart. Love you. Take care. Sending you lots of love and light!!!"
That night, she was hospitalized. When I visited her in the hospital on Tuesday, she was mostly sleeping, with momentary bouts of wakefulness. On Friday, her condition had deteriorated. I decided to visit her again, and upon my visit, I noticed that she had no life-support systems attached to her. I was told Gina wanted all those attachments out. It seemed as if it was only a matter of time.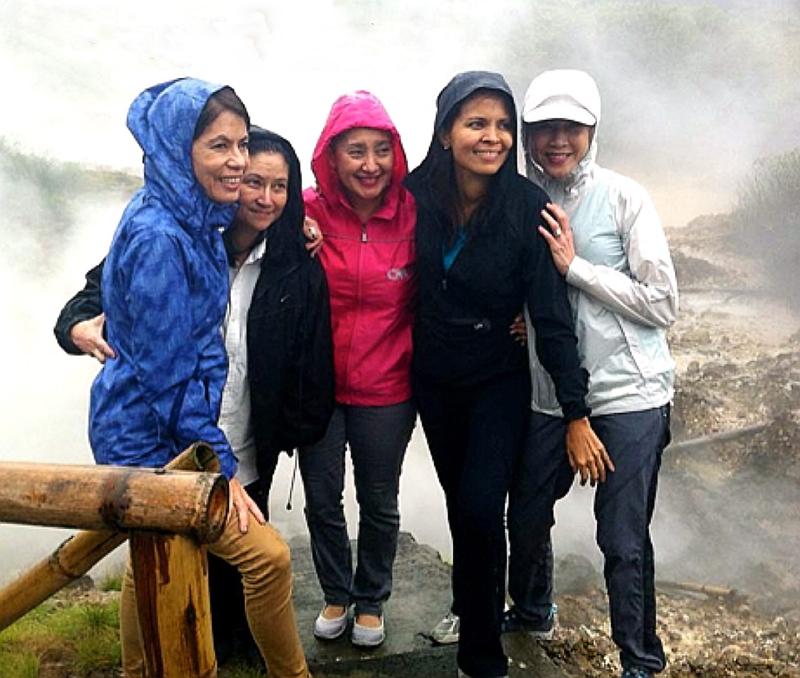 Gina and good friends Suky Lammoglia, Raqui Garcia, me and Otta Uy Montinola at the BacMan Geothermal Power Station in Sorsogon
On Saturday, I received a text saying that Gina had taken a turn for the better! Her vitals had improved. "A miracle," I thought to myself. If anyone could beat these impossible odds, it was undoubtedly Gina. I began to pray more fervently for her miraculous healing, and began to believe that she would get better.
Two days later, she peacefully passed away.
I will always remember Gina for her can-do spirit — her absolute refusal to accept that something cannot be done. Not only was she a dreamer, she was a doer. She did everything in her power to turn her dreams into reality and to make this country a better place for everyone. I will forever treasure all the adventures we had together. They were good for my soul. Gina's intrepid spirit has inspired me to face my own reality with a sense of courageous determination.
She also introduced meditation to me, and in these contemplative moments I feel much peace: an expansion of mind and spirit, a fullness in my heart, a taste of Heaven.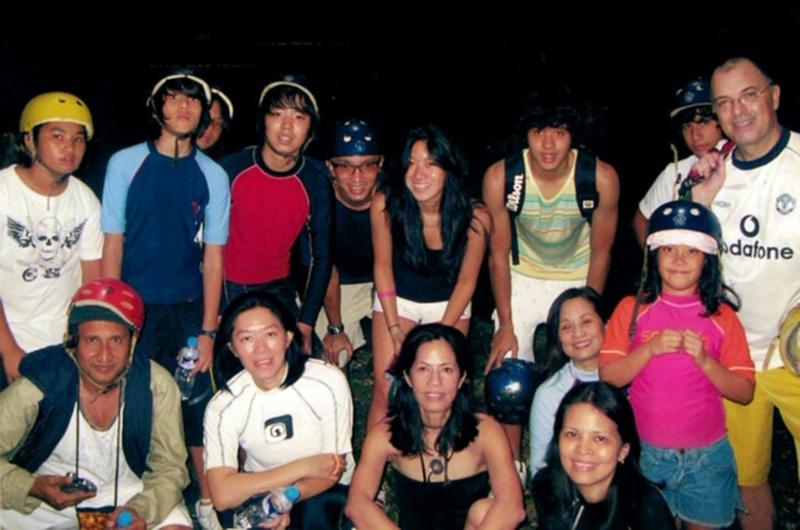 After whitewater rafting in Cagayan with Sona Roy, Marissa and Beat Grassi, Ed and Moi Francisco and the kids
Gina brings out the best in people. She encouraged me to write about our adventures. She pushed me to help organize the "Run for the Pasig River" to raise funds to relocate impoverished families living in the estero to Calauan, Laguna. She helped me to be more concerned for others. She helped me broaden my horizons and see my possibilities. She helped me in so many other ways.
Gina, you are flying. But you also wanted me, and all those you touched, to fly, too.
You will always be my dear friend.
I miss you deeply.