From Dior to Monet, a jeweler offers her vintage treasures to the public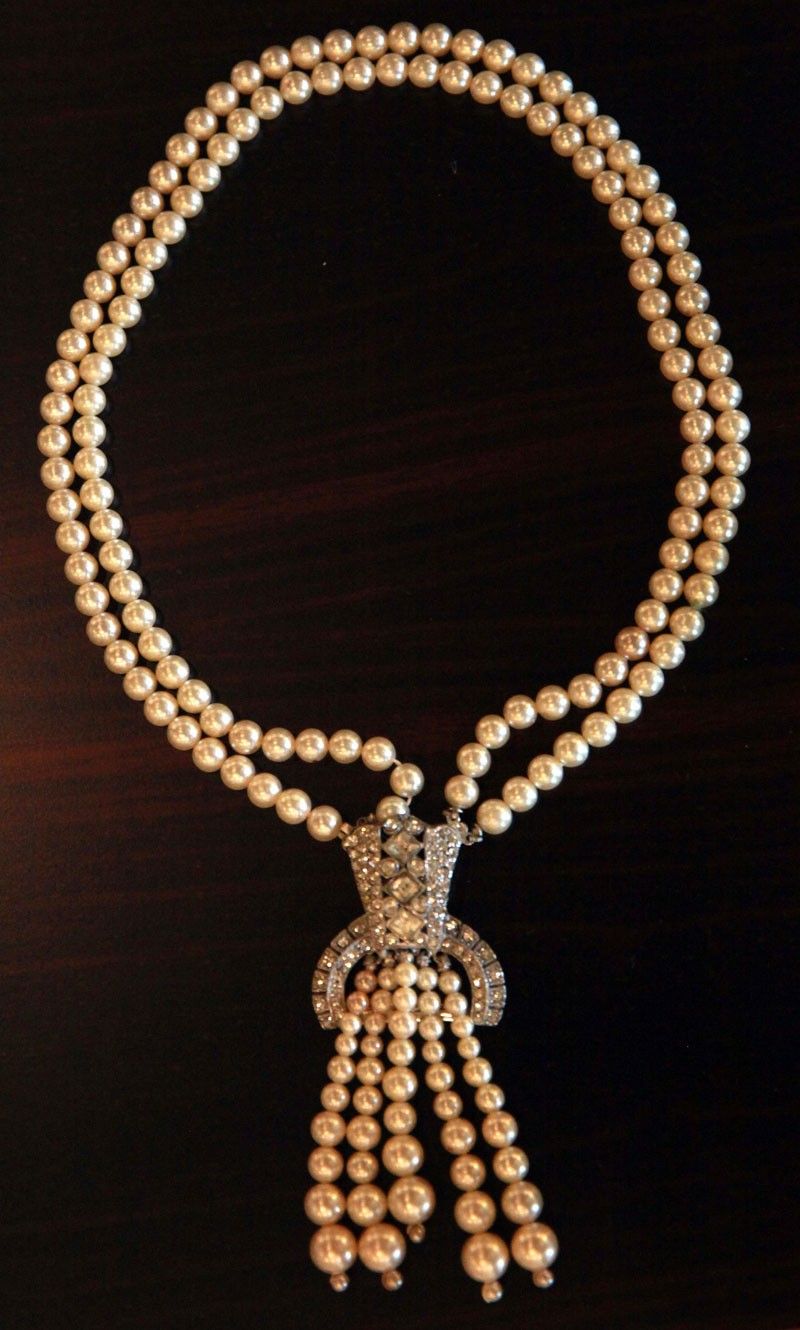 Korean jeweler Vicki Kim-Delgado's collection of retro, Art Deco and Art Nouveau pieces from all over the world will be on sale at W/17 on April 9.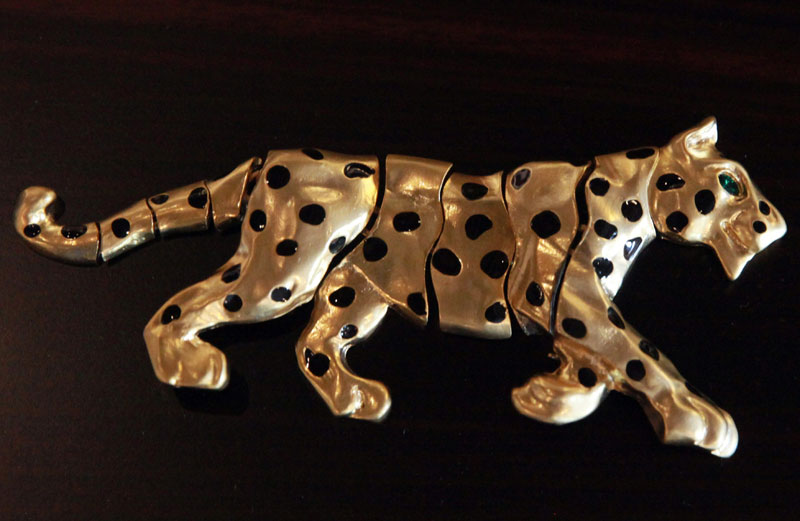 Enamel leopard brooch with articulated joints
If a jewelry designer collected vintage jewels for 18 years from all over the world, what sort of treasures would she have? And could we possibly get a piece of it?
That's the lure of "The Vintage Collection," Korean jeweler Vicki Kim-Delgado's viewing and sale of the retro, Art Deco and Art Nouveau pieces she's amassed throughout the years from auctions, flea markets, and antique stores ranging from Paris to the United States.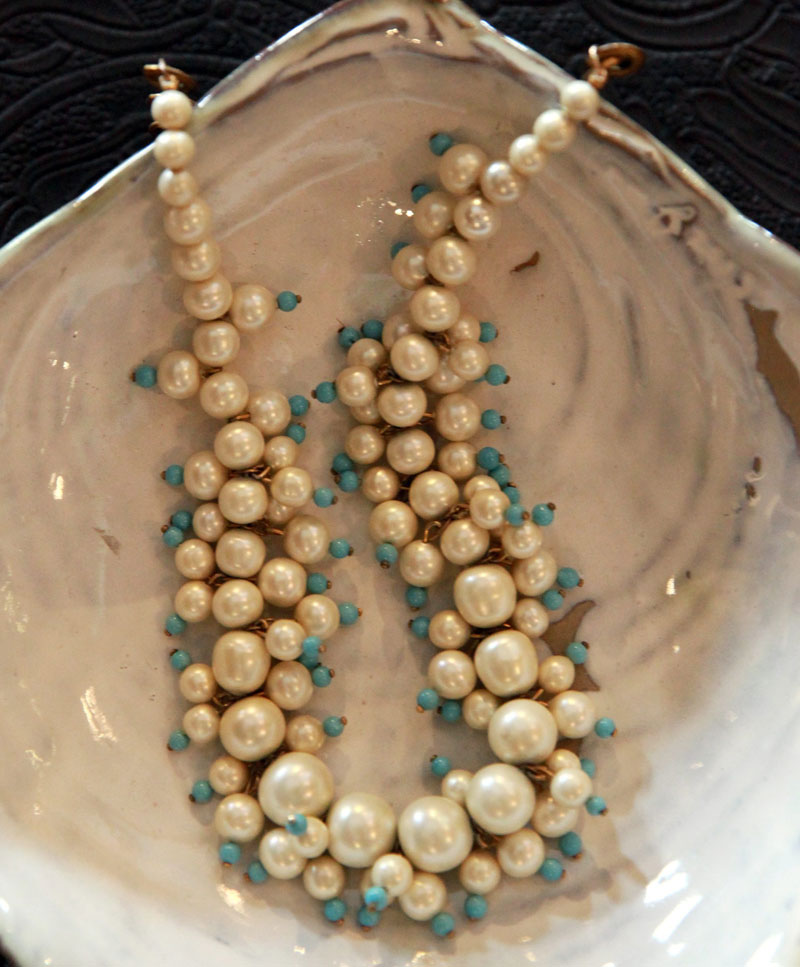 Christian Dior glass faux pearl turquoise necklace
"It started in college, 2001," recalls Vicki, who is married to Ricky Delgado of Delbros and been based in Manila for the past 10 years. "I didn't know coming from Korea that there are vintage shops, antique shops, so the first time I saw one was in Chicago (where she was taking International Studies at the University of Chicago). There was this really high-end vintage store that Oprah used to go to. When you're in college you have a limited budget, but at that time vintage things were very affordable, so I was able to score, like, my first Chanel jacket for a fraction of the price."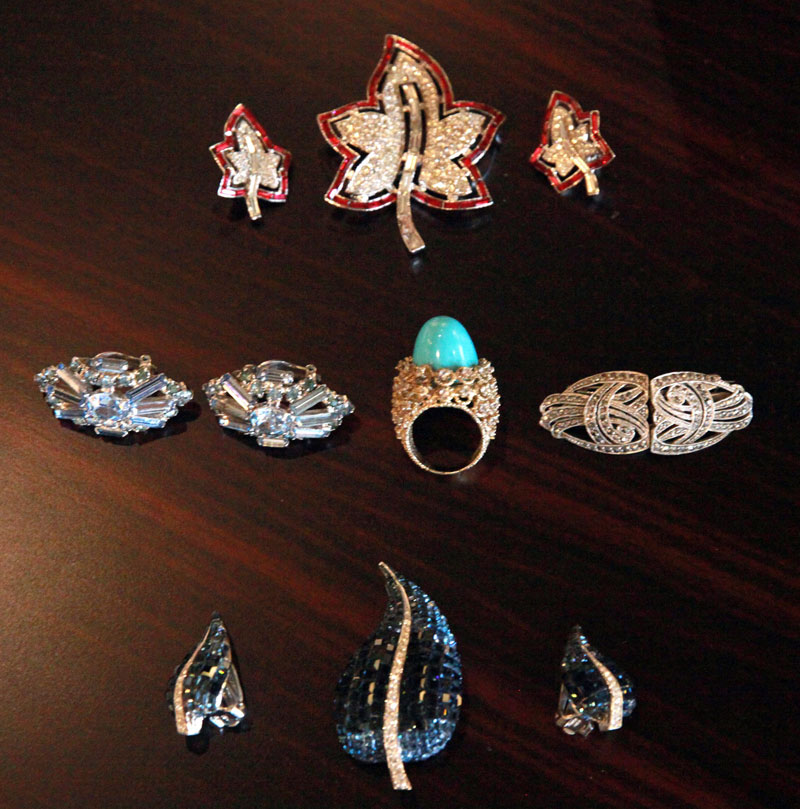 Top set: Alfred Philippe for Trifari ruby crystal maple leaf brooch and earring set; (middle row, from left) vintage earrings, antique Les Bernard Art Deco sterling-silver gold turquoise ring, Art Deco sterling-silver paste rhinestone duet fur pin clips; (bottom set) German Invisible set
Vicki's passion for vintage may have begun with fashion, but since her mother, Young Mee Ahn, is a fine jeweler who founded the family jewelry brand Minetani, she grew up around jewelry. "Naturally it progressed to looking at clothes, and then I'd look at vintage costume jewelry," she says. "Back then it wasn't such a big thing as it is now. Now everyone wants vintage Chanel big earrings, but before it was so cheap."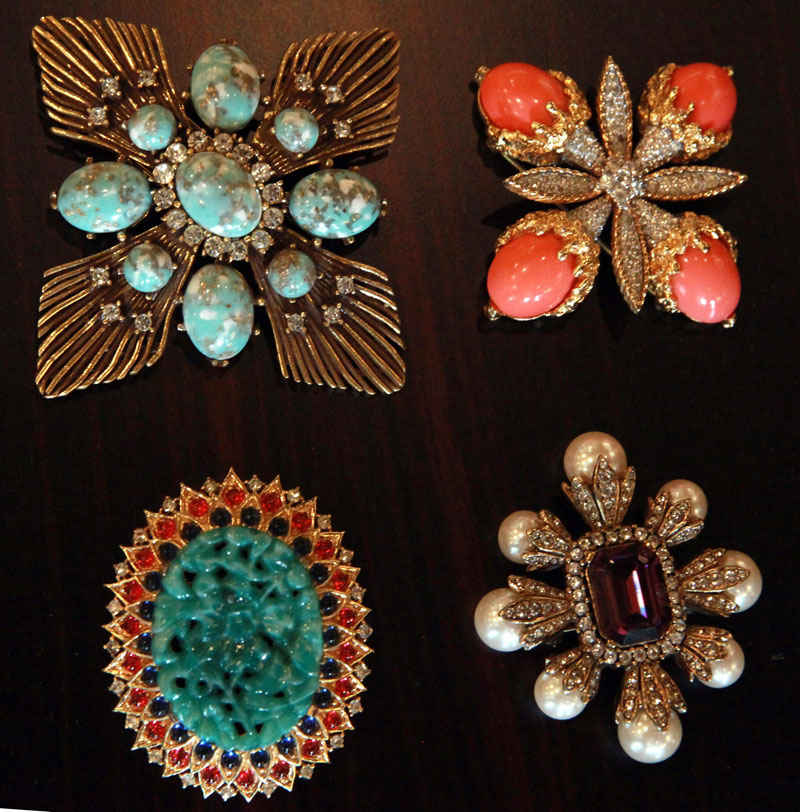 Brooch the subject: (clockwise from top left) Pomerantz Maltese Cross rhinestone brooch, Jomaz faux coral crystal brooch, signed Ciner Statement amethyst rhinestone faux pearl cross brooch, and Jomaz Pierces faux jade jeweled frame brooch
As it happens, her very first vintage buy was Chanel earrings, which makes sense considering she also studied in Paris. "Living in Paris your eye just opens to the appreciation of antiques and vintage things," she says. "Ever since then, I started collecting."
Once she started collecting, she also got her mom and sister into it. "Many times we buy because we're jewelers and appreciate and want to keep it; other times it's for inspiration, or to see how the workmanship is so we can show our workmen how they did it."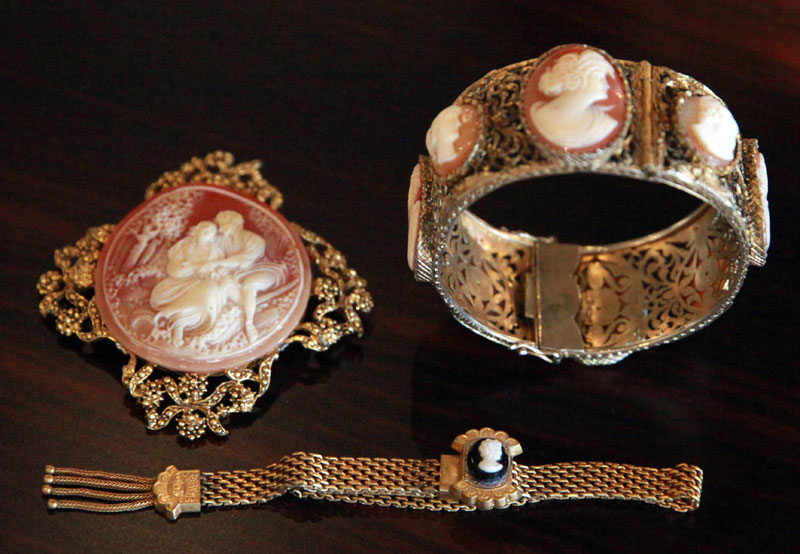 Cameo appearance: Victorian-style Couple Lovers cameo brooch, Antique 800 sterling-silver gold filigree cameo bangle, and antique Art Nouveau 14k gold-filled Etruscan cameo slider bracelet
Not the traditional jewelry showcase
Vicki will sell her vintage collection this Tuesday at W/17, the furniture, home accessory and art showroom of her friend Kaye Tinga and Kaye's business partner Andres Vasquez-Prada, and it's the ideal setting, as the store is also a treasure trove of antiques and artisanal finds from all over the world.
"We will style the pop-up not like a traditional jewelry showcase," notes Vicki . "We'll style it so it will go with the W/17 look."

Alfred Philippe for Trifari Art Deco faux star-sapphire rhinestone bracelet
Kaye says she first met Vicki as a W/17 client, and their friendship has come full circle as she's become Vicki's client as well. "I really love her vintage jewelry," Kaye says. "I thought it really works with the feel of the store."
This is actually their second pop-up collaboration together, as they had the first last year selling fine antique and diamond jewelry. "It was a very good experience for us, that's why we wanted to do it," says Kaye, "and Vicki's pieces are so, so nice. I was like, 'I want all of them!'"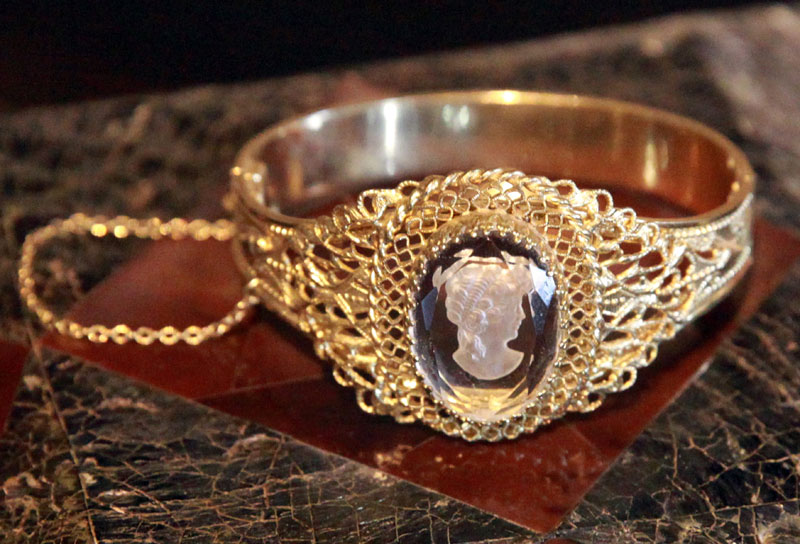 Signed Whiting & Davis reverse cameo gold-tone bangle
From Dior to Monet
I had a similar feeling as Vicki started laying out her baubles on a W/17 marble table: a pearl necklace signed by Christian Dior, cameo jewelry dating back to the 18th-century Georgian era, and sparkling European crystal brooch-and earring sets.
"Brooches are making a comeback, and earrings are definitely back," notes Vicki. "All these brooches you can put on a chain and wear as a pendant."
Art Deco chrome and paste swallow brooch
The surprise is that 99 percent of her collection is costume, and therefore accessibly priced, starting at US$60 for earrings and going up to $2,000 for major, gold-plated pieces.
"This started because I love costume jewelry," Vicki says. "If it's costume you rock it like it's costume, but the pieces we have don't actually look like they're costume."
What catches her jeweler's eye is each piece's uniqueness and handmade quality. "Not one piece is the same," she observes. "That's what's so fun about antiques. You're the only one who will have it, especially in Manila."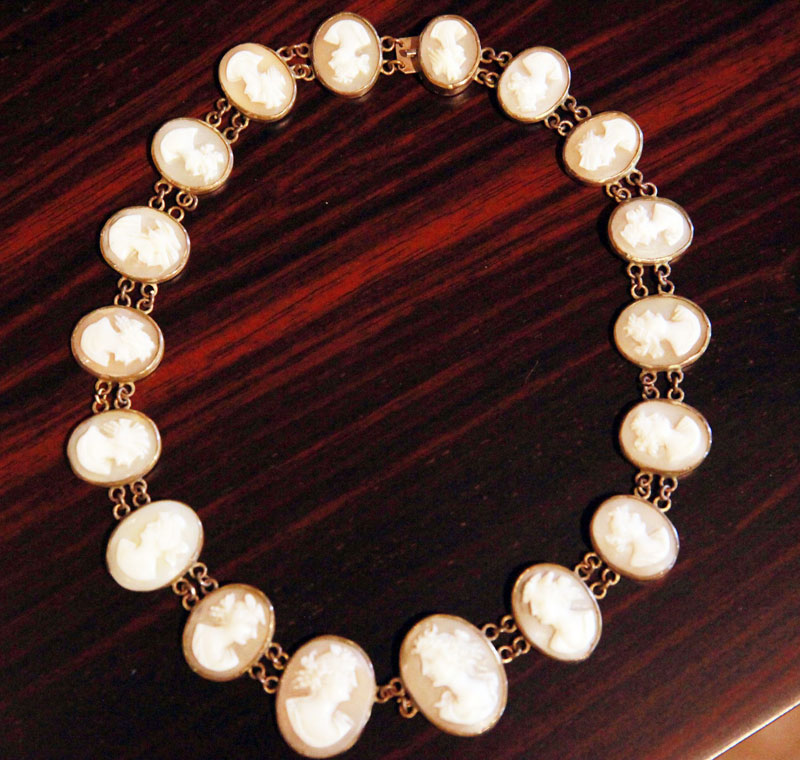 Antique Art Nouveau gold-filled graduated carved shell camel necklace
She gravitates toward Art Deco pieces for their varied color combinations and use of onyx, and admires the creative way people would style their jewelry during that period. "I feel like they were so much more inventive back then," Vicki says. "For example, people wore double clips — a brooch that can be taken apart — and they would wear it on different places and as clips on fur. And they were so glamorous."
She also has some rare Art Nouveau finds, and more modern, signed pieces by well-known brands like Trifari, Monet, and Napier.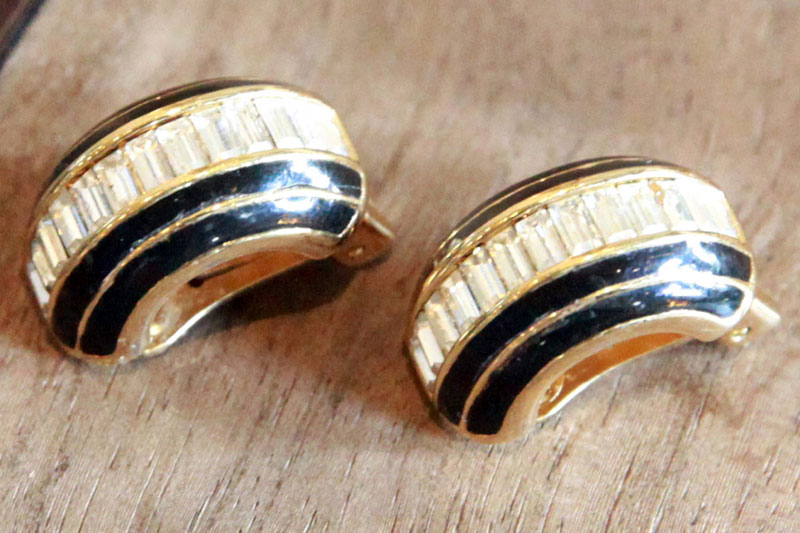 Retro flair: Art Deco onyx earrings
"Certain things I would buy in a lot, like 50 pieces," she notes. "These vintage brooches were less than $100, so I feel like this show is a good opportunity for younger people to get into vintage."
Kaye's daughters Kerry and Kylie, for instance, like to have fun and play with the way they wear their jewelry: "Like, they would take an antique brooch and ask me to turn it into a hairpin," Vicki says.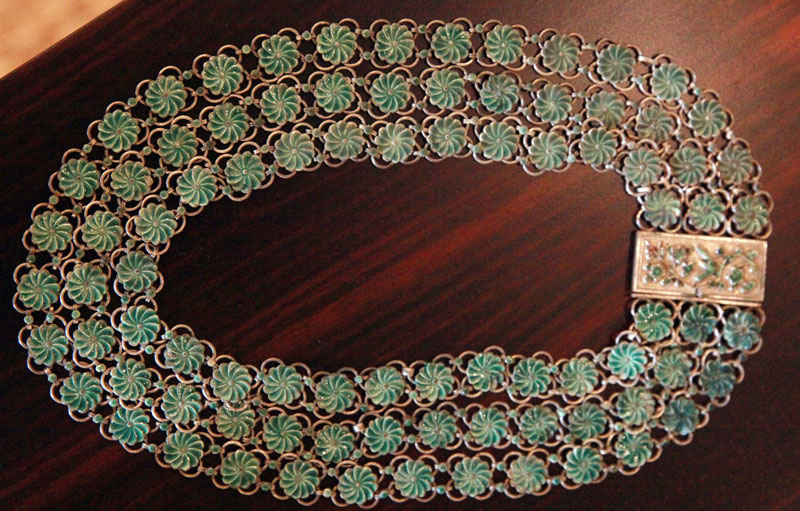 Vintage Chinese export silver emerald-green enamel bird-clasp necklace
Adds Kaye, "I'm introducing them to things that will last forever, not just fast fashion."
Even Vicki's daughter Alicia, who's all of five years old, loves to scour the flea markets with her mother and prefers antiques to toys. "When we're abroad she'll say, 'Are we going to go antiquing? Mom, can you buy me that chandelier?'" laughs Vicki. "I feel like she has a good eye already."
Like mother, like daughter, I always say.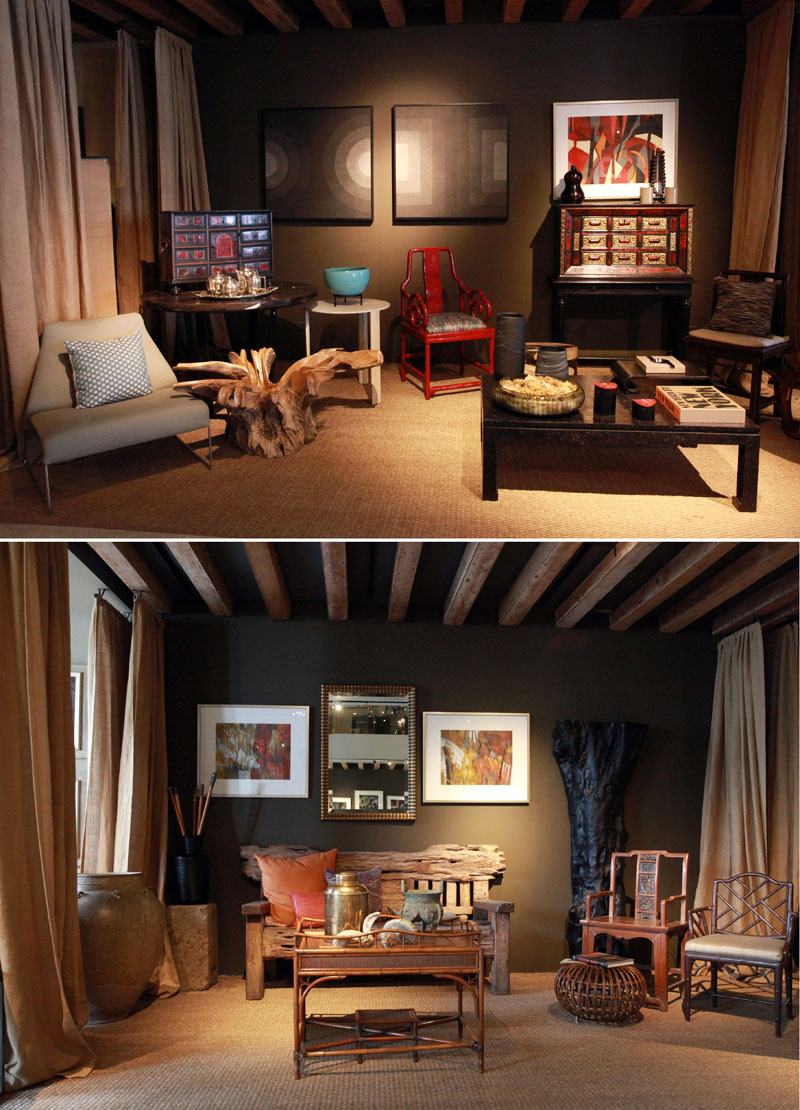 Ideal setting: W/17, the furniture, home accessory and art showroom of Kaye Tinga and Andres Vasquez-Prada, is a treasure trove of antiques and artisanal finds from the Philippines and all over the world.
* * *
"The Vintage Collection" will be on show and sale Tuesday, April 9, from 4 to 8 p.m. at W/17, Warehouse 17, La Fuerza Plaza, 2241 Pasong Tamo, Makati. Call 478-1717, email [email protected] or visit www.w17home.com for details.
Follow me on Instagram @theresejamoragarceau.