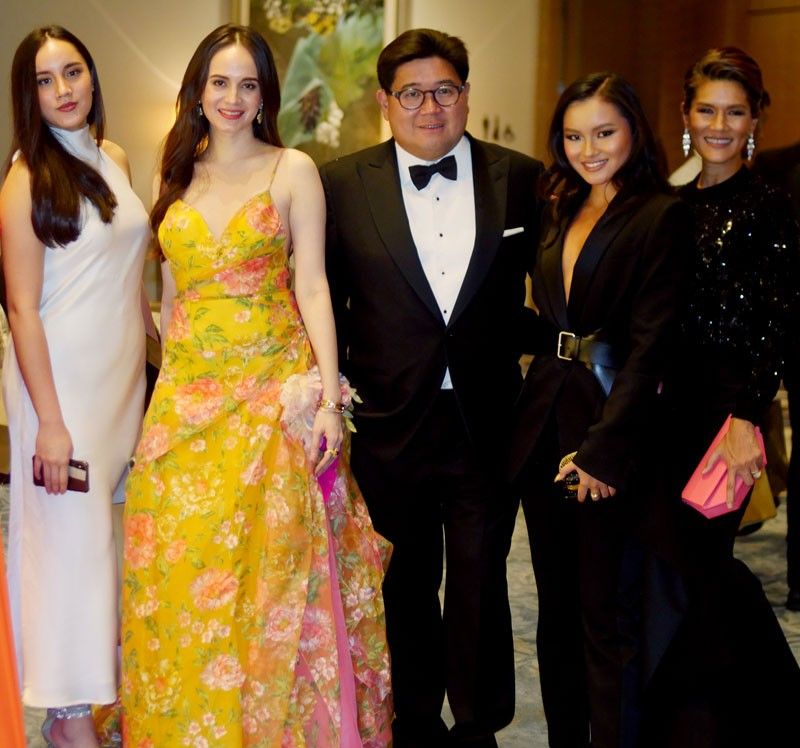 Most Stylish Woman awardee Lucy Torres Gomez with daughter Juliana, Anton Huang with daughter Nikki and wife Nina
Lucy Torres Gomez named Most Stylish by 'Tatler'
The Philippine Tatler Ball has always been the most anticipated event of the year and for its 17th anniversary, it certainly surpassed expections. With more than six months of planning and refining, managing director Irene Martel Francisco and the efficient Tatler team made sure everything flowed smoothly from invitations sent out a month before the main event, to special food tastings of the Filipino-inspired menu, outstanding entertainment, decorations and countless details to nail down.
With many showing up promptly for cocktails at the Grand Ballroom of the Shangri-La Fort, the venue was quickly filled with glamorous ladies and handsomely tuxedoed gentlemen. Philippine designers were the choice of the fashionable ladies with Inno Sotto, Rajo Laurel, Mark Bumgarner, Randy Ortiz and Ito Curata leading the pack.
To start the evening's festivities, American Idol's Jessica Sanchez made a special surprise appearance. Soon after, Karen Davila, Tatler's Anton San Diego and the ever-youthful Pops Fernandez got the ball rolling, with an auction portion by charming Stephanie Zubiri, Kim Atienza and Dr. Randy Francisco that helped raise more money for the evening's charity, MoveEd. MovEd a non-profit foundation created for young children that prepares them academically and imparts values such as perseverance, conscientiousness and self-discipline — key factors in an individual's ability to succeed. With a better future for the children, they can then help build a better Philippines. In fact, Tatler not only underwrote the cost of the ball, but made the initial donation of P750,000.
Less than a day later, Philippine Tatler had already raised almost P9 million with more checks coming in — a sure sign that everyone trusts Irene Martel Francisco as one of the country's top philanthropists since she ensures that "All checks are payable to the beneficiary so we are merely raising funds and not deducting anything as 100 percent is given directly to the charities we choose."
Special awards were given to top individuals — Rajo Laurel (Creative Force), Rep. Lucy Torres Gomez (Most Stylish Woman), Donnie and Crickette Tantoco (Couple of the Year), Margie M. Floirendo (Patroness of the Arts) and Jewelmer's duo Manoling Cojuangco andJacques Branellec (Diamond Award).
As Irene welcomed the guests, she shared, "We have seen many publications fold up their print presence and elect to go solely digital. As far as Philippine Tatler and its magazines are concerned, I am elated to say that print is alive and thriving! We are expanding some titles and have now gone into custom publishing, with our first coffee-table book, commissioned by a client, to be released in February 2019."
Philippine Tatler wishes to thank: Mercedes Benz, Santos Knight Frank with support from HSBC, Albany of Megaworld, Simmons and Sunseeker Yachts.
* * *
For comments and ideas, please email: jacinto.fa@gmail.com.