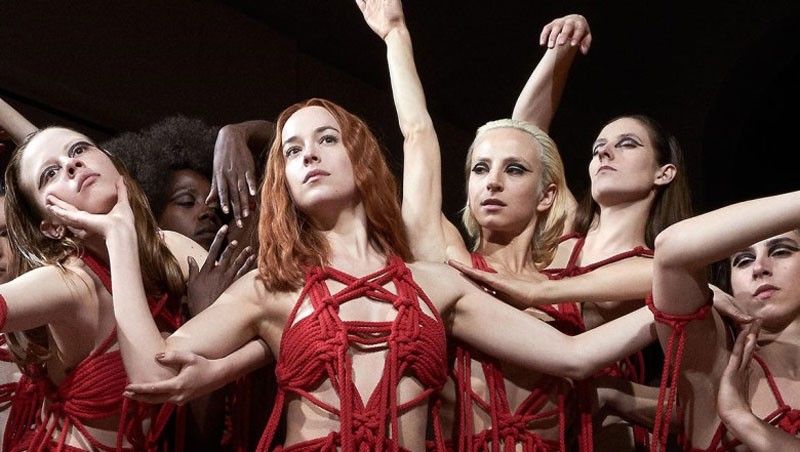 Dancing queen: Susie (Dakota Johnson) does a final number on our minds in Suspiria.
'Tis the season to be scared
I know what you're thinking. Halloween is so last week.
Reviewing scary movies post-Oct.31 may seem a little pointless, like wishing a Facebook friend happy birthday two days late. But "scary" is worth focusing on year round, even as we inch closer to the holiday season.
Suspiria — Luca Guadagnino's remake of the lurid 1977 Dario Argento supernatural shocker — hits us in an era of rising nationalism, political zombie-ism, global gaslighting and everybody just kind of filled with tribal rage of some kind or other. With all this swirling around, you can imagine people might find a little catharsis in a tale of witchcraft and sorcery.
Much like the original, Guadagnino's remake (he calls it an "homage" to Argento's blood-soaked original) takes place in a Berlin dance academy circa 1977, where young American student Susie (Dakota Johnson) impresses chain-smoking Madame Blanc (Tilda Swinton) with her fiery dance moves.
Here, Guadagnino is far from the overripe sensuality of Call Me By Your Name. Colors are muted and gray, and the Berlin Wall sits nearby the Markos Dance Academy looking ominous and implacable. An air of surreal disorientation sets in early on: the other academy elders gather in an upstairs apartment, smoking and voting on the new nominee to head the company. (There is a lot of smoking in Suspiria.) Prior to this, young student Patricia (Chloe Moretz) is seen spiriting around the office of local shrink Dr. Josef Klemperer (also Swinton), hinting that the Markos Academy is actually run by witches, and clearly terrified for her life. She leaves behind a strange notebook detailing her cryptic accusations.
Guadagnino is clearly in love with the pacing and creepy sense of dread in Argento's original. Cameras zoom in and whip around, like unbound spirits. The eerie music of Italian prog band Goblin is replaced by Radiohead's Thom Yorke, who concocts an effective, Krautrock-inspired tableau that sucks you in.
Susie is in the middle of it all, a seemingly wide-eyed American from a strange Mennonite family background. Disturbing dreams are fed to her at night by Madame Blanc: we only begin to piece them all together as the story tightens like a noose, then abandons itself to an orgy of feminist dance moves, sacrifices and bloodletting.
What weighs down Guadagnino's remake is its length. While Argento's original shocker was a trim 98 minutes, this one's 152, the extra time padded with subplots that never really gel: a revolutionary group holding hostages at a Berlin airport, random kvetching by the academy elders about how "women were stronger" in Germany before World War II, and quite a bit about Dr. Klemperer's missing wife (played, in inspired casting, by Jessica Harper, the young American student from the original).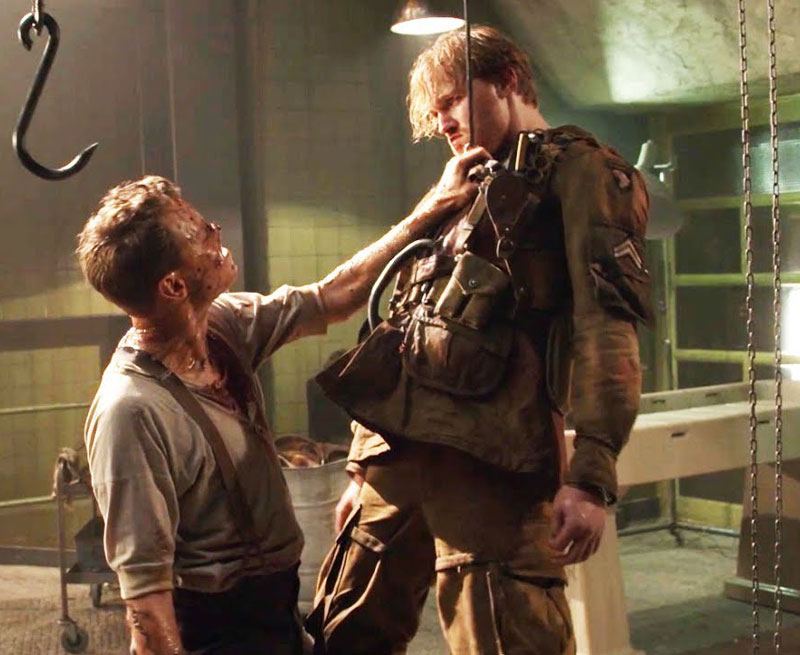 Nazis X Zombies: Jovan Adepo and Pilou Asbæk chew the fat in J.J. Abrams' genre-twisting Overlord.
But what remains, for the most part, echoes and expands the horrific vibe of Argento's original. Suspiria posits a world where females run the show, and draw satanic circles around the local polizei and any men who try to investigate a series of disappearances at Markos Academy. Anyone who asks too many questions is quickly snuffed out. Even the dance moves are angry, bubbling over with toil and trouble.
And, shot on lush 35mm film stock, it just looks great. The sets are nightmarish and claustrophobic, including an inner ritual chamber decorated with braided human hair. Guadagnino gets a lot right, even as he wanders off the reservation into local politics and a bit of stunt casting. (Tilda, Tilda, Tilda.) A bonus: while the original didn't actually focus on dance, choreographer Damien Jalet here whips up a maelstrom of sequences that show the inherent power — and violence — in the human body.
You thought you were done with zombies? What if J.J. Abrams cooked up a reputed fourth chapter of Cloverfield set on D-Day, where Nazis are creating an invincible army of the undead? Um, er… okay, we'll bite.
That would be Overlord, a stylish but ultimately insubstantial entry to the zombie genre. Paratrooper Private Boyce (Jovan Adepo) is on a WW2 mission to drop behind enemy lines with an American team that includes demolitions expert Corporal Ford (Wyatt Russell, Kurt's son) in order to disable a radio tower, or D-Day won't happen. It has one great opening scene: the bewildered Boyce pushed out of a plane backwards, as though tossed from his mother's womb, tumbling downward through ack-ack-ack, smoke and burning fuselage until he lands in a French countryside swamp and has to cut his way, face-first, out of the white parachute. Sucks being born.
Then he and Ford are off to a local town where the church houses a Nazi tower — and plenty of underground secrets. The team enlists Chloe (Mathilde Ollivier), a French woman resisting the occupation, and they're soon holding lead Nazi Dr. Wafner (Pilou Asbæk) hostage, and discovering a strange serum that's being fed to villagers to make them very cranky and undead.
Overlord is the kind of movie that sounds better as a pitch. Watching it, I kept thinking: "Inglourious Basterds meets Reanimator." But onscreen, not that much interesting or original happens. You'd think you'd get to see a few zombies lumbering around wearing SS outfits, but you'd be mistaken. And it's not really a Cloverfield chapter, unless that weird murky water they make serum from is alien.
The sets, though, are amazing and the cast carries its weight. Adepo and Ollivier add to the team spirit, blasting and clobbering Nazis left and right. And Russell is finally starting to claim a little of that Escape From New York Kurt Russell mojo for his own (it's in the genes, after all). Best line has to be the one where the serum-transformed Dr. Wafner confronts a caged Russell and shrieks: "How does it feel to have the blood of eternity flowing through your veins??" Russell grits his teeth, squints and deadpans: "Not too f***ing great." And with that, the US zombie vs. Nazi zombie death match is on.