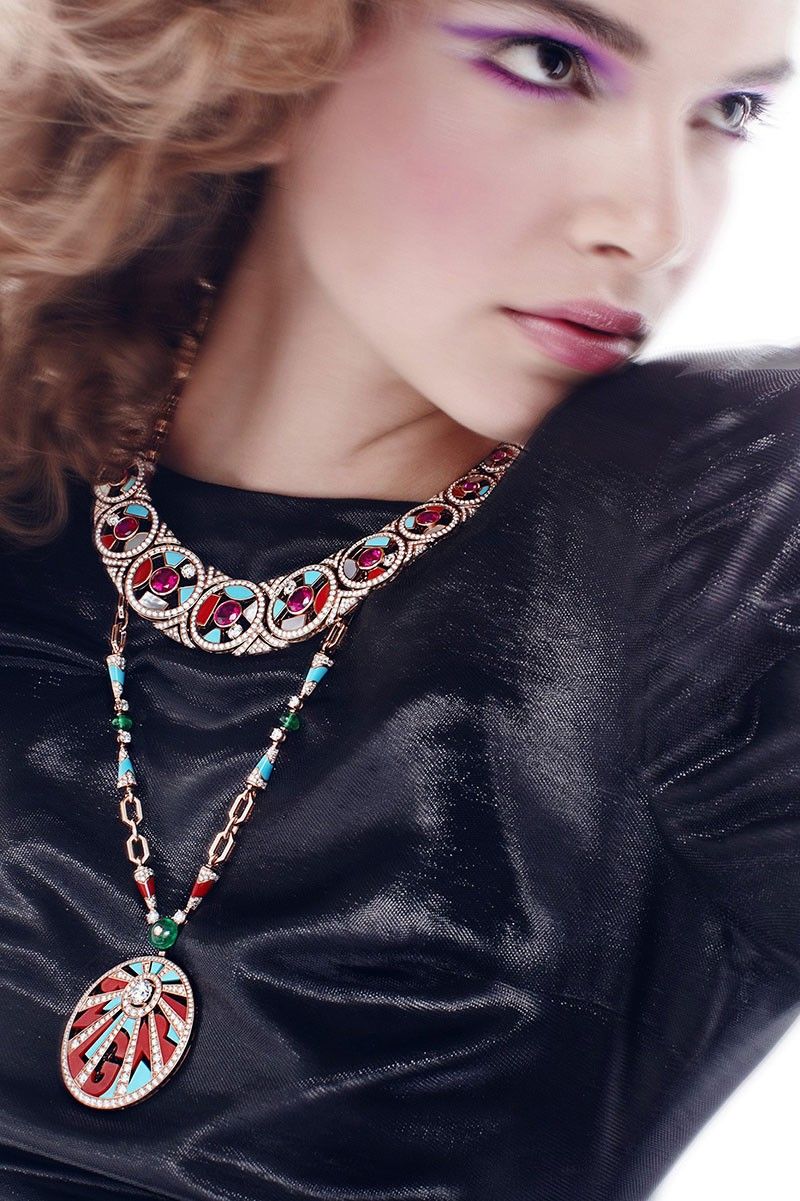 Mix and match: Bulgari Logomania and Geometries necklaces from the Wild Pop collection. Bulgari boutiques are located at Greenbelt 4, Rustan's Shangri-La and The Shoppes at Solaire.
Bulgari's wild take on THE '80s
A necklace inspired by marijuana leaves, gems mimicking David Bowie's makeup, and jewels that immortalize Andy Warhol's cats? Only Bulgari would dare.
A necklace inspired by marijuana leaves, gems mimicking David Bowie's makeup, and jewels that immortalize Andy Warhol's cats?
Only Bulgari would dare.
On July 25, the Italian brand presented its latest high-jewelry collection, "Wild Pop," in Singapore — the first country to launch outside Italy, which seems fitting, considering the city-state is the setting for Crazy Rich Asians.

Pop Mics bracelet inspired by '80s music
Bulgari's high-jewelry senior director Giampaolo Della Croce affirms that there is indeed a big market for such luxe pieces in Singapore. "Big markets are where people have discerning taste, who know what is behind the jewels — not only buyers but collectors."
What's behind Wild Pop is the pop culture explosion of the '80s and the Pop aesthetic of Andy Warhol, who once told Bulgari vice chairman Nicola Bulgari, "Well, I think your jewelry is the '80s. Everybody's trying to copy this look."
Mr. Bulgari met the Pop Art guru back in 1970s New York, where Bulgari had its first American boutique. They would have coffee, or Warhol would visit Bulgari brothers Nicola and Paolo when he was traveling in Rome.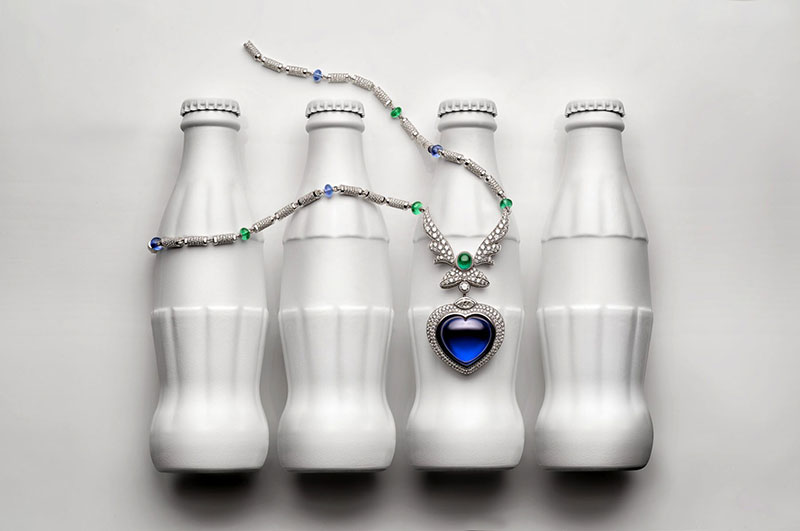 Pop heart necklace inspired by Andy Warhol's "I Love You So (Angel)" painting
"For me, calling at Bulgari's shop is like visiting the best exhibition of contemporary art," Warhol said.
Bulgari creative director Lucia Silvestri also visited the Andy Warhol Foundation in New York a couple of years ago and discovered a cache of the artist's jewelry sketches and, more significantly, a correspondence between Warhol and Bulgari.
"He wrote to Mr. Nicola, 'You are Pop; you are genuinely Pop,'" Della Croce says. "It means Bulgari had the capability to read the modernity, the lifestyle, the seeds in social attitudes, and to infuse in the jewels these kinds of seeds, making the jewels very much match the times."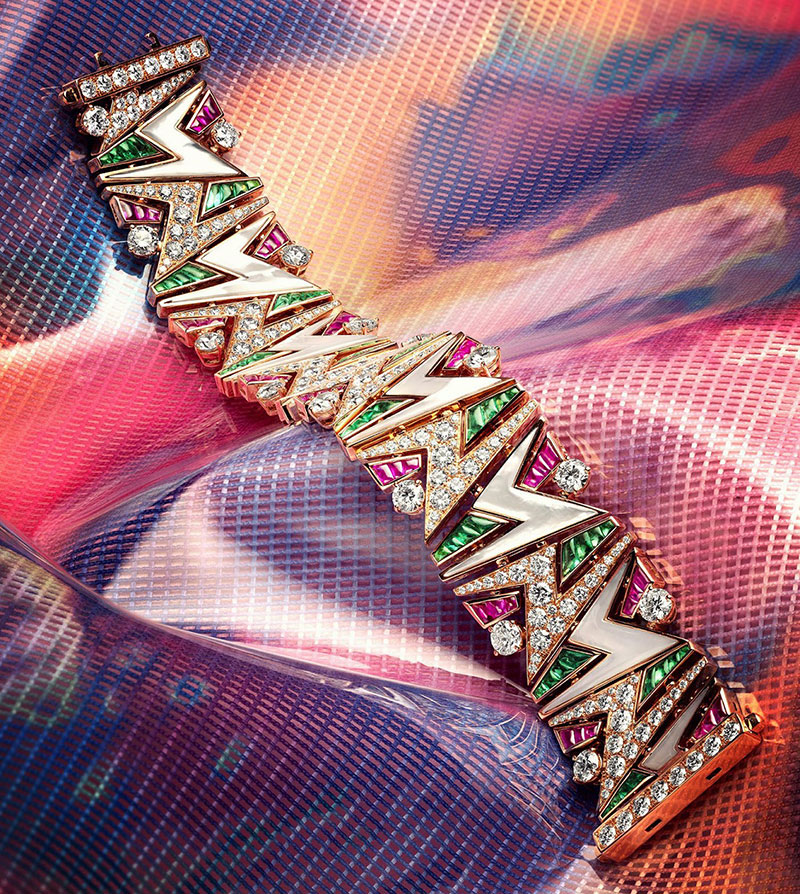 Diamond dog: David Bowie's lightning-bolt makeup sparked this high-jewelry bracelet.
If Warhol praised Bulgari's uncanny ability to capture the zeitgeist, Bulgari repaid the compliment in Wild Pop, creating pieces that pay playful and even kawaii homage to the late artist.
A closer look at a necklace-and-earring set reveals that the graphic pattern is actually composed of coral and diamonds shaped into stilettos, based on Warhol's myriad shoe sketches.
Warhol's passion for felines actually spawned a bracelet named "Sam the Cat," with chalcedony and diamonds outlining cat faces and paws.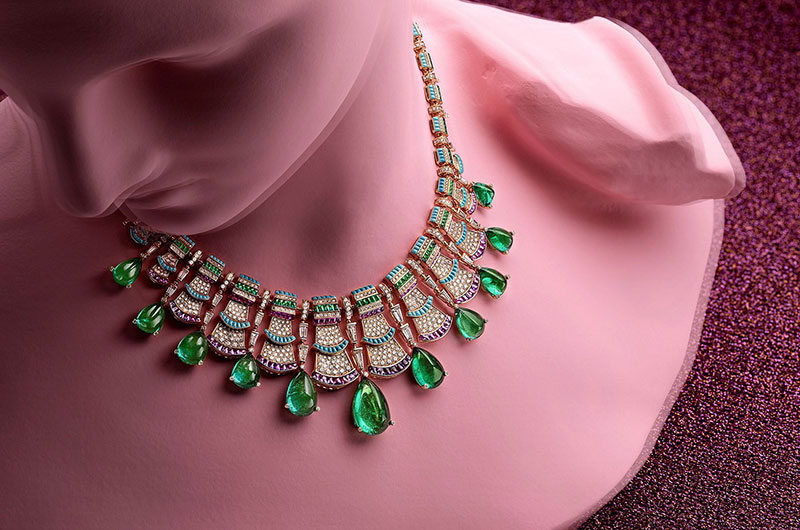 Dynasty's ruffled dresses inform Bulgari's Precious Ruffles neckpiece.
"Warhol had his first cat, who was alone, poor thing, so he wanted to give him more friends," Della Croce explains. "So he collected up to 25 cats in his house, but Sam the cat was his favorite."
Warhol's heart-bedecked "I Love You So (Angel)" painting sparked another arresting neckpiece: a 54-carat heart-shaped tanzanite dangling from a white-gold-and-diamond necklace, recalling Titanic's Heart of the Ocean, no less.
Pop, pop… pop music
Della Croce says another important influence on Wild Pop was '80s music, and not just the pop stars that produced it but iconic masters of reinvention like Madonna and David Bowie.
"The look was so important, and David Bowie liked very much to transform himself with huge costumes, gorgeous lighting effects and makeup," he says. One of his favorite styles was the lightning because he thought it was going to have an impact."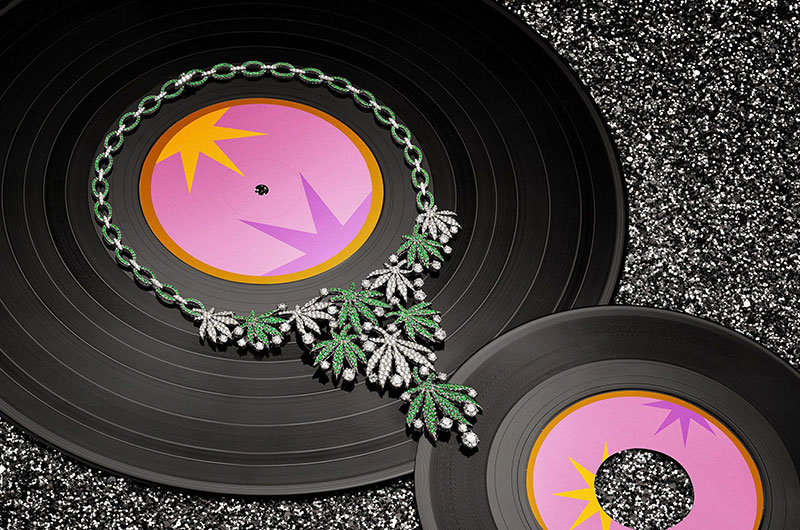 Get happy: Bulgari's most daring design in Wild Pop is "Happy Leaves," a necklace that depicts marijuana fronds.
Hence the Italian house created two sets of jewelry depicting Bowie's "Aladdin Sane"-era lightning bolt: one with emeralds, sapphires and diamonds in colorful combination, and the other in shades of white with mother-of-pearl and diamonds.
"Again we shaped the gems to perfectly fit the design, which is not easy," claims Della Croce. "This is a technique that we have in our blood because it recalls the mosaics during the Roman Empire 2,000 years ago."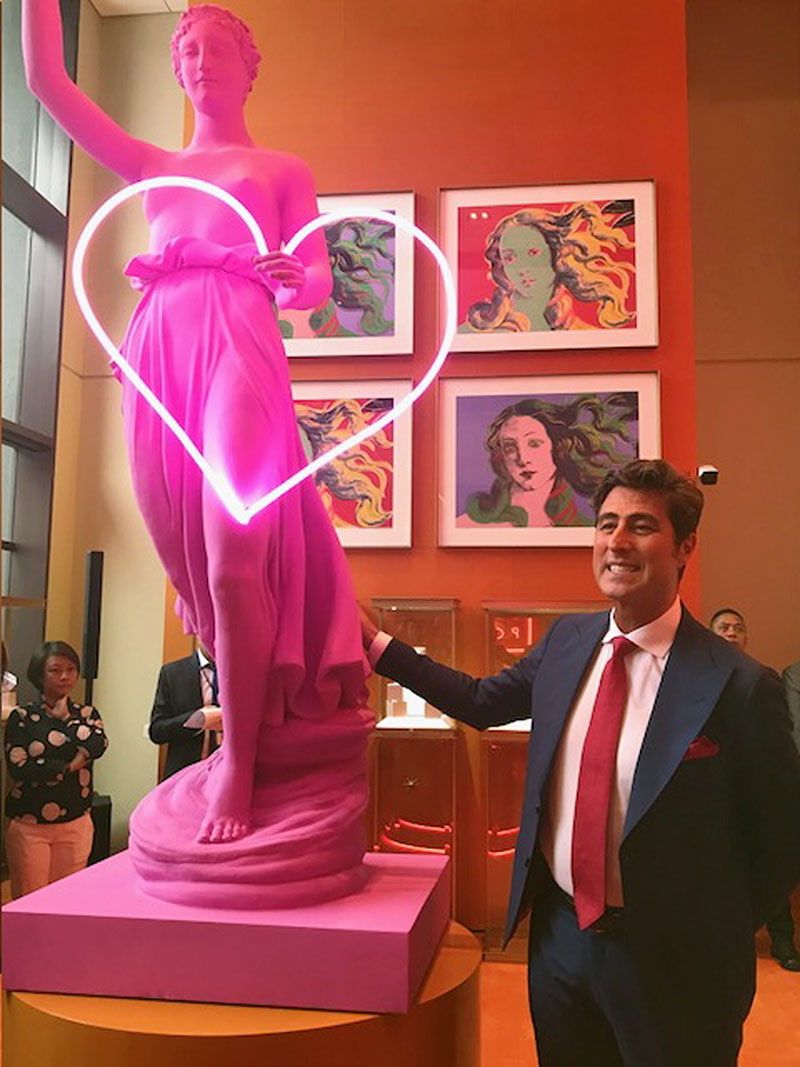 Bulgari High Jewelry senior director Giampaolo Della Croce at Singapore's Wild Pop launch with Warhol's "Birth of Venus" paintings on the wall
Other pieces taking their cue from '80s music include a choker set with microphone-shaped gems, and another laid out like a synthesizer keyboard, with sunglasses blinged out with diamond-and-onyx keys worthy of Elton John.
"These are conversation pieces because at first glance you read a necklace with fancy colored gems and diamonds, but then when you look again, you start understanding," Della Croce says.
Logo mania
Silvestri left no stone unturned in mining the decade for ideas. Logo mania gave rise to a pendant in which "Bulgari" is spelled out in precious letters. TV shows like Miami Vice led to pieces bearing palm trees and sunsets. Popular soaps like Dynasty and Dallas spurred jeweled ruffles and large, candy-colored rocks that model Lily Aldridge wore at the Wild Pop launch party in Rome.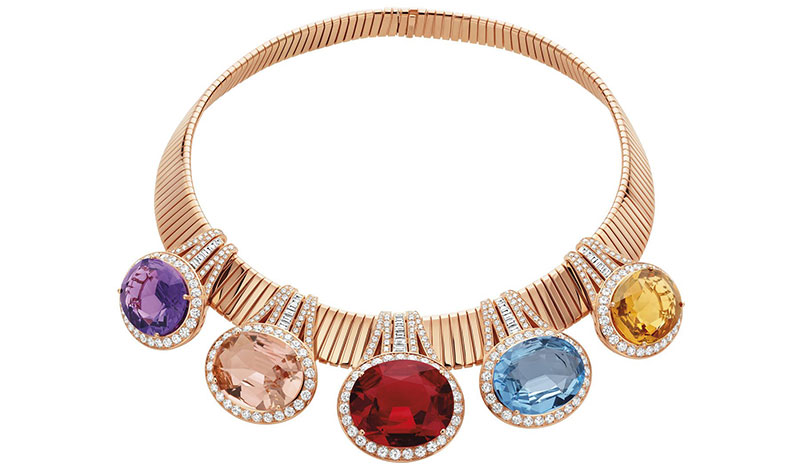 Future perfect: Bulgari's Space Cruiser necklace
"You immediately think about the wonderful Alexis Carrington and Joan Collins, who embodied her," Della Croce says. "If in the morning Alexis was at ease going shopping in these jewels, she went from the boardroom into the ballroom wearing these masterpieces with bold gems."
Showstoppers Alexis would have loved are the High Jewellery collection's most precious trio: a neckpiece and two rings set with Burmese, Kashmir and Sri Lankan sapphires. "Here you have three fantastic treasures of nature," Della Croce says. The largest gem hanging from the diamond necklace is a 55-carat royal blue, cushion-cut sapphire. "It sparkles not only in the light but also in the shade."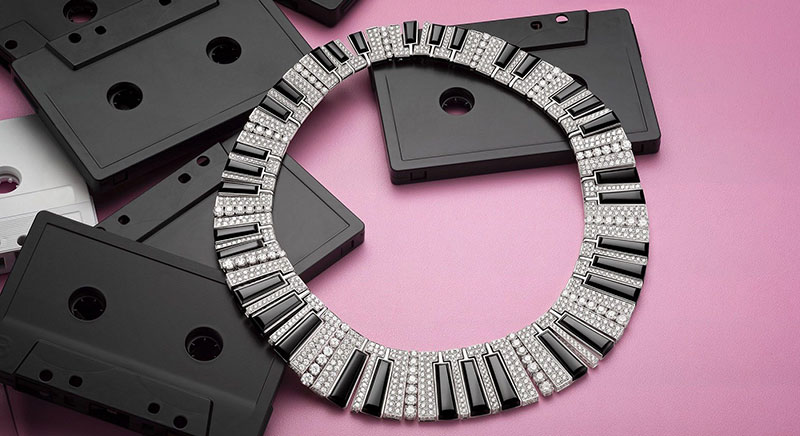 Ebony and ivory: Diamond and onyx Synthesizer neckpiece
While the neckpiece goes for a cool 9.2 million euros, even more precious is the ring, bearing a 23-carat, emerald-cut blue sapphire from Kashmir. "It's extraordinary not just because it's from Kashmir, an area that gave us beautiful sapphires for nine or 10 years during the '20s and never more; this is a real treasure because of the color, rarity and shape. The emerald cut on sapphires and rubies is very rare because you waste a lot of material." The ring is valued at 9.5 million euros.
Happy leaves
Wild Pop took a year and a half to complete, from inspiration to sketches to shaping the gems to fit the designs. While Bulgari has a vast archive of 40,000 sketches to refer to, Della Croce says they didn't rework their '80s designs but did a completely new take on the era.
"The more classical, impactful big gems started being collected ahead, and then we designed something around it," he says about the sapphire trio. "But that is the only exception. For all the others it was the design first, then the jewelry."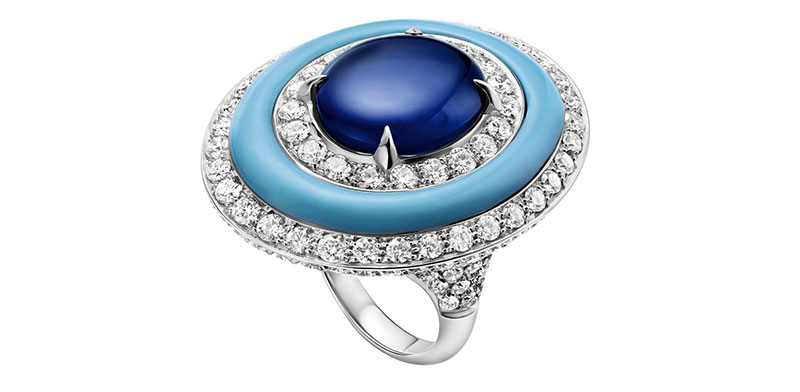 UFO sapphire, turquoise and diamond ring
The result is a collection of colorful, daring designs that can be mixed and matched (because, hey, wearing complete sets is so 30 years ago).
The only design that gave him pause was Happy Leaves, a pair of necklaces based on marijuana fronds.
"The very first time I saw the sketches, I said, 'Hmm, ladies (almost all the designers are ladies, we only have one gentleman), I am happy you are happy, but maybe it's a little bit too much."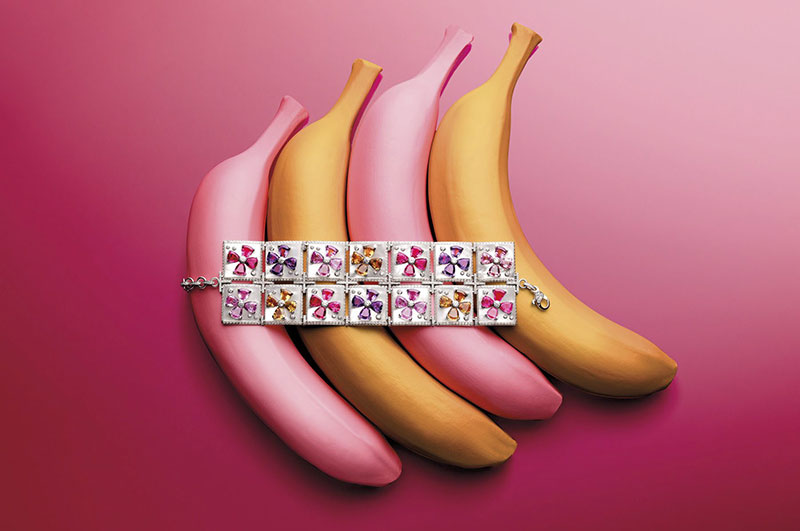 Pop Flower high-jewelry bracelet inspired by Andy Warhol
In the end they convinced him, though, and the chunkier of the two necklaces has already been sold. "There is a clientele for just about anything, if you don't go further than the limit," he says. "The limit is the wearability, the proportions, the combination of color and shape. If the jewel is wearable, then you can dare."
* * *
Bulgari boutiques are located in Greenbelt 4, Rustan's Shangri-La and The Shoppes at Solaire. Bulgari watch corners are located at Rustan's Makati and City of Dreams.
* * *
Follow me on Facebook (Therese Jamora-Garceau), Twitter @tjgarceau and Instagram @theresejamoragarceau.