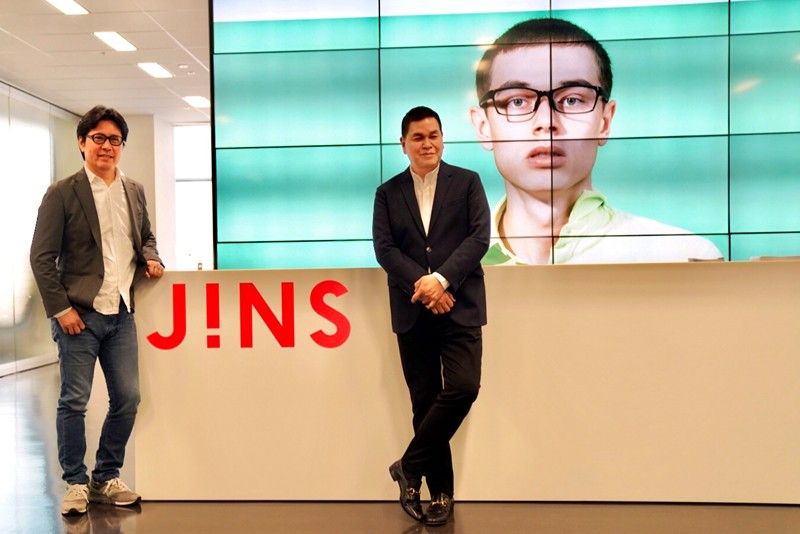 Jins founder Hitoshi Tanaka, in blue jeans and sneakers, welcomes Bench founder Ben Chan at the Jins office building in Tokyo.
Jins ­— Japan's number one eyewear — is now in the Philippines.
When Jins — Japan's number-one eyewear — opened its first Philippine store at SM Aura this week, it created quite a stir.
What? No more waiting for hours and days to have your prescription glasses made! Only 30 minutes and it's done. No more overpriced eyeglasses that pass through middlemen. No more overly heavy frames.

From left: Ara Arida, Miss Philippines Universe 2013, Rocco Nacino, actor, Joyce Pring, radio-TV host, Bryan Lim, Suyen VP- business development, Atsushi Nagakura, Jins Philippines business lead
No extra fees for stronger prescriptions. No more worrying about the effects of spending many hours in front of the computer. No more enduring the pollen in the air that reaches your eyes. No more worrying about ultraviolet and blue light that is harmful to the eyes.
The founder of Jins, its president and CEO Hitoshi Tanaka, is a man with a vision.
"Our vision at Jins is to encourage people to change the way they view the world," he said. "We look for the unseen, create new standards and think beyond glasses to magnify life."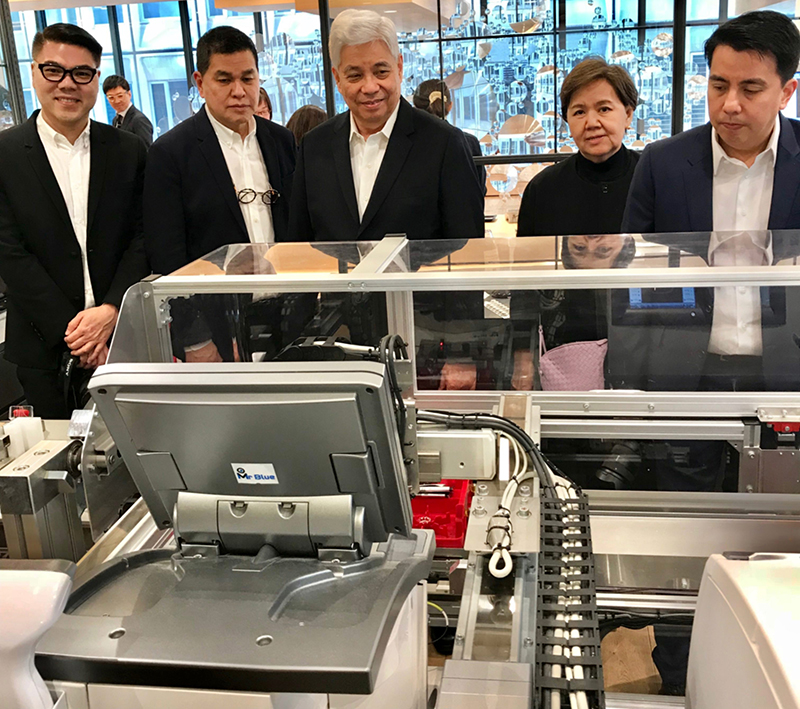 Architect Miguel Pastor, Suyen chairman and CEO Ben Chan, president Virgilio Lim, treasurer Nenita Lim and VPbusiness development Bryan Lim observe the latest lens edging machines at Jins.
All Jins glasses come standard with thin aspheric lenses from the world's bestselling manufacturers. Aspheric lenses offer less distortion in vision and appearance than traditional ones.
How to get your glasses at Jins? It's easy.
First, choose the pair of glasses you want to buy. Then head to the counter for an eye exam. In 30 minutes, your eyeglasses will be ready.
How is this made possible? Jins has about 4,000 lenses in stock in a store. And if you want the same prescription as your current lenses, there is no need for an eye exam.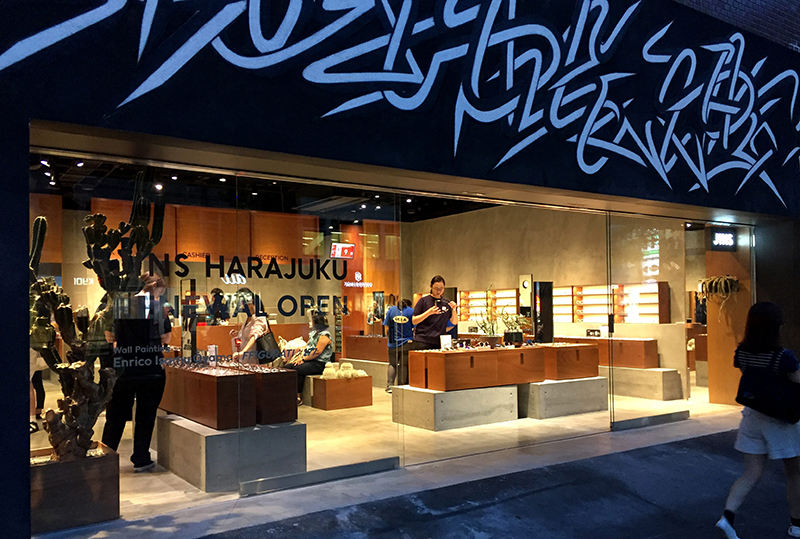 Jins Harajuku store designed by Teruhiro Yanagihara, with facade by artist Enrico Isamu Oyama
Jins is brought to the Philippines by Ben Chan, chairman and CEO of Suyen Corporation, the umbrella company that has about 30 foreign and 18 local brands including Bench, its flagship brand, in 1,151 stores.
"I used to frequent the Jins store whenever I visited Japan," Chan explained. "I'd always make it a point to have something serviced there, be it adjusting my frames or cleaning my lenses. I'd end up buying a new pair of eyewear because of their variety of styles. Luckily, SM reached out to us and referred Jins, as they felt we would be able to grow the brand here in the Philippines."
Two years ago, on a Halloween trip to Japan, I tried having eyeglasses made in a Jins store near our hotel.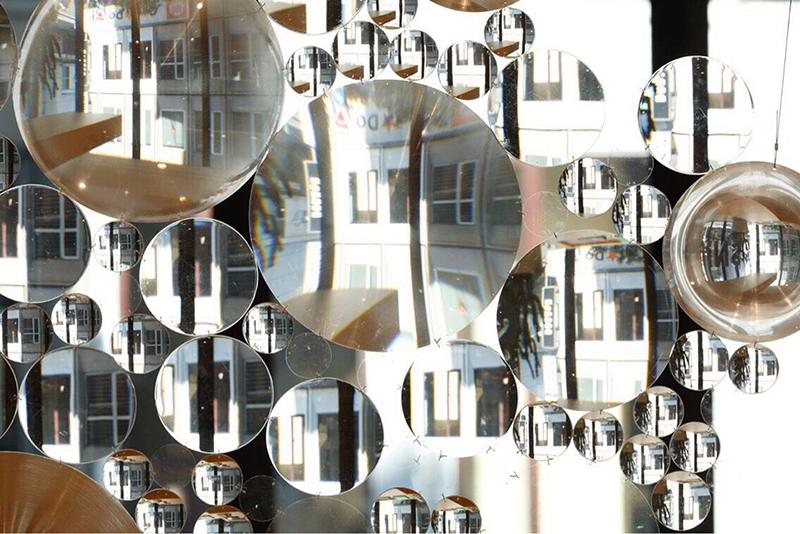 Jins' trendsetting store in Shibuya designed by architect Sou Fujimoto
"Try it to see for yourself," said Suyen president Virgilio Lim and VP Nenita Lim. It was true. After a checkup, I had a lighter, clearer pair in 30 minutes.
Yes, it was more than two years ago when Tanaka and Chan started looking into a partnership in the Philippines.
Jins has 335 stores in Japan (since 2001), 128 stores in China (since 2010), 20 stores in Taiwan (since 2015) and four stores in the United States (since 2015).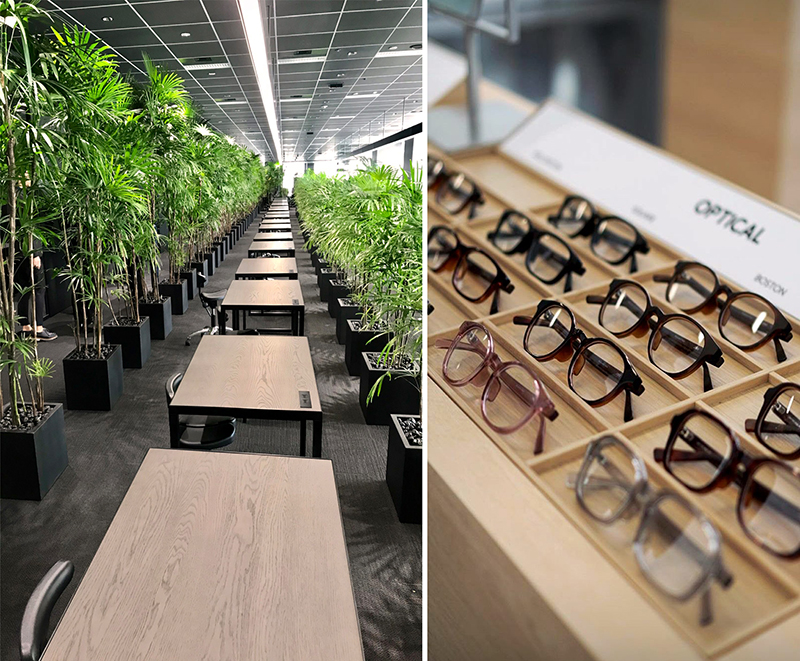 Jins' calming Think Lab workspace(left). Jasper Morrison designs glasses(right) for Jins that look good and function well.
"In the Philippines, our plan is to put up three to four stores within the first year of our launch, and open 15 stores within the next five years," said Chan.
During a press tour of Jins' office and stores in Tokyo last month, what we saw astounded our eyes. Jins' beautiful building has features that show utmost concern for the well-being of its employees. Jins stores are well-designed, high-tech, neat, efficient and well-stocked — all the qualities that make it very Japanese. Very innovative. When it comes to eyes, eyes, baby, this is beyond kawaii.
What's in Jins?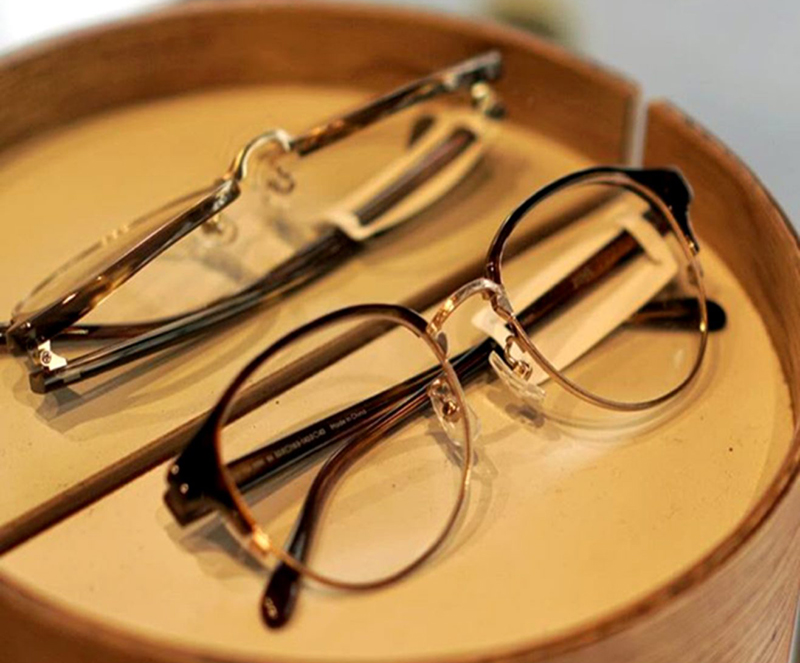 Jins Airframe — This is the future of eyewear, designed with comfort, weight, safety, style and quality in mind. Made possible with lightweight nylon resin.
Jins Screen -— This protects eyes from harmful blue light.The number one brand for computer glasses.
Jins Brain — A guide for those who don't know what glasses look good on them.
Jins Cut — This blocks up to 98 percent of pollen in the air from entering your eyes.
Jins Moisture — For those who suffer from dry eyes.
Jins Meme —A pair of sensing eyewear that enables visualization of your physical and mental state, including concentration, drowsiness and walking balance.
Jins Kids& Junior — A special line that won Best Design Award 2017 and Best 100 for Good Design Award 2017. This comes in many colors, light enough to not be bothersome.