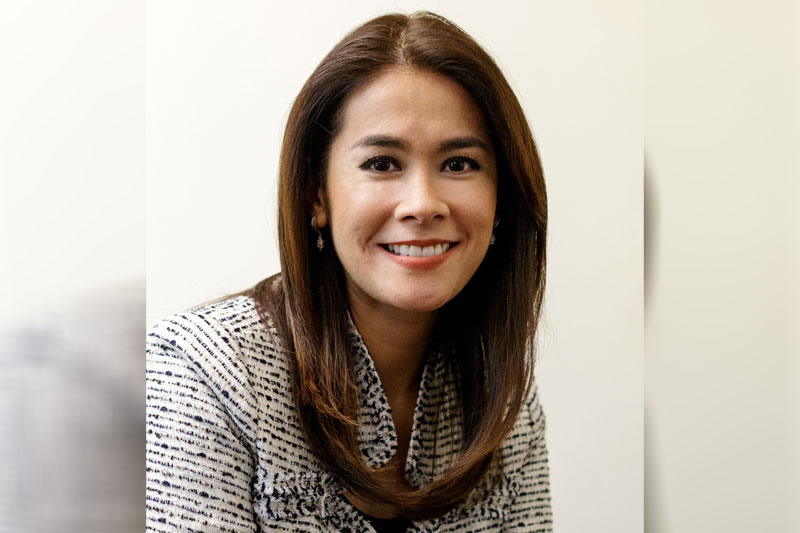 'When you lose someone, you never fully heal. But it makes you more sensitive to the world around you. I suppose, because of that, it makes you more compassionate to everyone.'
Mitzi Borromeo: What it means to be human — that's the story that must be told
MANILA, Philippines — At the height of the super blue blood lunar eclipse last Jan. 31, Mitzi Borromeo took to her Instagram account: "It is quite an auspicious day to say good night and goodbye, and set off on a new chapter." The CNN Philippines anchor's somewhat cryptic message generated more questions than answers for her social media followers, aware of Mitzi's imminent departure from the evening news desk.
"We wanted people to know what Mitzi is up to next," CNN Philippines president Armie Jarin-Bennett told media guests invited to the Mind Hub of the Mind Museum. Yet the question still kept us hanging: Mitzi, after all, is the news channel's most-awarded personality, having bagged the KBP Golden Dove Award for Best TV Newscaster for the second straight year.
Will the restless and dynamic 38-year-old, one of television's most eligible bachelorettes, be getting married? Will she focus on her advocacy work, as she is known to actively champion her causes with the Tzu Chi Foundation and the World Wildlife Fund? Or will she stay in broadcast journalism with a new season of her award-winning weekly current affairs show, Profiles, as well as embarking on CNN Philippines' new tech-lifestyle digital series, Digi-Pinoy? Let's find out.
PHILIPPINE STAR: First, the hard news. Having established quite a name for yourself as a news anchor, what made you decide to leave the CNN Newsroom and focus, instead, on field journalism?
MITZI BORROMEO: For a long time, I gave a big part of my personality to the (CNN) Newsroom because a lot of dedication and time is needed to do live newscasts. I wanted to pursue more time with my family because I really had no time with them — we often work through the weekends as well — so, in a way, I was losing my personal time. And I wanted to finish my studies. I started a master's in Media Studies at UP, and I haven't had time to finish my thesis. I also wanted to do more advocacy work, being involved in environmental and humanitarian causes.
But mainly, I loved getting deeper into stories. When you're just reading the news, though I really enjoyed it and I loved my team, I feel like I can do more by being "out there." I want to get my hands dirty, get out into the field more, and really connect to people.
How does a live news anchor's job differ from being in the field?
As a live news anchor, my main job is to anchor, so we have to be there ahead in the newsroom to read the content. I read ahead, sometimes do a bit of the editing. But really, it's the delivery. You have to prepare and read, make sure you understand the content, and be able to tell the story as though you're not reading.
But when I'm doing something like Profiles, where I'm a producer and writer, it requires a lot more work. You're not only researching the interviewee, there are other events surrounding the questions I might ask them. After the interview, I make notes. Or sometimes, we'll have an hour-long interview and have to cram it into a 30-minute show. So I'm also involved in post-production work, sitting with the editors to decide how to cut it. So it's a lot more work, but I truly enjoy it. I suppose it's like a baby to me.
Growing up, did you imagine yourself as a journalist?
No, I never did. Maybe it's because I didn't know any journalists. But I loved watching documentaries. I loved National Geographic, Discovery Channel. When I was away living for a while with my mother abroad, I grew up watching TV because she was at work. So it was like my babysitter. I remember I loved David Attenborough, he is my idol. How does he make watching an insect so interesting? I was always taken by nature documentaries. And, always, in my head, I kept saying, "One day, I'm going to do that."
Then I came across WWF, so I volunteered. That time, I was also training to be an anchor. So it just dovetailed. When the time came that both were demanding a lot of me, I decided to give up the show. I focused on the NGO work for a while, but I was always doing media and communications work. So maybe I didn't know it, but I was pulled in that direction. Somehow, I landed at the Solar News Network, and for a long time, I was behind the camera. And somehow, I ended up being in front again. But now it's great because I get to do both.
Profiles was recognized as the best TV Magazine Program at the 25th KBP Golden Dove Awards. It focuses not just on big-name personalities, but those who are in the background. How do you decide whom to feature?
One, we go with timely. We always try to feature relevant personalities, so it will resonate. We try to look at themes for the month. But when we look at the headlines, we go beyond it. We always try to feature people you would never expect. We learn about their truths, but we don't judge. We just say that this is what they see, and here's what we're going to show you.
And now, you're debuting a new web current affairs series called Digi-Pinoy. How is this concept relevant to today's audiences?
This idea was brewing in my head since way before. I was thinking, "What can we do that is different?" I've always been interested in technology. But we've never looked at how our digital world is changing us. So we decided to create this series on how our digital tools are creating this new culture. I liked taking on this anthropological lens to understand human behavior. Technology is changing the way we study, our work, our businesses, our health.
People also know you to be a staunch advocate. What causes remain closest to your heart, and how do you keep it up despite your busy schedule?
For me, it's something that is a part of my life. One example is that my sister passed away because of cancer, so I support I Can Serve also. I know a lot of people have been touched by cancer, so I try to participate in cancer support groups. Also, with education, I've met amazing people who are so supportive of education and helping so many others, at a volunteer capacity, so I try to support them in different ways. And with empowerment, (I feel) gender issues are not just male and female anymore, but about empowering the marginalized.
How do you manage to separate your professional responsibilities and personal convictions?
When we're doing the news, you're always told you can't give your opinion. We can't add our biases to a news report. When we're reporting, you try to show the perspectives. But we always do come from a bias; everybody has a perspective. With my advocacies — for example, with environment — as much as I can say coal is bad, we still have a lot of coal companies. Of course, I can't say it on-air. But you can show that one argument, and also show other perspectives.
There are a lot of emotions you have to supress when being a journalist. For me, that's the struggle sometimes: that you feel strongly about something, but you have to keep an open mind. It's just respect for views. But when I do my advocacies, I give it my all. So, perhaps, I'm more careful when I'm saying it in my professional work, but in advocacy, I give it a stronger voice.
How does your work affect your personal life? Do you still have time for social life, personal passions, or maybe a love life?
No, I did not. Before, the whole day, I was at work. But I loved it. That's the thing, I love my work. It's a good thing I'm single and I don't have kids. I have a dog. But now, I'm hoping that I have more time for a personal life.
How has your career evolution shaped you as a person?
You think that when you graduate college, you already know everything. But I really liked being in the field and just being with people on the ground. For me, it's learning about their struggle.
When you're an anchor, I don't really like it, but people treat you like a celebrity when you're not. So, I think what it's taught me is how to tell a story. Often we come from a "me'" perspective. It's given me a better discipline, as to fact-finding and citing your sources.
You've also experienced a great deal of loss in your lifetime. What have these painful experiences taught you?
It made me more independent. At a very young age, my parents separated, that's why I lived with my mom who was working, and when my father died, I was very young. But when you lose someone, you never fully heal. But it makes you more sensitive to the world around you. I suppose, because of that, it makes you more compassionate to everyone.
So, whenever I do an interview, for me, it's all about them. It's like I'm falling in love with a subject, with the person, there's nothing else. It taught me to really listen, pay attention, and be mindful.
Any parting advice on how we can maintain balance in a world that is growing more connected, convergent and, at times, more confusing?
I learned this from one of my interviews, Dr. Honey Carandang, a top psychologist, who said to "always be mindful." Being mindful just means being aware of where you are. Often we're hurrying and we forget to breathe, like, I'm so stressed I'm holding my breath pala. We always think, "Oh no, I should have done this" or "I have to do this." We tend to forget about the present.
I guess just be grateful for everything you have, and always be aware of the present. I think if you're aware of the present, you will be grateful about where you are. I think you will never stop wanting to learn. When you're mindful, it brings you back to your center.
But, when all else fails, eat chocolate.
* * *
CNN Philippines' Profiles airs Wednesdays, 9:30 p.m. and Digi-Pinoy premieres in March at cnnphilippines.com and facebook.com/CNNPhilippines.
'For me, in these stories, as in life, it's all about making connections,' says award-winning news anchor Mitzi Borromeo.