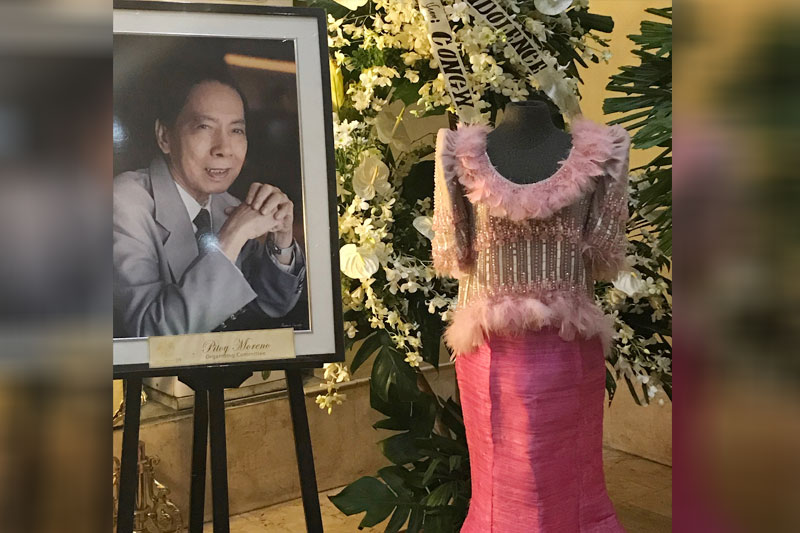 Long live the Fashion Czar of Asia: Jose "Pitoy "Moreno's portrait stands beside his creation. We spotted wreaths from the children of Imelda Cojuangco, Imelda Marcos and family, Nene and Stella Araneta, Greggy and Irene Araneta, Johnny Valdez, Celia Diaz-Laurel and children, Richard and Kate Gordon, George and Kristine Yang, Ina Calalang-Ayala and Claudia Bermudez-Hyun.
Pitoy Moreno & His Language of Love
The life story of Jose "Pitoy" Moreno has been written about and rewritten in the past days since he died last Jan.15, 2018.
But there are untold stories about this fashion designer, cultural activist and philanthropist who was a most powerful personality in Philippine fashion and society for the past 50 years.
One was revealed by his renowned sister, award-winning poet and cultural maven Virgie Moreno, during his wake at the Santuario de San Antonio in Forbes Park last Thursday.
"Pitoy was actually 92 when he died, not 87, as reported in newspapers," says Virgie. "I am older at 94."
This is confirmed by Virgie's nurse Mariel, who says that Pitoy's real birthdate is Feb. 25,1925, while Virgie's is April 24, 1923.
"What are the secrets to such a long life?" we ask Virgie, and her quick reply, full of verve, is this: "We are foodies! We come from a hardy line of mariners and we are not namby-pamby mariners. When we were kids, Pitoy and I would even proudly wear sailor clothes."
Virgie adds that the Moreno side of her family comes from Sevilla, Spain. "When I was six, my father (Jose Moreno Sr.) left for a sailing trip and never returned. My mother (Felicidad Reyes) thought his boat disappeared. It was only decades later that we were informed that his boat was probably bombed somewhere in Europe.
"We also have Chinese blood," she continues. "But not the mami-siopao type of Chinese. We were not in the food business."
Their clan includes Oscar Moreno Lopez of ABS-CBN and Gigi Reyes Montinola of Far Eastern University.
"We are also related to Rizal, whose family members once took refuge in our house. Pitoy and I were born in what you'd call a bahay na bato on Juan Luna street in Tondo."
Virgie notes: "Perhaps it is serendipitous that we lived among heroes. In Tondo, we lived on Juan Luna St. in Malate. Pitoy's house was on Malvar St. near Dr. Antonio Vasquez St. Did you know that during the war, Vasquez heroically pushed a cart so that he could bring wounded soldiers to his own home, which he virtually turned into a hospital? It is said that he was even assisted by his son Danny."
In his lifetime, Pitoy performed his share of heroic acts through the J. Moreno Foundation that supported deserving students at the UP College of Medicine and UP Fine Arts. In this and cultural ventures, he partnered with dear friend Imelda Cojuangco.
Pitoy wielded power that he put to good use. In UP, he joined the Upsilon Sigma Phi, whose members included Ferdinand Marcos, Ninoy Aquino, Doy Laurel and Joker Arroyo, to name a few.
He dressed up all the First Ladies except for one, and two presidents (Cory Aquino and Gloria Macapagal Arroyo) and did barong tagalogs for powerful figures in government and business. His clientele included world leaders and royalty.
The perfumed set of Manila surely has happy and heartwarming memories of how they loved him and basked in the genteel glory of Pitoy.
As a lifestyle journalist, I recall my stories on Pitoy in terms of food and lunches, beauty pageants and fashion shows here and abroad.
There was London, where I witnessed how elegant society and diplomatic circles clapped their hands at every entry of his beaded terno.
Then there was Kuala Lumpur, where I saw his magical charm work on Malaysian royalty that appreciated this little man who was a giant in Philippine fashion. Pitoy and I shared a suite with a connecting door between his room and mine, and I felt really connected with this designer who was both friend and father to many… until a third show came in Brunei where he was to present a spectacular showcase. It was the pre-cellphone era and I was a no-show at the airport due to urgent work in the office. Pitoy did not call me for two weeks. I sent the unused ticket to him with profuse apologies. Just like that, his cariñoso self was back. He sent his usual language of love: a bowl of delicious buco salad, which was the specialty of his sister Virgie's cook.
Virgie's buco salad was the trademark dessert for his meals, whether it be just arroz caldo or his Filipino-Spanish multi-courses, all served with pretty plates, gleaming utensils, crisp linens and fresh flowers. He breathed and lived Old World elegance.
Pitoy's meticulously embroidered Maria Claras, his beaded ternos and gowns with that close-open wow factor earned for him the title "Fashion Czar of Asia." He was king of Philippine couture, one of the few remaining stalwarts of this glorious era.
I soon realized I did not belong to this era when I appeared in his Malvar shop/home wearing an outfit by a hip, younger designer. And he quickly commented: "Ang dami namang butones ng damit mo!"
But I did appreciate his other language of love: pasalubong every time he came from a trip, mostly reminiscent of a charming time and place — a manton from Spain, an evening bag with huge retro sparkle from China, a brooch for a proper lady. My favorite was a pendant from Russia with a cross made with aqua, green and pink stones. It reminds me of his prayerful side and his gracious persona.
Gracious he was when one day, I told him there was this pretty girl named Jean Saburit, introduced to me by my childhood friend Vicky Era, and she might be Bb. Pilipinas material. One look at her and he quickly took her under his wing for some polishing sessions. On pageant day, 17-year-old Jean was named Bb. Young Pilipinas and was to compete in the Miss Young International in Japan. Pitoy had the eye for spotting a winner.
Pitoy also had an eye for buena familia models and was fiercely protective of them. This roster included Conchitina Sevilla, Frannie Aguinaldo, Trina Yujuico, Monina Arnaldo, Toni Parsons, Baboo Mondonedo, Pearlie Arcache, Cherry Pie Villongco, Margarita Sison, Peching Zulueta, Loli Imperial, Bing Pimentel, Maritess Revilla, Aning Menendez, Maricris Cardenas, Claudia Bermudez and Ina Calalang.
Cathy Santamaria says, "He was like a dad to us."
Patty Betita and Lou Bunyi agree and add: "During our show in KL where Tricia Panlilio, Mavis Manotoc and Patricia Borromeo were with us, Pitoy made sure the male models would not linger near our areas."
But then, Pitoy gave his blessing when his fashion-show wedding-finale models Crispy Santamaria and Arsenic Laurel became bride and groom off the runway.
Beauty queens like Maita Gomez, Carol Masibay, Simonette de los Reyes, Margie Moran, and Cita Avecilla as well as runway stars Menchu Menchaca, Apples Aberin, Tweetie de Leon, Marina Benipayo, Izza Gonzalez and Marilen Espino also became Moreno models.
Among the males, there were Louie Rabat, Mari Lacson, Mandy Ochoa, Chris Badiola, Paolo Viterbo, Jeff Veloso, Rene Banzon, Raffy Ladao, Victor Nero — and would you believe, Anthony Pangilinan and Hayden Kho!
I remember Pitoy telling me that during one show, he was supposed to say a few words when he suddenly found himself wondering why he was standing there. "I was really speechless. After that incident, doctors put gadgets on me to monitor my heart."
A few years later, his nephew, Ronald Cruz, narrates how he shed a tear when Pitoy wanted to leave his Malvar St. home, saying, "I don't belong here. My home is on Juan Luna Street!"
Years earlier, I tried several times to convince Pitoy to make a peace pact with an artist with whom he had an incident, fueled by intriguing remarks playfully uttered by an art collector. There was no closure on this episode.
Hopefully this week, Pitoy was welcomed by both the artist and the art collector in heaven's peaceful embrace.
* * *
Follow the author on Instagram and Facebook @milletmartinezmananquil. Email her at mmmananquil@philstarmedia.com.