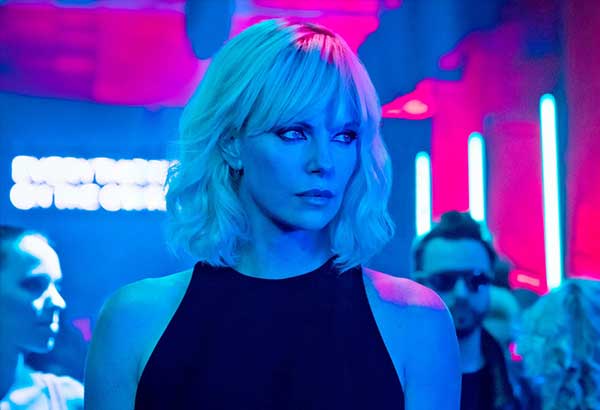 Ice, ice baby: Charlize Theron is a cool customer in Atomic Blonde.
Consider the physical body of Charlize Theron. In David Leitch's spy thriller Atomic Blonde, it gets pummeled, kicked, bruised and beaten; smashed up in cars and submerged in ice water; done up in lace (the better to conceal recording devices) and literally towering over fellow actors on the screen, including James McAvoy and Sofia Boutella. The 41-year-old actress has played against type before, contorting her looks to win an Oscar for Monster, getting ugly drunk in Young Adult and going one-armed in Mad Max: Fury Road. In this tale of double- and triple-crosses set in Cold War Berlin, Theron's body is put to the test again; she emerges from the rubble as more Terminator than typical ice blonde.
After a fellow agent is brutally whacked in Berlin — weeks before the Wall is ready to collapse — Theron's MI6 agent Lorraine Broughton is dispatched to recover the body. Ten days later, she's shown being debriefed in a London office by MI6 administrator Toby Jones and CIA point man John Goodman, who want to find out what went wrong in Berlin during the intervening period. Lorraine's a physical wreck: miles of bad road, though dressed in London chic. (One wonders where Theron comes up with her many costume and shoe changes in Berlin; her luggage upon arriving is minimal agent.)
In Berlin she meets up with MI6 David Percival (McAvoy) who's entrenched in the black market of secrets and holds many of these close to his vest himself. McAvoy's on a tear these days, spinning out a dozen characters in M. Night Shyamalan's Split, while here playing a shady British agent trying to track down a secret list of agent names that will become very valuable — to one side or another — when the Cold War comes crashing down.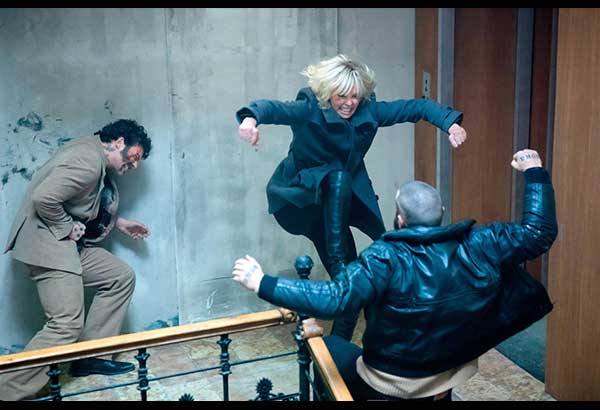 Legwork: Theron plays a British MI6 agent sent to recover a dead body — and answers — in Cold War East Berlin.
Director Leitch brings the excess stylized violence that energized John Wick to his solo directorial debut, based on the graphic novel The Coldest City. It's nonstop violence to the body, and violence to the viewer's mind, trying to keep up with all the convoluted plot twists and counterplot twists. Through it all, Theron brings us one of the most convincingly lethal physical roles since Matt Damon started going hand-to-hand in the first Bourne movie decades ago.
It might be a stretch to believe the gazelle-like Lorraine can handle merciless beatdowns in which she nonetheless disarms KGB assailants and Berlin police, leaving them lying in bloody piles of broken limbs, much the worse for wear herself. But whatever training Theron endured in making this film paid off: she's a bad-ass, and you feel every kick to the gut, every wrenched limb and knife to the back. While John Wick specialized in hyperkinetic gunplay, with Keanu Reeves leaving behind a truly astonishing body count while getting payback for someone killing his dog, Atomic Blonde wants you to feel all the icky blood, sweat and viscera: Theron's body by the end of this romp is Exhibit A in showing that freedom doesn't come for free.
Of course, many will carp that the story loop-de-loops and makes little sense, or that it trades in Iron Curtain clichés that were already clichés when John Le Carré invented them; but we're really here for the action, including excellent car chases and lethal fighting that puts pallid Bond outings like Spectre to shame.
Wrapped around this violent candy bar is a topnotch '80s soundtrack that eschews the usual suspects — Simple Minds and Go-Go's and the like — for more esoteric, Europa-tinged synth fare: Depeche Mode, New Order, Siouxsie & the Banshees, Re-Flex, Nena's 99 Luftballoons and (memorably) 'Til Tuesday's Voices Carry. Solid remakes also pop up, woven into the slick, sleazy Berlin-scape.
Leitch's direction here is all about pastiche style, but to his credit, he has it to spare. One brutal fight scene takes place in silhouette behind a cinema screen (the cinema is showing Tarkovsky's Cold War sci-fi Stalker), a fleeting homage to John Boorman's neo-noir Point Blank. And Leitch really does enjoy his five-minute unbroken-take fight scenes, whether it's on a hotel staircase or in a crummy Berlin apartment where every available object — from hotplate to corkscrew — becomes a potentially lethal weapon.
Notched a point or two for borrowing so heavily from La Femme Nikita and the Bourne movies (especially the first Berlin-set Bourne Identity), Atomic Blonde nevertheless carves out its own weird identity, mixing KGB thugs (who are often hard to tell from East Berlin thugs) with exotic French agents (Boutella, not-so-fresh from The Mummy) with their own agendas to pursue. It's draped in the neon-lit ultra-sheen of '80s videos, but it's Theron who pulls this shaggy dog spy tale together, with her drop-dead silhouette stance and by the sheer velocity of her physical being.