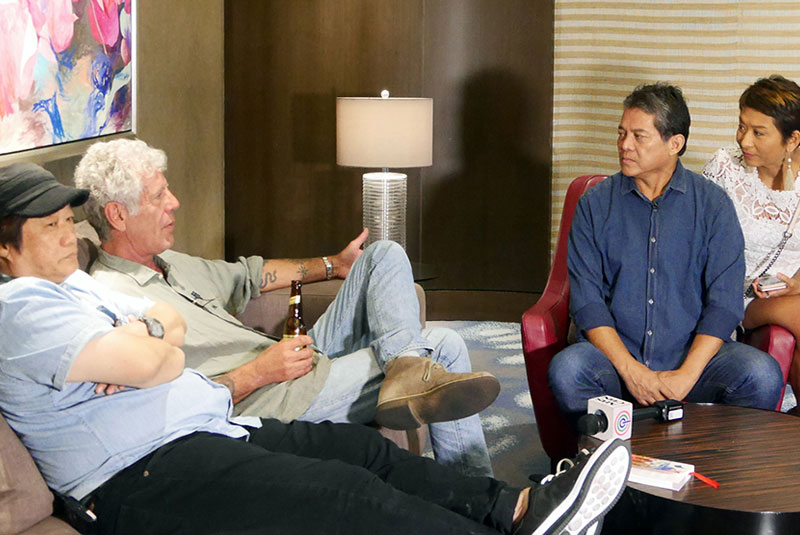 At the exclusive ABS-CBN interview: (From left) KF Seeto, Anthony Bourdain, Claude Tayag and Ces Drilon
Close encounters with Anthony Bourdain
The swash-buckling rock star and "bad boy" of the culinary world Anthony Bourdain came on a lightning visit to Manila, his third to date. Known for his hard-hitting and sometimes scathing reviews of everything gastronomical and the personalities around it, he has, however, only praises for the Philippines. Could it be because he has developed a liking for and familiarity with Pinoy food because of his daughter's Filipina nanny back home in New York?
I have not tried any of his cooking. But our friend food writer, Cyrene de la Rosa, had that privilege during her seven years stay in New York. We happened to sit next to her at the recent dinner launch of Enderun College at the BGC, for their coming six-week intensive course for restaurateur wannabes, taught by the likes of Sandy Daza, Roby Goco and JJ Yulo. The course starts this July.
Cyrene said that at Brasserie Les Halles, Bourdain had a big female following, being an attractive "bad boy" of the culinary world (or underworld), and his explosive tell-all book Kitchen Confidential catapulted him to international fame. Women would go to his restaurant to stalk him. He is therefore less known for mincing garlic and more for not mincing his words. And that is exactly what makes him an interesting celebrity. Whether his taste buds were always right, it did not matter much. People hang on his every pronouncement and that's what matters.
When he dined in Bale Dutung in 2008, taping for the No Reservations Philippines episode, I got text messages from female friends, including known celebrities, asking me what it was like to have the hunk in my house. I naturally passed such questions on to my Darleng, who described him as "mysteriously attractive," as he was quiet and happy to be by himself. He readily granted requests for some photo shoots with my relatives. He was a polite, easy and non-demanding guest who stayed in the hammock before every take. One thing that impressed me is he does his homework. He knew of our Mexican connection through the Galleon Trade, which not even many Filipinos are aware of. "You have been having fusion cuisine from the beginning," he said.
Outside our gate were the ever-patient stalkers, unsurprisingly mostly women. My next question was, of course, "How do you find our food?" as though his approval would singlehandedly take our cuisine to international recognition.
Sometime after the showing of that episode, I bumped into a New Yorker friend residing in my hometown Angeles City. He said Bourdain must have really liked our food. Asking him why he thought so, he said: "You know us New Yorkers, we can be brutally frank. Bourdain didn't say a single negative word about Filipino food in the whole episode."
In 2014, I saw him again in Singapore at the First World Street Food Congress, organized by KF Seetoh, founder of Makansutra. Bourdain was one of the speakers and after his talk, he told me that the Philippine episode of No Reservations had the highest ratings ever. Mary Ann smiled and said, "That's because of the big Fil-Am community in America, and we Filipinos here love to follow American TV shows."
At the recent World Street Food Congress held at the Mall of Asia last week, Bourdain was naturally the crowd drawer. On stage, he spoke mainly of his coming Bourdain Market in New York, a mammoth food center patterned after the Singapore hawker center experience, which is scheduled to open in 2019.
Though his stay at the event was very brief, he still managed to go around the 32 food stalls. Not many photos of him savoring or appreciating the food circulated on social media because his security was very tight, guarding him like a veritable rock star. No one could get close to him and he seemed not to be a selfie fan, to the disappointment of many. I cannot tell which of the stalls he favored but I heard he was pleased with the choices. Our country was well represented by chef Sau del Rosario of Pampanga, chef Tibong Jardeleza of Iloilo, chef JP Anglo of Bacolod, Ilocos Empanada, to name a few.
Though he seemed elusive to the fans and media at the event, the following day, he held a briefing for prospective vendors for the Bourdain Market, a town hall-style press conference, providing a few exclusive interviews with local and foreign media.
ABS-CBN being a media partner, it was granted an exclusive interview with him. Heading its team was veteran news anchor Ces Drilon, who happens to be the executive producer for my new TV show, Chasing Flavors, on the Lifestyle Network. I tagged along, together with Nana Ozaeta, editor of Food magazine. Here are some excerpts from that interview:
CES DRILON: You talked about food diplomacy, establishing a culinary brand, what would that be for the Philippines?
ANTHONY BOURDAIN: Food sells on its merits. Sushi isn't a brand, Nobu is a brand. Sushi is a culinary tradition. And it becomes thousands and thousands of brands. But you know, to create something good, serve it long enough, and people will find it. People will click the brand. When Thailand sold tom yum, they didn't say "This is my brand," the world said it. So there's a lot of potential for something to crawl out and… this is culinary mess. Just let it develop organically.
DRILON: Will you elaborate on what you think of Filipino hipster food in the US?
BOURDAIN: There are restaurants where people are serving either Filipino, lots of Filipino food or influenced by Filipino food, by second-generation Filipino-Americans, and it's getting a lot of attraction. That's great!
NANA OZAETA: Why did you decide to put your name on the market?
BOURDAIN: Honestly, it was not my idea. I'm embarrassed by the whole thing. I hate the whole idea of having my name on the market. I wish it could be so much better. I'm reluctantly owning it. You know, I write books about me. I make television shows about me. I talk about me a lot. But I really don't need my name on the market. That was never the plan. I thought "This is a very cool project. This is the sort of thing New York doesn't have and should have had decades ago." Never understood why we didn't. This was a small price to pay, I guess, to move this mammoth project along. Said they wanted to put my name on it: Ugh, okay.
CLAUDE TAYAG: What is it with sisig that appealed to you?
BOURDAIN: It's simple, flavorful, delicious and goes perfectly with beer. All you can ask for.
TAYAG: How will you maintain the authenticity of the heritage dishes you will be transporting to New York?
BOURDAIN: Food is always changing with the movement of bodies, with intermarriage or with displacement, with foreign influences and changing markets. Is tomato sauce even authentic Italian? Of course not, it came from the New World. Or sushi with mayonnaise. Is it Japanese? It's not just my thing. People would start to make a distinction between the older country's original style, you would get these food arguments in websites. "Yeah, this is sisig everybody's eating, don't make it one with papaya, this is bullsh*t." But, well, at least they're talking about it. They themselves discover it, so...
TAYAG: Do you still consider the roast pig you had in Cebu the best you've ever had?
BOURDAIN: That's the best I ever had. It was really, really great! I had an incredible recipe in Bali. What I had was very terrific. The stuff I had in Puerto Rico, this guy was a fanatic and makes it with the same kind of, like, in-culture, anywhere recipe. So I think in any serious peak culture, there's got to be one possibility, in any given day, anyone can make the best thing in the world. I first tasted a fully transcendent, great big holistic pig, the first I ever had, in Cebu. It's great when people argue about food.
* * *
Back at the WSFC at Mall of Asia, Bourdain began his speech talking about his Filipino affinity:
"I want to say I'm really grateful to be back in the Philippines. This is a personal connection for me. My daughter, like so many American children, has been largely raised by Filipinas. Her brother from another mother is a Filipino kid. She probably speaks more Tagalog than me. (What) she definitely does, she eats regularly at Jollibee in New Jersey. She's more intimately acquainted with sinigang and lechon. A 10-year-old American kid who likes balut is a rare thing to find, but she adores it."
It's no wonder lechon and sisig is on top of his list for the Bourdain Market. Photos by Claude Tayag