How to be a millennial style icon: Coleen Garcia
MANILA, Philippines – Coleen Garcia is no newbie, having appeared in TV commercials since she was two years old before starring in teleseryes since 2011. She rose to mainstream consciousness while co-hosting the noontime variety show It's Showtime where she met boyfriend Billy Crawford. In the past two years, she has starred in one box office hit after another, starting with Gino M. Santos' Cinemalaya 2014 hit #Y. The baby-faced beauty stood out with her minimalist yet sleek, sophisticated style, often likened to today's Hollywood "it" girls. She recently left It's Showtime to focus on her acting. At 23 years old, she's racking up endorsement deals from beauty products to whiskey, securing her post as the face of the upmarket millennial.
The women behind 43-year-old all-Filipino jewelry brand F&C were working on their latest capsule collection featuring modern statement pieces to breathe new life into the brand. The pieces, ranging from colored precious stones to delicate diamonds, are meant to adorn today's style savants from dusk to dawn. F&C wanted a youthful perspective. Garcia, who now appears everywhere from billboards to TV commercials and, recently, in another Gino M. Santos and Star Cinema hit depicting the state of modern relationships, Love Me Tomorrow (where she verbally sparred with Piolo Pascual and Dawn Zulueta, no less), caught the eye of F&C's head of marketing and merchandising Marjorie Florete. F&C has never had an endorser before, and if anyone was going to represent this new chapter for the brand, she knew it had to be Garcia.
We caught up with the face of F&C Jewelry at the capsule collection launch held last Monday. So what is it about Garcia? Is it her style? And is she wedding Crawford (who discreetly accompanied her that afternoon) anytime soon?
PHILIPPINE STAR: You are dripping in diamonds as we speak. Is wearing diamonds during the daytime something you've always been okay with?
COLEEN GARCIA: Yes, I don't see why not. It's not about the material but the design. There are certain pieces that go well with looks worn during the daytime. The bigger pieces, statement jewelry, can be reserved for dressing up at night. But then, it's not just about the size. Like right now, it's daytime but I chose to accessorize with diamonds. This ring, for example, is actually a chain of rings and it stands out on its own whether with a dress or jeans. It's the design that counts.
What are your thoughts on pearls? Are they reserved for the daintier "Titas of Manila" look?
As young as I am, I like pearls. I have a set of pearl jewels. Pearls bring elegance to a look. It's really the design that can either make them young or old and what you pair it with.
Your style has been compared to those of Hollywood's Insta-girls. Tell us about your latest #ootds.
The thing with my outfits, especially being in showbiz and appearing in the public eye, I try to switch it up all the time. I don't stick to just one style. When I guest on nighttime shows, I go for something sleek, monochromatic and sophisticated; and during the daytime shows I tone it down with something denim.
Who are your go-to designers or brands?
I have my stylist Adrianne Concepcion who shops and curates designers for me. When it comes to last-minute stuff, we approach Jot Losa for his dresses, jumpsuits and separates. We usually stick to monochromatic looks in neutral shades and he makes them really quickly and beautifully.
When accessorizing, what kind of jewelry styles do you gravitate towards?
I try to keep it simple, I don't really go for colored stones and I prefer white gold to yellow, but at the same time, I really like stunning pieces based on the edginess of their design.
How do you style your jewelry?
I don't layer a bunch of bracelets, or wear a bunch of rings on every finger. Instead I wear a piece with a design loud enough to speak for itself. I never say never, though. Sometimes the outfit required can be really plain and the jewelry can make up for it.
You're in a hurry and you have to pick one. What would you choose: earrings, necklace, ring or a bracelet?
Earrings. Always bring attention to your face.
F&C approached you for being a style chameleon. Style being reflective of one's position in life right now, should we expect a diverse set of acting roles from you?
I feel like being in showbiz you have to be a style chameleon but at the same time you have to be willing to adopt what's already there and then be willing to change up those things a bit. The roles I play, they are all very different personalities. It helps to be able to differentiate my character from the others the moment my character enters the scene. This is my way of embracing my own style.
F&C carries engagement rings and wedding bands. Have you thought about how yours might look?
Every woman out there thinks about it. Me, I will be happy with whatever I am given because it will be given by the person I love. It's a symbol of not just your love for one another but also of what he would like to give to you in all the years to come.
You can receive really a big, expensive ring but when you put it on, you will know it's not you. My boyfriend Billy Crawford knows me very well. I would like to receive something that represents how he sees me.
Do you see yourself wearing a wedding ring anytime soon?
Yes, but not too soon. I am really enjoying where I am, not just in my career and personal life but also in my relationship with Billy. We are learning so much about each other on a daily basis. It's more about the journey than the destination and we will get there.
Has Billy hinted to you about tying the knot soon?
He really wants to get married already! I'm the only one stopping him. It has to be the right time for the both of us.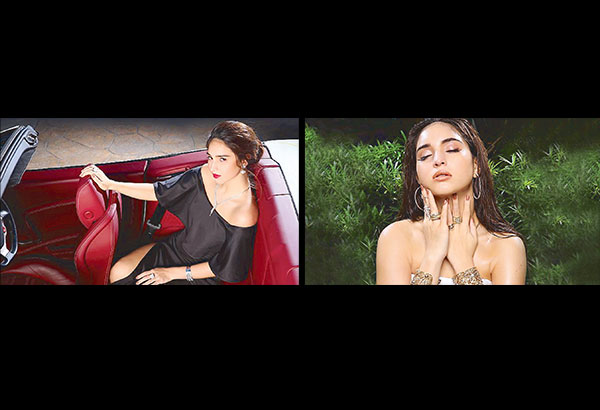 * * *
F&C Jewelry is available in all SM Department Stores and Glorietta 2, Ayala Center, Makati. Visit www.fncjewelry.com for more information about their designs and promotions.