New e-commerce site aims to keep shopping purely for fun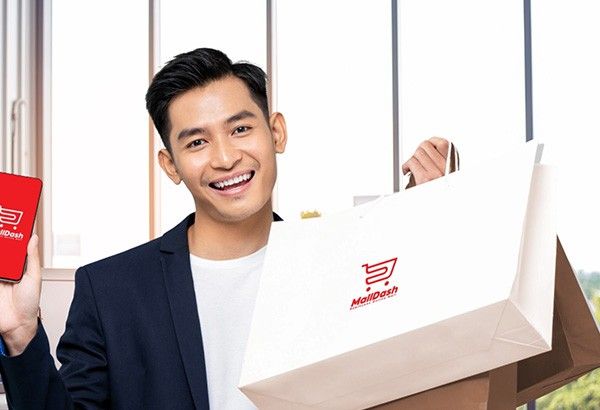 MANILA, Philippines — Many people have been wishing for the pandemic to end and for everything "normal" to return — except for pre-pandemic problems like heavy traffic.
But alas, not only are traffic jams back; fuel prices are even so high nowadays — and this has become the new pandemic that makes many people wish to stay at home again.
Thus, despite the fact that e-commerce slightly dipped when physical malls re-opened, Robinsons Malls is keen on developing its shopping website MallDash.ph to make life easier for everyone — so shoppers can save on travel expenses and traffic hassles and for small merchants and brick-and-mortar stores to stay relevant, said Robinsons Land Corp. President and Chief Executive Officer Frederick Go.
Speaking via a recorded video message shown to the media at a recent presser, Go explained that MallDash.ph was designed to help merchants drive sales and delivery efficiency by reaching customers.
"In 2021, we started with four malls and served over 20,000 in-store orders to 8,000 happy customers in as fast as one hour. Our dedication to keep our tenants and customers happy allowed us to go this far. But we've only scratched the surface," he declared.
"As we move toward our second year, Mall Dash will continue to grow and serve more Filipinos."
Kevin Dayleg, MallDash.ph Deputy General Manager, expounded that when the pandemic hit in 2020, Robinsons Malls quickly responded to the needs of its communities by creating Mall Dash as one of the country's first mall-based e-commerce platforms designed to connect to customers online with an updated inventory, personal assistance, delivery within one hour and on-schedule delivery.
"Our aims for venturing into e-commerce is to help tenants bounce back and give better options for customers, provide convenience, speedy deliveries and personalization for orders," he said at the recent press conference in Robinsons Place Manila.
Apart from traveling challenges, Robinsons Malls' shopping site aims to address other e-commerce problems like orders not being accepted, delivery rider attitude and dishonesty, as well as fake stores resulting in wrong orders, said MallDash.ph Head of Operations Mark Dinglasan.
Since MallDash is a hybrid portal, not only are tenants here certified to be authentic as they have physical stores in Robinsons Malls. Shoppers can maximize their leisure time at Robinsons Malls and just spend time watching movies and other activities rather than go grocery or essentials shopping, which they can do through Mall Dash even at home and have their orders delivered to their doorstep or picked up in the mall's Fulfillment Center for paying and billing, Dinglasan elaborated.
Among the website's unique features is the Pabili service, wherein one can upload a picture of even one's handwritten grocery list and have the items on the list delivered at home.
You can use Mall Dash if you are within an eight-kilometer radius from Robinsons Magnolia, Robinsons Place Las Piñas, Robinsons Place Ilocos, or Robinsons Place Antipolo. Robinsons Place Manila has recently joined the lineup, which comes right in time for Mall Dash's first anniversary this June. According to Dinglasan, MallDash.ph is not in any way connected to the mobile app of the same name (Mall Dash) available in Google Store, because that Malaysia-based app is merely a mall directory.
MallDash.ph is so far browser-based, with a downloadable mobile application being developed and eyed to be available by end of the year. To use it, look over it on your search engine. Input your address and your chosen mall. From there, select your items — these could be from the supermarket, participating stores, and restaurants —and add your picks to cart. You can also type on the search bar or upload a photo of your shopping list for the Pabili option if the shop isn't listed on the site. When you're done, hit the checkout button, enter your name and contact details, and choose your preferred shipping method, schedule, and payment option.
According to Dinglasan, the site now has over 297 stores, which offer food, groceries, medicine, clothes, accessories and shoes, among others. For now, payment methods are only through cash on delivery or GCash to accommodate tech-challenged people and those not comfortable at using credit cards, although the credit card option will soon be available in the upcoming mobile app.
Items on the site are offered at same prices as in malls. There is also a free "All-in-1 fee" for orders worth P1,500 or beyond. Purchases will be delivered within one hour or on your preferred schedule by the malls' "Dashers" or delivery riders. So far, the pilot malls in the app have five Dashers per mall, Dinglasan said.
Dashers call first-time customers to confirm orders and to prevent fake or prank ordering. Dinglasan said Robinsons take risks in paying the merchants even before customers do via cash or GCash, so fake orders are mitigated.
According to him, their ability to deliver within an hour is their edge over other e-commerce sites that sometimes take days to deliver the orders.
Their vision, he shared, is to have movie tickets, and even popcorn, available on the shopping site, and have all 53 Robinsons Malls all over the country Mall Dash-enabled.