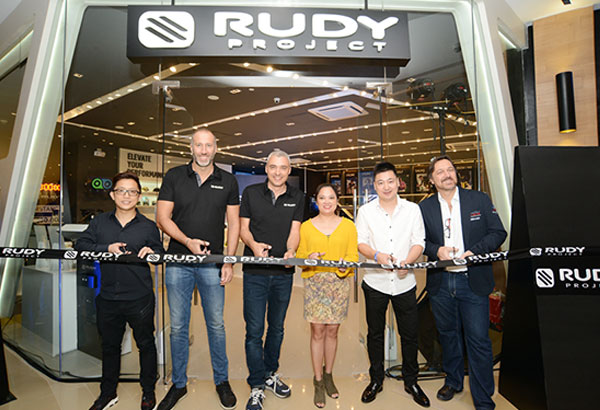 Elite level: Rudy Project Headquarters marketing director and shareholder Simone Barbazza (center) with Rudy Project Philippines CEO Jerry Tee, Rudy Project Headquarters head of sales Andrea Buzzavo, Megaworld leasing vice president Mylene Manlogon, Rudy Project Philippines COO Jack Wang, and Rudy Project Philippines director Gabriele Boschi.
Rudy Project promotes active lifestyle boom with first ever experiential store
MANILA, Philippines — Rudy Project is synonymous with sports performance eyewear, so it makes sense that the façade of the Italian brand's first experiential store in the world and first flagship store in the Philippines takes the aerodynamic look of its most popular product.
The 184-sqm. space features a cycling area, a putting green, and virtual reality consoles to simulate sports like shooting and skiing. Interactive galleries allow you to peruse, try, and compare the wide range of sport-specific eyewear, helmets, goggles, and accessories for cycling, swimming, running, golf, sailing, motocross, skiing, and shooting. One hundred percent made in Italy with industry-first materials and technology, they're so confident that the store poses a standing challenge to break their ImpactX 2 lens.
Rudy Project Philippines director Gabriele Boschi first brought in the eyewear 18 years ago after a chance meeting with founder Rudy Barbazza. Selling them one by one from a hand-carried box in his Cebu home, the demand just organically grew. He says, "Now more Filipinos are getting into triathlon and biking. More travel to go skiing in Japan."
And Rudy Project is paying attention. Rudy Project marketing director and shareholder Simone Barbazza explains, "Because it simulates the conditions you will find outside in the real world, we not only let people understand how we can elevate their performance. By letting them experience it, we promote sport and in turn, a healthy way of living."
Triathlon is where there's most growth. Its events conquer the Philippines as the fastest growing participation sport in the world. Unlike basketball, the unofficial national sport, triathlon is more forgiving of one's height. Everything else, you can work hard on.
Barbazza acknowledges their triathlete following: "They are the kind of people who really want to elevate their performance and they appreciate our products more. We are a top brand for the 7th time in a row in triathlon and the most worn helmet in all world championships. "
"It makes a difference with the pros. When a second can make the difference between winning and losing, the right product will take you there," Boschi agrees, himself a weekend warrior who enjoys fishing in the seas, using polarized lens sunglasses to protect his eyes. "I'm not a very good athlete, but even if I never reach the result of some of the most talented athletes, I want to at least be able to try my best." At the end of the day, doing your best is what matters most.
* * *
Rudy Project experiential store is at the 2nd floor of Uptown Mall, Fort Bonifacio, Taguig. Branches are located at Alabang Town Center, Trinoma, Mall of Asia, SM Cebu, Robinsons Cebu, D'Mall Boracay. Follow @RudyProjectPH on Facebook and Instagram for updates.