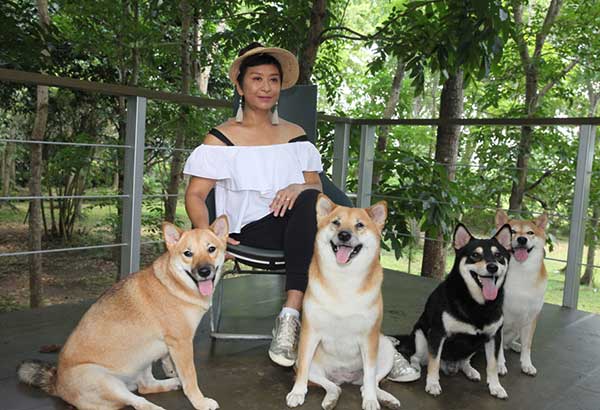 Shibas regal: Ces with her Shiba Inus Haruko, Dymka, Ichiro and Laika. Photos by JOEY VIDUYA
Ces Oreña-Drilon: Queen of Shibas
They are condo dogs," says broadcast journalist Ces Oreña Drilon, as her son and dog whisperer — 24-year-old Andre — lets the four Shiba Inus (Dymka, Laika, Ichiro and Haruko) down from their SUV. "They grew up in air-con rooms kasi. They have been here maybe four times."
Ces opted to have the interview at a farm in Tanauan, Batangas owned by her partner Ricky Carandang. "So that the dogs can run freely," she explains.
"I did not grow up with dogs," says the veteran ABS-CBN broadcast journalist. "My love affair with dogs started four years ago. It was when Andre asked me if he could get a dog to live with us in the condo."
Ces hosted shows including Usapang Business, a weekly business-oriented show; news and current affairs programs including Pipol and Pointblank (on ANC); and I Survived.
In her 32-year career she has had quite a few defining moments. There was her very first exclusive: when a renegade colonel was caught and she was first to break the news in 1987. Another was when she witnessed the ambush of Colonel Joe Pring in 1993 by the Alex Boncayao Brigade. Their camera containing the footage was confiscated by one of the assassins and for several months she feared for her life. In 2007, during the Manila Peninsula siege, she was rounded up and brought for questioning by the police and was about to be handcuffed like a common criminal — until she stood her ground and protested. Ces points out, "We were only doing our job as journalists documenting the standoff between then Senator Trillanes' group and the PNP SAF."
Of course, there was her abduction in 2008. "I thought I was going to die and I prayed that I would be granted a dignified death," she says. "It is a great blessing that I escaped unscathed. It also taught me humility because of all the prayers and well wishes that came my way, and also having to accept that I had erred."
Time for change
After 32 years covering the beat and hosting news and business programs, Ces retired from doing work as a broadcast journalist two years ago. The only show she continues to anchor is Bandila, a show she has been part of since 2004.
"Recently I was appointed content head of the lifestyle ecosystem of ABS-CBN," shares Ces. "This will cover all the lifestyle programs of ABS including the magazines and lifestyle network. We are also in the process of putting up a website."
Ces accepts this as a new and challenging phase. "At this point in my life I prefer being behind the camera because it is a different challenge," she shares. "I like it because, for one, it is no longer about me. It affords me the opportunity to mentor others."
Ces explains that the work of a journalist can seem fleeting, with the story ending after it is aired. "After two minutes of airing, on to the next," she explains. "With the current work I have been given, I would like to be able to create content that will stand the test of time."
Ces oversees Rated K, Matanglawin, Sports U and Mga Kwento Ni Mark Logan as lifestyle ecosystem head of news and current affairs. She is also the executive producer of chef Claude Tayag's show Chasing Flavors, which airs on The Lifestyle Network.
My dogs — and a farm life
"It was Andre who introduced dog-love to me," shares Ces. "But as soon as he brought Laika, our first Shiba Inu home, it was love at first sight."
Although Ces is quick to admit that she did not like dogs before, after the first encounter with Laika, a love affair had blossomed.
"With the dogs I am relearning how it is to be a parent to little kids all over again, what with my sons all grown and only my youngest Andre left at home with me."
Ces has four grown-up sons: Ory, 30; Miko, 28; Gian, 27; and Andre, 24.
The breed Shiba Inu was a choice that Andre made, being fascinated by all things Japanese. He also liked that the Shibas are pack dogs and look like foxes.
It didn't take long for the pack of Shibas to grow into four. Ces laughs as she shares how nowadays they even sleep in her room — and on her bed.
Ces dotes on the dogs much like any lola would.
"Since we have more space now at home, it is better for the dogs," shares Andre, who is responsible for making sure that the dogs are disciplined. "But soon, they have to learn to adapt to being here on the farm. My philosophy is that the dog adapts to us — the moment we compromise, we are not the master of the dogs."
Yes, farm life.
Since Ces retired from being a reporter and Ricky bought a farm in Tanauan, she has been instrumental in coming up with ideas as to what can be best cultivated on the farm.
"I went into farming partly because I retired from doing the beat and I had time on my hands," she shares.
Ricky's parents asked him to purchase the property across their farm when it went up for sale. "And I convinced Ricky that we should plant malunggay because we are first-time farmers," shares Ces. "Malunggay is relatively easy to grow because it does not need to be watered and it does not need fertilizer — and there is a big market for it abroad."
Ces and Ricky have put up a company for their malunggay farm and they now supply an exporter with their organically grown malunggay.
"We are learning the farming side and we will eventually learn the processing side, too," she says. "What we want is to be able to produce our own products and create our own brand — where everything will be organically grown."
Must love dogs?
Our conversation shifts to Ces and her partner Ricky, who also has a day job at First Philippine Holdings.
"Ricky and I come to the farm almost every weekend," says Ces. "We are building a house where we will live as soon as it is complete."
Is Ricky a dog lover?
Ces answers with a laugh: it's more a case of Ricky becoming a dog lover.
"He enjoys the dogs' company — he is the one who gives the most treats," Andre adds.
"Our living arrangement is like this: he has his place, I have my place. And we live together on weekends."
So during the week, Ces spends as much time with Andre and her four dogs as she can. She adds how she has changed into a love-me-love-my-dogs person. But she still has to work on Ricky when it comes to loving her dogs enough to agree to having them sleep in the room.
"Kawawa naman sila, di ba," says Ces, mimicking what she says to Ricky. "They'll stay out here all night."
But she knows there are limits. She recalls an incident where she asked Ricky to drive with all four dogs in tow. She laughs as she recalls how Ricky kept the window of the car opened because, he said, "the dogs smell."
Ces is quick to say that there are no plans for the dogs to be ring bearers in her wedding — because there are no plans for a wedding.
"No. There won't be a wedding," says Ces. "Is it necessary?"
She hopes though that by the time she and Ricky are ready to move into the house they are building in Tanauan, she would have already convinced him to let the dogs sleep with them.
"I want to bring the dogs with me here. Because I know the dogs will end up living with me."
My life with dogs
In 2013 when Ces was pursuing stories about the unethical conduct of a lawyer of the Ampatuans, who were charged with the Maguindanao massacre of 2009, she was getting death threats by text from the Ampatuan camp. She recalls an afternoon when she felt beleaguered, vulnerable and anxious about her safety.
"Suddenly, Laika just went to my side as if to comfort me. Laika is not the affectionate type and, like some Shibas, appears very self-contained and distant. But that time, Laika snuggled close to me as if to say, 'Don't worry, it's okay.' It was so touching it made me teary-eyed because she felt my emotions."
Ces talks about the personalities of her dogs much like the way she describes her own kids.
"Laika is the graceful, self-contained one who appears very detached to the world. Dymka is the mischievous, pasaway one, but is the most affectionate and friendly among the four. Ichiro is the only male of the group, but is also the most pa-cute. Haruko took after her mother and competes with her for my affection. Being the youngest, she is the most energetic, always running around. She loves toys, too. She is also the one who loves to let out a howl. She is also very smart!"
Before we set back for Manila, we ask Ces one last question: How has having dogs in your life changed you?
"They have brought out the gentleness in me, the mother in me, and my nurturing side has become more heightened," she answers. "I will always have dogs in my life. They brighten up my day! They are #stressdrilon busters!"