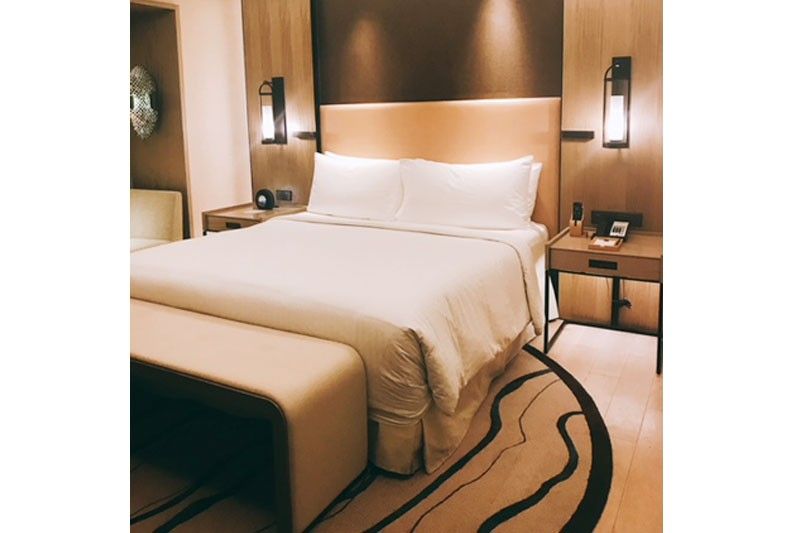 Comfortably Conrad: We love the 95-sqm Executive Suite at Conrad Manila Hotel, with its 42-inch flat-screen HD TV, 300-thread-count sheets and comforts of home. Photos By Therese Garceau
Why Conrad Manila is popular with staycationers
(The Philippine Star) - February 24, 2018 - 12:00am
MANILA, Philippines — For those seeking a vacay away from the cray-cray, whether during Valentine's month or any old time of the year, Conrad Manila Hotel is a very sweet option.
Since opening 18 months ago at the city's scenic bayside, Conrad has become a cocoon away from home for many local staycationers. It's also won a rack of awards — 18, or one per month, according to Conrad Manila Hotel business development director Mike Albaña, since opening in June 2016. During its first year it bagged Best Architectural Design, Best Hotel Development and Best Interior Design from the Philippines Property Awards.
Last year its awards included Best Convention Hotel, Best Large Hotel, Best Wedding Venue and Best City Hotel from International Hotel Awards; a LEED Gold Certification for environmentally friendly design; Best Suite with a View for 2017 ANC's Executive Class Travel Awards; the ASEAN Green Hotel Award; ASEAN Mice Hotel (Top 2); and Continent Winner for Luxury Banquet/Event Hotel and Luxury Gourmet Hotel from World Luxury Hotel Awards.
In 2018 so far, it has won the DOT Five Star Hotel Award.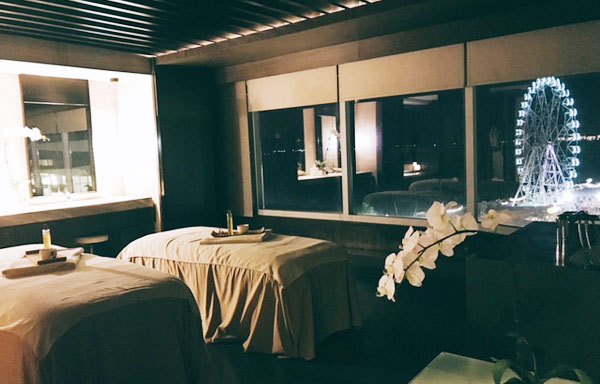 Conrad's luxury Spa offers a host of pampering therapies, including couples treatments with a bubble bath overlooking the bay.
So outside accolades have been plentiful. But according to Albaña, who climbs with the UP Mountaineers in his free time, local guests also love Conrad Manila. "One of our achievements was to make Conrad a popular choice for staycations," he tells us over signature truffle mushroom buns at China Blue, the hotel's frequently awarded modern Chinese restaurant. "If you come on the weekend, the profile of guests changes. During the week we get a lot of business travelers, convention attendees, but weekends it's predominantly locals, 55-60 percent locals in general."
You can see why Filipinos like to stay at the Conrad: just check out that amazing view, for instance. If you're lucky enough to stay at the Presidential Suite — the same one Chinese president Xi Jinping occupied during last year's ASEAN — you'll have access to 1,100 square meters of cocooning space, a 180-degree view of Manila bay, and — bonus points! — a helipad above you on the eighth floor.
You don't have to be a head of state to enjoy a luxury staycation, though. We thoroughly enjoyed our "regular" Executive Suite during a recent overnight visit.
• Check-in at the Conrad is a treat, especially when you find yourself located on the Executive Floor. How special is your 95-sqm. suite? An anteroom offers a wall-length bay-view window that spies out on the promenade. You may not be able to leave this area until you've taken a hundred or so shots of the view.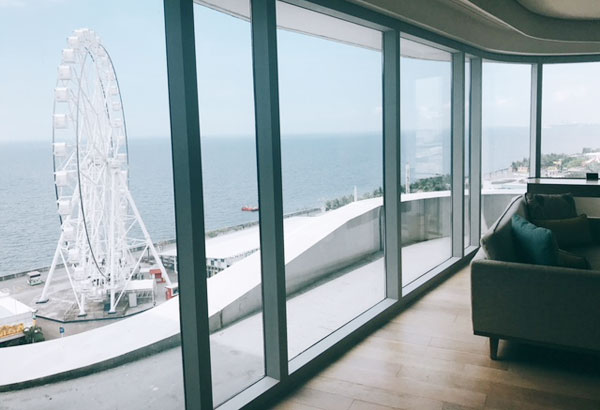 Conrad Mainla's Executive Suite offers a sweeping picture-window view of the bay side, and its now-iconic Ferris wheel.
But do so, and you'll find a fantastic king-size bed, 300-thread-count sheets, a 42-inch TV, private espresso maker, luxury bathtub and hydrotherapy shower (simultaneous overhead rain showerhead and frontal nozzles are a thrill), high-speed WiFi, a vanity room and special services like complimentary local calls, free light pressing service (three garments a day), and late checkout (2 p.m. upon request and subject to availability).
• After you've decided to leave your spectacular room, check out the Executive Lounge, with coffee, tea and snacks available throughout the day and cocktails served from 5-7 p.m. to Executive Floor guests.
• Head over to the Conrad Spa and book a private couple's room (it's more like a suite) for aromatherapy massage and you can enjoy a bubble bath overlooking the bayside, then luxuriate under the comforting spell of the masseuse's trained hands. It's as private and relaxing a treat as you'll get anywhere in Manila.
• For lunch or dinner, visit Conrad's specialty restaurant China Blue, where chef Jereme Leung offers an amazing array of modern Chinese inventions, like the house specialty, steamed buns shaped to look like fruits and vegetables and containing fillings like truffle mushrooms, smoked duck and custard. Other standout dishes include cherry tomatoes pickled in plum sauce, salted-egg pumpkin and an organic black rice that is the tastiest, healthiest fried rice you'll ever eat.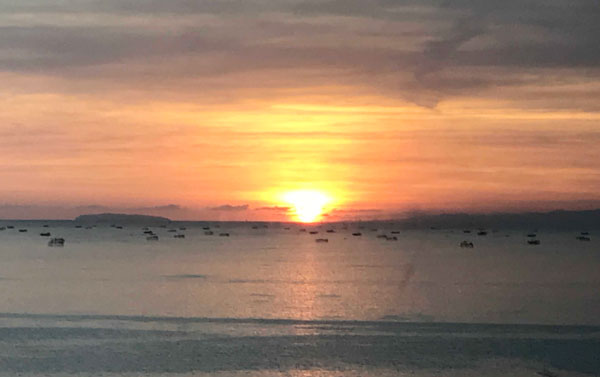 Breathtaking: Manila Bay's sunset is uniquely spectacular when seen from Conrad Manila's Brasserie outside viewing deck, upstairs Executive Lounge or a bayside suite.
The restaurant, what Albaña calls "mixed dining and entertainment," won a World Luxury Restaurant Award in 2017, as well as Philippine Tatler's Top 20 Best Restaurants Award (2017 and 2018).
Meanwhile, Brasserie On 3 (with Chef's Table options offered by executive chef Thomas Jakobi) bagged a 2017 Philippine Tatler Top Best Restaurants award, and continues to offer its popular "Best of the Best" wine- and whisky-pairing menu with guest chefs.
• Go down to the first level and slip inside S Maison for other shopping and dining treats, or maybe just a killer dessert.
• Those inclined to a night swim will enjoy the Conrad's outdoor pool, open until 10 p.m. and offering cocktails and Olympic-length laps.
In addition to hosting President Xinping and his personal chefs during ASEAN, Conrad Manila was also home to last year's Miss Universe contestants. (Albaña jokes it's the reason he shifted from another local hotel to Conrad Manila: "I heard that Miss Universe was being held here." His first sighting was Miss Russia, and guests would always see the contestants dining at the Conrad Manila restaurants. No selfies allowed, though.)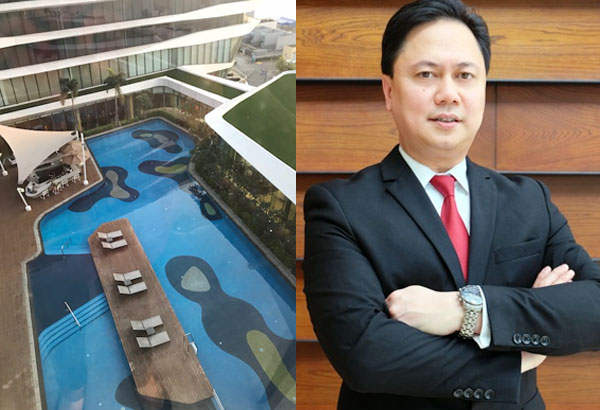 Climb every mountain: Conrad Manila Hotel business development director Mike Alban?a(right) is also a mountaineer in his free time.
This month offers another not-to-be-missed spectacle: the Philippine International Pyromusical Competition is holding daily demos from the world's best fireworks technicians at Manila Bay during evenings, 6:30 and 8 p.m. It's definitely worth a bayside view, and the Conrad faces right out to the fireworks frenzy.
And while Conrad Manila is a preferred address for business travelers and conventioneers — what with the SMX Convention Center nearby and its own 1,500-sqm convention hall inside the hotel to accommodate up to 1,000 guests — it's really become a favorite, in a very short time, of Filipinos, weekenders, and staycationers.
Count us among them.