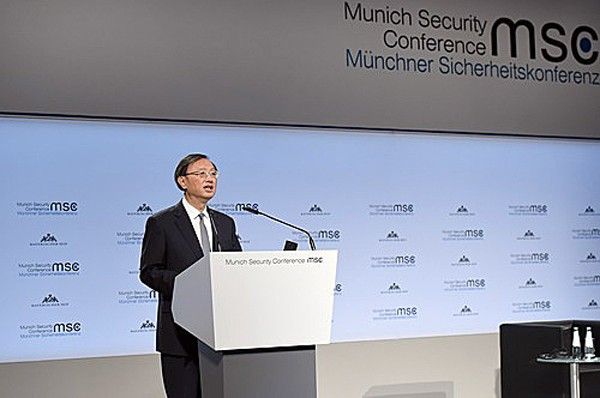 Yang Jiechi, a member of the Political Bureau of the Communist Party of China (CPC) Central Committee, at the 55th Munich Security Conference.
Photo Release
Full text of Yang Jiechi's keynote speech at the 55th Munich Security Conference
(Philstar.com) - February 21, 2019 - 11:12am
Part I
MUNICH, Germany (Xinhua) — Yang Jiechi, a member of the Political Bureau of the Communist Party of China (CPC) Central Committee, delivered here on February 16, a keynote speech at the 55th Munich Security Conference.
An English translated version of the speech is as follows:
Ladies and Gentlemen,
It is my great pleasure to join you at this year's Munich Security Conference (MSC). As a global forum on security policy, the MSC provides an important platform for people around the world to express views and share insights on major issues concerning world peace and development. This year's focus on promoting international cooperation and multilateralism is important, timely and has much practical relevance.
Our world today is undergoing fast and profound changes with growing uncertainties and instability. Unilateralism and protectionism have been on the rise; the multilateral international order and global governance system have come under challenge. Our world stands at crossroads and faces a consequential choice between unilateralism and multilateralism, confrontation and dialogue, isolation and openness. As President Xi Jinping pointed out, multilateralism provides an effective way of upholding peace and promoting development, and the world needs multilateralism now more than ever.
It's been China's consistent view that the United Nations (UN) is the symbol of multilateralism, and the UN-centered multilateral architecture provides an overarching framework for international cooperation. The consensus of the global community on multilateralism has been enshrined in the UN Charter, which serves as the cornerstone for the modern international order. As a founding member of the UN and a permanent member of its Security Council, China has all along supported multilateralism, followed the multilateral approach, and advocated peace, development and win-win cooperation, playing its consistent role as a promoter of world peace, contributor to global development and upholder of the international order.
To serve the common and fundamental interests of the people of China and around the world, President Xi Jinping called for the fostering of a new type of international relations featuring mutual respect, fairness, justice and win-win cooperation, and the building of a community with a shared future for mankind. He expounded on a vision of an open, inclusive, clean and beautiful world that enjoys lasting peace, universal security and common prosperity. Such thinking and vision encapsulate the propositions and principles that China holds dear as a staunch supporter of multilateralism.
They include, first, the principle of sovereign equality, which is the most important norm governing state-to-state relations. All countries, regardless of size, strength and wealth, are equal. The right of people of all countries to independently choose their development paths should be respected. And the practice of imposing one's will on others or interfering in others' internal affairs should be rejected.
Second, dialogue and consultation, which is an important approach to sound global governance in today's world. Dialogue and consultation should be pursued in the interest of peaceful resolution of differences and disputes. The willful use or threat of force, hegemony and power politics should be rejected.
Third, the rule of law, which is central to the pursuit of law-based international relations. The basic norms governing international relations centering on the purposes and principles of the UN Charter must be safeguarded. International law must apply equally to all, and double standards or selective application of international law should be rejected.
Fourth, win-win cooperation, which is essential for achieving common development. We must work together to pursue the greatest possible common interests among nations and expand areas of converging interests on the basis of mutual benefit.
To advocate and practice multilateralism is not just China's choice, but also the preferred option of an overwhelming majority of countries. The UN-centered system of international institutions have engaged in extensive dialogue and cooperation across the political, economic, security and cultural fields and worked to address global issues and challenges. Such efforts have advanced democracy in international relations and vigorously contributed to global peace, stability, development and prosperity. Inspired by the core principles of multilateralism, the G20, APEC, BRICS, the Shanghai Cooperation Organization, Asia-Europe Meeting and other global forums have all carried out meaningful cooperation. The EU, ASEAN, the African Union, the Arab League, the Community of Latin American and Caribbean States (CELAC) and other international organizations have contributed to peace and development by advancing regional cooperation. All this has shown that to pursue global cooperation, multilateralism and a community with a shared future for mankind represents a momentous trend of our times and is the right way to go.
Ladies and Gentlemen,
History tells us that we can only realize our peoples' dreams for a better life by upholding multilateralism and enhancing global cooperation. It falls to us to grasp the underlying trend of our times, respond to the call of the people, and make the right choices. China advocates a steadfast commitment to advance international cooperation, uphold and develop multilateralism, and make the international order more just and equitable.
First, we need to forge partnerships through mutual respect. Choosing dialogue over confrontation, we should work vigorously to develop partnerships that are more inclusive and constructive. This is a foundation and prerequisite for multilateralism and international cooperation.
China is committed to building a generally stable and balanced framework of major-country relations. We are ready to work with the United States to solidly implement the important common understanding reached between the two Presidents and jointly build a China-US relationship based on coordination, cooperation and stability. Over the past few weeks, the economic teams of the two sides have engaged in intensive consultations, and important progress has been made. We hope that the two sides will continue to make concerted efforts toward a mutually beneficial and win-win agreement.
Following the strategic guidance from the top leaders, China and Russia will work to elevate their comprehensive strategic partnership of coordination to new heights. China remains a staunch supporter of European integration. We welcome a Europe that is more united, stable and prosperous, and support Europe in playing an important and constructive role in international affairs.
China follows the policy of building friendships and partnerships with neighboring countries based on amity, sincerity, mutual benefit and inclusiveness. China is committed to pursuing the greater good and shared interests and to the principle of sincerity, real results, amity and good faith. We will earnestly implement all the outcomes of the Beijing Summit of the Forum on China-Africa Cooperation (FOCAC) -- the meeting between leaders of China and Pacific island countries, the China-Arab States Cooperation Forum, and the Forum of China and the Community of Latin American and Caribbean States -- to advance the building of a community with a shared future with all other developing countries.
Second, we need to uphold universal security through mutual support. We should work toward a new vision of common, comprehensive, cooperative and sustainable security, and respect and protect the security of each and every country. Global issues such as climate change, cyber security, terrorism and major natural disasters should be tackled through global responses, and regional and global security must be protected with common efforts. International cooperation must be intensified to safeguard the security and stability in West Asia and North Africa, and a holistic approach is required to tackle the issue of refugees and migrants at its root. A few weeks ago, Egypt, the new rotating Chair of the African Union (AU), hosted the successful 32nd AU summit, where constructive and meaningful dialogue and cooperation were carried out in addressing the issue of refugees, migrants and displaced people in Africa.
China has been actively involved in the UN peacekeeping missions, and is the largest troop contributor among the P5 and the second largest contributor to the UN peacekeeping budget. The Chinese navy has conducted escort missions in the Gulf of Aden and the waters off the Somali coast over the past ten years, serving over 6,600 Chinese and foreign vessels.
China has been an active player in international cooperation against terrorism, supported African countries in resolving African issues in an African way, and supported the AU and other regional and subregional organizations in playing a leading role in meeting the security challenges in their region. China is committed to facilitating the proper resolution of regional hotspots such as the Iranian nuclear issue and the Syrian, Palestinian and Afghanistan issues through dialogue and negotiation.
China supports security dialogue among the Asia-Pacific countries and efforts to explore a regional security vision and architecture that fits the reality of this region. We welcome the upcoming second meeting between the DPRK and US leaders, and will continue to work with other parties concerned toward the full denuclearization of the Korean Peninsula and the establishment of a permanent peace regime on the Peninsula.
China is resolute in defending its territorial sovereignty and maritime rights and interests. We firmly oppose any activity that undermines China's sovereignty and security interests under the pretext of freedom of navigation and overflight. China is committed to working with ASEAN countries to fully and effectively implement the Declaration on the Conduct of Parties in the South China Sea and advance consultations on the Code of Conduct. And we hope that these efforts by the countries in the region will be respected and supported by all non-regional countries.
(To be continued)