So, you wanna do PR? Useful career tips from a 'Power PR woman'
MANILA, Philippines – Since businesses have realized the importance of tapping the services of Public Relations (PR) professionals as part of their company's growth strategy, the PR business has gotten a boost.
Alongside that boost is a trend that has become too evident – women dominating the business. Between their remarkable energy, powerful communication skills and on-point fashion game, it's safe to say that women in PR are poised to take over the world.
Could it be because many tasks involved in this career require soft skills such as communicating and negotiating or is it because of the growing feminism and shifting gender roles? Olga Khazan of The Atlantic explained in a brilliant piece that although the aforementioned reasons might indeed be true, the simplest justification for the trend is simply this: Women in PR is not inherently bad, so it never stopped…and it is not stopping anytime soon.

"Power PR women," as they are often labeled have a certain pizzazz and have skills that make them the best possible option when you want to make a big name for your business.
Meet Denise Svensson, just one of the many power PR women who continue to live up to that career reputation.
A lifestyle enthusiast and proud Filipino entrepreneur, Denise started her own boutique PR agency, Medium.Asia in 2011.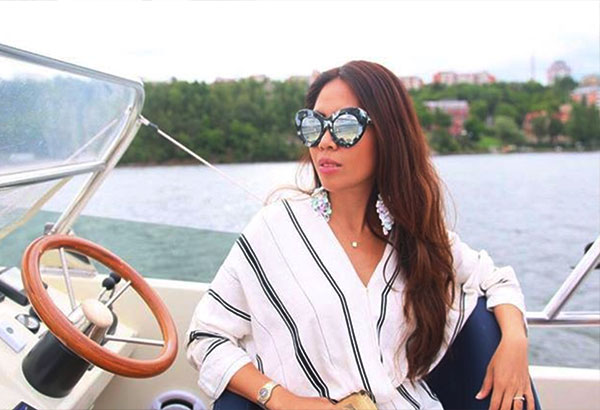 Denise Svensson believes Filipinos, with their indomitable spirit and persevering attitude can make a mark in the PR industry.
"I used to be a PR practitioner in Bangkok, representing independent boutique hotels and independent hotels. It was when I met my husband that I decided to move to Hong Kong and eventually started my own PR Agency," Denise said.
Fast forward to today, her business has grown into a fierce entrant. Through the years, her agency has gained attention and attracted collaboration projects with dinh van paris, La Perla, Charlotte Olympia and Mercedes-Benz Fashion Week to name a few. It has also carried prominent brands such as the homegrown S.nine by Susanna Soo, Stefere Jewelry, Henry Holland, La Biosthetique Paris, Infinity Residences and Resort, Koh Samui and Maikhao Dreams Villa Resort and Spa, Phuket.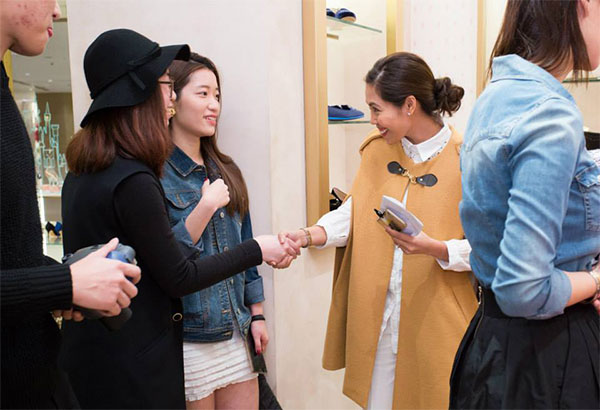 Denise meeting people at the Charlotte Olympia event.
But being a "Power PR woman," is not for everyone. To put it simply, PR isn't just a career choice, but a lifestyle you have to embody. While an enduring attitude and adept communication skills are highly recommended, you must have that special spark in you to complete the package. Luckily, Denise has all this in her.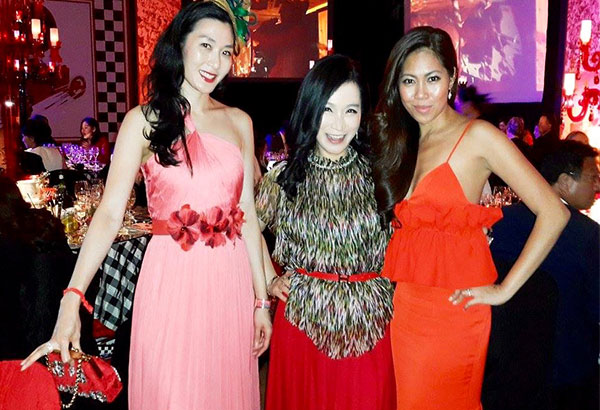 Denise Svensson describes herself as an outgoing and fun-loving person who loves meeting new people.
"I decided to take on the PR world because the job matched my personality. Ever since I was young, I was always very friendly and social. I had a wide network of friends and loved going out and about meeting new people, and, so, I thought to myself: 'What job could I do that would still let me keep the lifestyle I had?' " Denise quipped.
"My late father wanted me to become a lawyer as, back in the day, that was seen as a well-paying, well-recognized profession but I knew it wasn't for me. I wanted something in a more lifestyle industry that would still challenge me and that's when I discovered PR," she added.
If you've been thinking about exploring PR as a career choice, here are some of the takeaways from Denise herself.
Work your way up
For Denise, there is no shortcut to success in the PR industry. It takes hard work and a lot of sweat and blood. PR is a glamorous and exciting career, but what most do not know is that it is a challenging and complex job, too. As she puts it, you have to be the type of a person who is thrilled by challenges and is willing to conquer them.
Some people have the wrong impression that being a PR pro is simply a glamorous job. Sure in the pictures it may seem like that, but behind the scenes, there's a lot of unsophisticated tasks in this line of job. An aspiring PR pro should learn to roll up their sleeves and get their hands dirty.
Being a power PR woman means being the person who stays at a shoot for 12 hours, being the receptionist who responds to never ending calls and emails and being a person who simply does everything that is needed to be done. Being a power PR woman means literally playing the role of EVERYONE!
Be sensitive and smart
Instead of mass emailing or blasting a general press release, do your work as a PR practitioner. Do research about each publication and learn to align with the editors' interests.
If you are able to pair the right story to them, it will not only make their job easier, but they will appreciate the relevant pitch and that you read what they focus on. They will love you for that!
Have a champion's mindset
If someone says no to you, then you must be talking to the wrong person.
Being a power PR woman means being a pleaser. You have to be able to have the attitude of not accepting no for an answer. But in between the lines, remember not to be annoying and pushy as well.
Have a 'can-do' attitude
Being a power PR woman means being relentless. Don't settle for just any client; get the best.
If you want to make a mark in the industry, you should think about investing your efforts in challenging yourself with excelling with independent brands - companies that have the potential to make it big in the future.
Own it!
You have to believe in the brand you are representing and learn it as if it is your own. Wear it, practice it, spread the word.
Ask yourself, if it was my brand, how would I market it?
This mindset allows you to genuinely care for the brand and your client. Exceeding your targets will follow.
Be curious and current, if not ahead. It's important to be updated
Being in a PR industry means being aware about the all the latest including the new marketing trends in digital space, fashion, tech and lifestyle.
Push to know what you don't already know. Nowadays, every second, there are new marketing trends that you have to adapt to in an instant otherwise you will be outdated. Make it a habit to read and watch anything about celebrity news, new hotels, restaurants, trends and even politics! This knowledge will help you navigate and create relatable stories and generate fresh ideas for whichever marketing campaigns you are into.
Asked about the latest places visitors can check out in HK, Denise recommends Ophelia, HK's hottest new high-end bar; 99 Bonham, an elegant boutique hotel apartment designed by Internationally renowned Italian design firm Antonio Citterio Patricia Vel and Partners; and Mercato, a newly-opened vibrant Italian sharing style restaurant under the helm of three-Michelin-star chef and renowned restaurant mogul Jean-Georges Vongerichten.
Get yourself out there
As one of the most important tips, Denise advises that you must find a way to get out there and meet people. But she is not just talking about calls and emails, rather you should find a way to connect with the clients in person.
Nowadays, you can connect with people via email, smartphone and even social media, but there are still editors and publishers who appreciate that personal connection. If you need to knock on the door to present yourself in the office of that editor then do so.
It goes a long way and you have nothing to lose! When I did that, the publisher never forgot me and said that although what I did was old school, it was refreshing. Since then they couldn't afford to say no to my story pitches and miss any of my events. Personal touch is the key!
Finally, work with your heart
Unlike pure advertising which is highly based on budget, PR's core is making good relationships. According to Denise, there must be a "personalized touch" to everything that you do.
I learned that having an outstanding service is not enough to win a client, you have to win their trust and hearts too----this is if you want them to stay longer with you!
Denise believes being a Filipino — a people known for their admirable hospitality — is actually an advantage for her.
PR attracts many women because it requires skills that are a natural fit for a lot of women, such as being good listeners and empathizing with clients. Women can be good team players and can be fierce advocates for their clients.
Having women in any industry is always good. But then again, taking on the role of a power PR woman is not for the faint of heart.
Do you have what it takes?