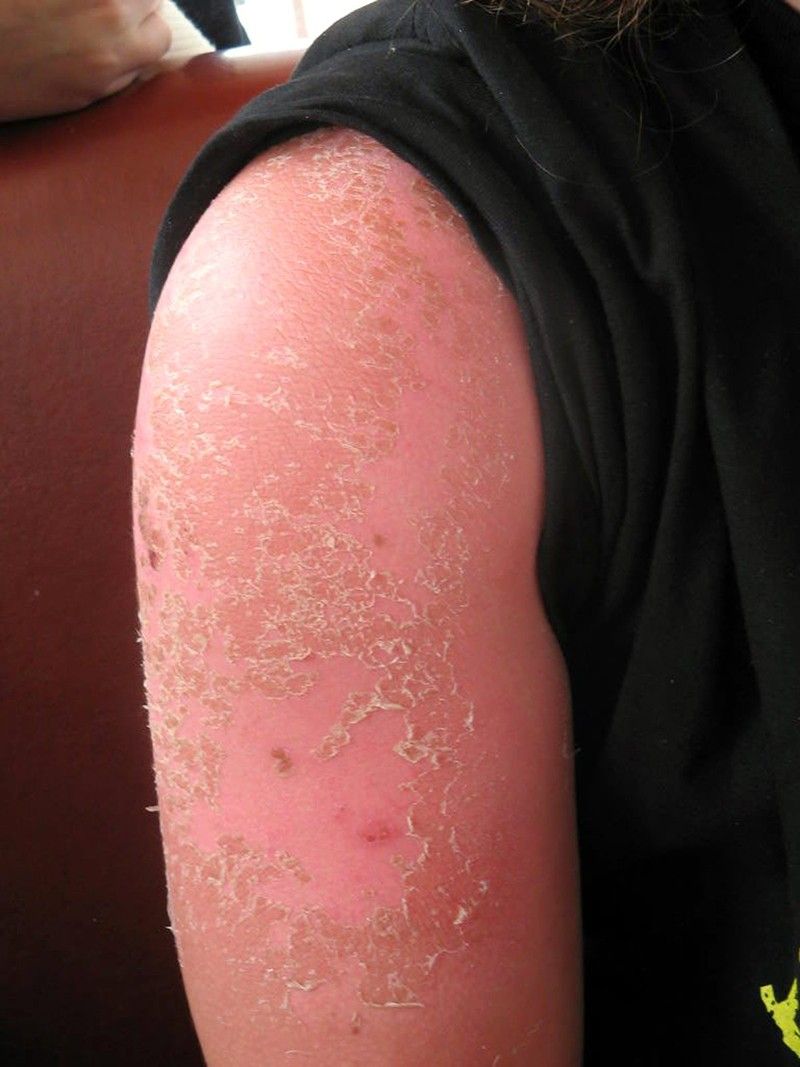 Even dermatologists have a hard time finding the root cause of erythroderma.
When sunburn isn't sunburn
Erythroderma, which is secondary to contact dermatitis, is a serious skin condition. It's the classic presentation of stage IV cutaneous T-cell lymphoma.
Mr. RT first manifested with itchy skin. The onset of redness and itching was rapid, accompanied by systemic symptoms like fever, dehydration, and shivering that suggested a severe, complex, unstable reaction that was possibly progressive.
This itchy skin gradually spread to the entire body, evolving into a generalized redness with exfoliation, which persisted for many years and did not improve with the usual anti-itch regimen.
He had been to several dermatologists but experienced no relief with all the medicines prescribed to him. He went to Pangasinan to get another opinion, where a biopsy was done. The result was erythroderma, which is secondary to contact dermatitis. He was given several medicines, but still did not find relief. That was when he decided to visit me.
Since it's summer, non-specialists can mistake this kind of skin manifestation for sunburn. Usually the skin changes include scaling and exfoliation of greater than 90 percent of the skin's total body-surface area.
The accompanying skin redness is caused by cytokines that cause inflammation and vasodilation (widening of the blood vessels, increasing blood flow). Not only is the skin red but also warm, itchy and tender to the touch. Shivering is also a common presentation associated with erythroderma.
At first glance, that may seem counterintuitive. Since the skin is fiery red, one might assume that the patient would feel warm, just like in sunburn.
Our skin is like a blanket for our body and all that superficial vasodilation and peeling brought about by the cytokines leads to thermal dis-regulation and subsequent shivering, so the patient feels really cold even at normal temperature. Also, erythroderma is pretty uncommon and can arise in any age group. It peaks in middle-aged patients. Men are three times more likely to get it than women. Erythroderma doesn't just afflict skin. All that cutaneous vasodilation and skin sloughing are similar to burns, so that when it messes up greater than 90 percent of your total body surface, you would definitely be at a higher risk for hypothermia, infection and a significant loss of protein, water, and electrolytes. All that cutaneous vasodilation can also add up and lead to high-output cardiac failure. So look for signs of congestive heart failure (shortness of breath, swollen ankles, legs, abdomen, weight gain and increased urination, fatigue, dizziness, irregular and rapid heartbeat, etc.).
It would also be nice if there was only one cause of erythroderma. However, erythroderma is simply a clinical finding and not a diagnosis. A thorough search for the root cause is mandatory. The most common identifiable causes of erythroderma can be grouped into pre-existing dermatologic diseases, drug reactions, infection and malignancy.
There is a list of drugs that can cause erythroderma, as well as over-the-counter and alternative medications.
Drug-induced erythroderma often presents quickly — just a few days in association with a new medication. A primary dermatologic cause such as psoriasis or atopic dermatitis may have progressed more slowly.
Erythroderma is also the classic presentation of stage IV cutaneous T-cell lymphoma. You might think contact dermatitis, atopic dermatitis and psoriasis are innocuous, but these actually can get out of control and can lead to some serious clinical complications. Even if the patients look well, patients with erythroderma can suddenly take a turn for the worse. Once any of the aforementioned acute complications from erythroderma set in, the mortality rate starts climbing and can be anywhere from 11 percent to 64 percent. And although the search for an underlying cause is important, rest assured that even dermatologists have a hard time finding the root cause and the truth is that there is no magic wand in dealing with erythroderma.
Our patient, Mr. RT, was diagnosed to have erythrodermic mycosis fungoides (MF). Clinical features of MF include the presence of progressive skin lesions such as patches, plaques, papules, tumors, erythroderma, and hypopigmented or hyperpigmented lesions in non–sun-exposed locations. Patients may have associated alopecia.
Extra-cutaneous manifestations with involvement of lymph nodes and other organs usually occur with extensive skin involvement. The lesions are very pruritic and may cause patients significant distress. The underlying immune dysfunction may lead to opportunistic infections and the occurrence of secondary malignancies, particularly lymphomas.
Clinicians should have a high index of suspicion for MF, especially while evaluating patients with erythroderma and chronic non-specific dermatitis that have been resistant to standard treatment.
A skin biopsy is the standard tool for making a diagnosis. Multiple skin biopsies are preferable. The skin lesions with the most induration should be selected and a minimum 4-mm punch biopsy should be performed.
Erythroderma is a rare but severe cutaneous condition characterized from a clinical point of view by a complete involvement of the skin surface. Pre-existing dermatoses account for about 70 percent of erythroderma cases. Drug reactions are responsible for erythroderma in about 20 percent, while primary cutaneous T-cell lymphoma (CTCL) constitutes less than 10 percent and are represented by erythrodermic mycosis fungoides and Sézary syndrome.
The challenge in these patients is represented by the identification of the etiological agents or conditions, which is clearly of overwhelming relevance in the clinical management and treatment strategies. Patients with erythroderma may be in urgent medical condition requiring immediate attention. Every effort should be made to determine the underlying etiology and document complications. Treatment should be directed at both the complications and the underlying cause. Early diagnosis is paramount as it allows early treatment and prevention of erythroderma-associated morbidity and mortality.
Early medical treatment and newer dermatologic therapies have significantly improved the prognosis of patients with erythroderma.
* * *?
For inquiries, call 401-8411, SMS 0917-497-6261, 0999-883-4802 or email gc_beltran@yahoo.com.? Follow me on Facebook @dragracebeltran.